PERFECT FOR HIGH-TECH MANUFACTURING
TenActiv

™

Touchscreen Grip Gloves Prevent Static Discharge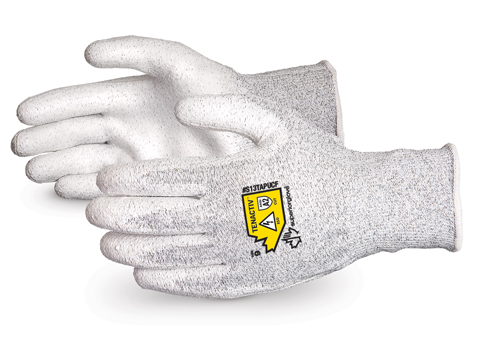 Quite simply, signs or signage are often designed to help individuals, travelers or customers recognize or identify a place, action or brand. For instance, signs and decals help identify which restroom to use, differentiate banking ATM's and identify thruway exits. They also help describe an action required to perform a specific function. A world without signs or decals would be mass confusion.
Many service institutions such as banks, DMV's and airports incorporate custom signage and decals that often include Braille on their ATM's and kiosks. For the folks that manufacture and apply these Braille parts for retail applications, specific work gloves that prevent static discharge are required, preferably with high dexterity and touchscreen capabilites. These S13TAPUCF TenActiv™ Polyurethane Coated ESD Carbon Gloves can help!
PREVENT ZAPPING
If you ever been "zapped" when you touched a doorknob or car-door handle, then you already know something about the effects of static electricity. Static electricity occurs when two different materials or surfaces contact each other and rub together, it can create an unexpected nuisance referred to electrical static discharge, known also as ESD and it can have a killer effect or create a killer defect.
These cleanrooom knitted gloves are the first of their kind to combine cut resistance with an ESD (electrostatic dissipating) carbon filament to impart anti-static properties. Made of 13-gauge HPPE blended with carbon filament and a polyurethane palm coating this, string knit from Superior Glove® will be the one you turn to. These touchscreen compatible work gloves let workers easily and quickly look up information from touch enabled devices without having to remove their safety gloves, putting their bare hands and at risk to injury! It also reduces static build-up!
You get the cut resistance of the hot-selling TenActiv™ brand combined with the electrostatic dissipating power of carbon. Add all this to a grippy, DMF-free, polyurethane coating and this glove becomes a winner for a multitude of high-tech applications. By using a polyurethane palm coating the glove offers a high coefficient of friction that is non-shedding, which makes these gloves ideal for those working with circuit boards or any application where static shock or contamination is of concern.
IDEAL FOR:
Electronics

Circuit Boards

Pharmaceutical

Automotive

Computer Assembly

Parts Assembly

Material Handling
S13TAPUCF ANSI SAFETY RATINGS
ASTM ANSI Cut Level A2
ASTM ANSI Puncture Resistance Level 3
ASTM ANSI Abrasion Resistance Level 4
The simple fact is the oils from your skin and static electricity are corrosive to delicate fibers, pulps, metals and electronics. The shock caused by static electricity can bring more power at your fingertips than you ever imagined but unfortunately you won't be hailed as a super hero if you accidently zap a valuable circuit board or an expensive electronic device.
Protect valuable equipment and your team today. Upgrading your hand protection is easy. Just tap the link below and …
Monday - Friday 8:30am - 4:30pm East Coast Time
Orders. Questions. Samples. Volume Discounts.
+(800) 274-4637 | +(716)668-4001 | [email protected]
"We Want You to Return Home Safely Every Day™