Claw Cover® ... It's Like Superhero Armor!
Our New Line of Effective, Economical

USA Made

Hand Cut Protection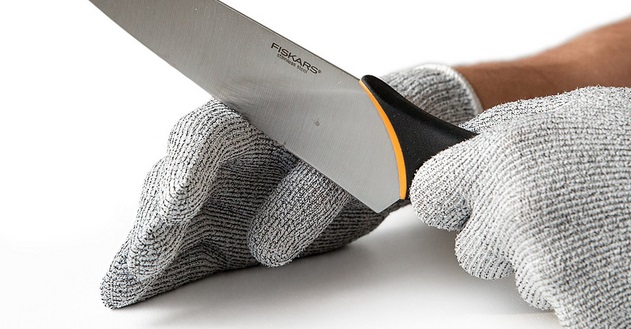 For a trained or experienced chef or butcher, slicing, dicing, chopping and deboning become second nature and the knife is an extension of their hand. Training in proper knife handling techniques, the use of slicers and the cleaning of sharp edged kitchen equipment are essential for every worker involved in food preparation, but accidents happen.
High volume workloads, intense heat and a hectic pace increases the chances for accidents and even the most highly skilled professionals display the scars of burns, cuts or in some extreme cases, fingertips that are shortened by a razor sharp blade - just ask Chef Gordon Ramsey!
These types of food prep accidents are foreseeable and preventable and implementing the use of cut resistant gloves in commercial foodservice operations is a logical and smart business decision.
We are pround to announce the launch of our Claw Cover® line of cut-resistant 21 CFR compliant string knit gloves. Proudly made here in the USA!
ANSI Rated |

American Made

Cut Protection Gloves
Designed for meat, fish and poultry processing, foodservice operations and grocery, we have partnered with hand protection experts to bring you a new line of effective yet economical cut protection gloves! Designed by gathering information from chefs and butchers from around the country, we are proud to announce our new line of USA made, ANSI rated Claw Cover® knitted cut safety gloves.
Antimicrobial Treated - Reduce Cross-Contamination
Our Claw Cover® proprietary knit gloves are 21 CFR Compliant, made to fit and feel like a second skin and provide sensitivity busy chefs demand. Constructed with significant levels of ANSI Rated protection against common kitchen lacerations, Claw Cover® glove styles feature Microban® - an antimicrobial treatment that inhibits the growth of germs and bacteria! Available in colors with hi-viz safety accents and in different cut levels, these ambidextrous gloves can be laundered for re-use and cleanliness.
Check out these innovative cut-resistant Claw Cover® string knit gloves:
We can also custom design a glove specifically for you! All styles can be imprinted with your logo or corporate info, and can be pin tagged for retail display. Please contact our custom design team for a glove to meet your unique operational need.
Be sure to check out our USA made line of US Metal® stainless steel mesh gloves and stainless steel body safety apparel!
Contact us for samples, to place an order, similiar gloves not listed, volume discounts or custom requests
Monday-Friday 8:30-4:30 E.S.T.
+800.274.4637 | +716.668.4001 | [email protected] | MDSassociates.com
"We want you to go home safely...everyday™"