Cover the Arms

with

Disposable Sleeve Protectors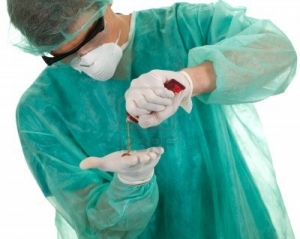 Sometimes in infectious environments, reducing potential exposure to workers does not stop at glove protection. Selecting the right glove is, of course, important, but what happens when that glove doesn't fully protect the rest of the arm? Protective apparel and hand protection PPE are then not enough if a lab employee's wrists are vulnerable. The wrist area is at high-risk of exposure, but this liability can be eliminated with our flexible technologies.

Enter Disposable Sleeve Protectors which can be worn over garments as an extra layer of protection, or over a bare arm. They are designed to cover the gap created as a barrier gown's sleeves rise and fall with movement. They serve as a block to chemicals, blood borne pathogens, particles and mold and those sleeve protectors with cuff-technologies™ allow for and easy and snug fit. Simply slide through the garment sleeves into the naturally adaptive and soothing knit ribbed material with sewn bar finger tacks and slits. If your technicians are required to wear protective sleeve gear to prevent particulate migration, chemical infiltration, or contact with contaminated material, take advantage of a Disposable Arm Covers.
-------------------------------------------------------------------------------
Arm covers can be added as another layer of protection for the wrist and forearm area and can be worn over bare skin or over clothing. They are offered in a variety of fabrics such as Tyvek, Tyvek QC, spunbond polypropylene, pe-coated, microporous laminate, polyethylene, vinyl, SMS/multi-ply and a 5-layer PE/EVOH. Below are a couple of options you have with MDS Associates so check them out!
Tyvek® Sleeve Protectors/Arm Covers
If you need serious protection, Dupont's™ Tyvek® Sleeve Protectors are the way to go. They are made of flash spun high density polyethylene which creates a unique, nonwoven material available only from DuPont. Its ideal Tyvek® fabric offers an inherent barrier to particles down to 1 micron in size. This fabric gives this protector the one up on microporous film and SMS fabrics and delivers consistently better barrier protection, even after wear and abrasion. Tyvek® Sleeves features serged seams, elastic at both ends (bicep and wrist) for arm protection. Ambidextrous. 18" long. One size fits most.
PE Coated Sleeve Protectors/Arm Covers
PE Coated Sleeve Protectors are an affordable solution for protection on a tight budget. They have an impervious outer layer over a soft inner layer and are lint-free, all at a great cost. Select disposable PE Coated Sleeve/Arm Protectors when working with Infectious Diseases, Paint, Inks, Sprays, Chemicals, Particulates, Asbestos, Solid Airborne Dusts, Meat/Poultry. They feature elastic at both ends (bicep and wrist) for arm protection. Ambidextrous. 18" long. One size fits most.
Polypropylene Sleeve Protectors/Arm Covers
For basic or routine protection from liquid spray/mist, dust or keeping skin flakes and hair from contaminating your product, spunbond Polypropylene Sleeve Protectors are your answer. Disposable polypropylene sleeve protectors, or arm covers, are lightweight, non-shedding and extremely affordable. Select these for use in nonhazardous environments such as hospitals, labs, food processing and painting. They feature elastic at both ends (bicep and wrist) for arm protection. Ambidextrous. 18" long. One size fits most.
---
NEW PRODUCT - STAFF PICK
PE Coated Sleeve Protector/Arm Covers with Wrist-Shield Thumb Loops
Look no further than our Disposable PE Coated Sleeve Protectors for the best in safety. They feature cuff technology™ to give the wearer complete protection from wrist exposure. An impervious outer layer covers a soft inner layer and are ideal for high-level fluid protection where infectious agents, inks, paints, chemicals, sprays, particulates are a concern. These multipurpose 18-inch ambidextrous sleeve protectors have an elastic tapered end and make layering easier and faster! The opposite end features an innovative and proprietary 2-1/2 inch knit cuff with Optional Thumb-Slit™ that can be used if needed. The absorbent thumb saddle adapts to any sized hands and creates a layered protective barrier and produces a seal between the glove and garment. Used in combination with other protective gear or alone, our disposable sleeve protectors reduce potential exposure and elevate compliance. View PE Coated Sleeve Protectors with optional Thumb loops here!
---