Shop for Disposable Sleeve Protectors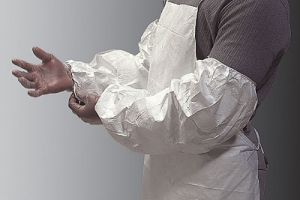 Disposable sleeve protectors, or arm covers, can be added as another layer of liquid or chemical barrier protection for the wrist and forearm area. Protective sleeves are often worn over bare skin but they can be worn over street clothes. They are offered in a variety of fabrics such as Tyvek®, Tyvek® QC, spunbond polypropylene, pe-coated, microporous laminate, polyethylene, vinyl, SMS/multi-ply and a 5-layer PE/EVOH. Disposable sleeves from MDS Associates can be used in a variety of lab, food, medical or industrial applications.
Contact MDS for samples, for similar disposable clothing not listed or for volume discounts today!
Browse the Section Below to Explore the Line of Disposable Sleeve Protectors
---
Discover More About PPE clothing by Clicking Article Links Below
---