Shop for FDA 21 CFR Food Compliant Gloves
Shop Here for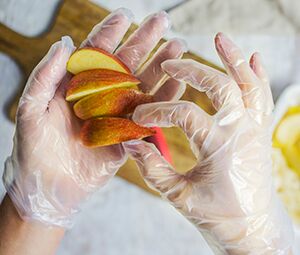 Regulated Hand Protection That Complies to FDA 21 CFR for Food Handling
The Food & Drug Administration (FDA) controls all the regulations related to items that are added to food (i.e. direct additives) and items that may contact food (i.e. indirect additives). Title 21 of the CFR is reserved for rules of the Food and Drug Administration. To protect consumers and food quality, all gloves, apart from medical/exam type disposables are referenced in 21 CFR Parts 174 & 177 when used in food handling applications.
MDS sells a wide variety FDA compliant gloves. If you seek gloves for direct contact in food processing for the handling, mixing and preparing of foods, select polymer type gloves. For direct contact in food processing for butchering, de-boning or slicing, we have high cut-resistant uncoated knit gloves. For direct contact in food service and food processing, shop for powder-free disposable type gloves. Indirect contact in food plants for MRO applications, sorting and boxing of packaged food, select either a coated general-purpose or cut-resistant seamless knit type glove,
We have a hand protection solution for every application. Contact MDS for samples, for similar food compliant gloves not listed or for volume discounts today!
Browse the Section Below to Explore the Line of FDA 21 CFR 21 Compliant Gloves
---
Discover More About FDA Compliant Gloves by Clicking Article Links Below