Stop Sweating It!
A precautionary device to protect against cargo loss due to moisture damage referred to as "container rain" or "the sweats".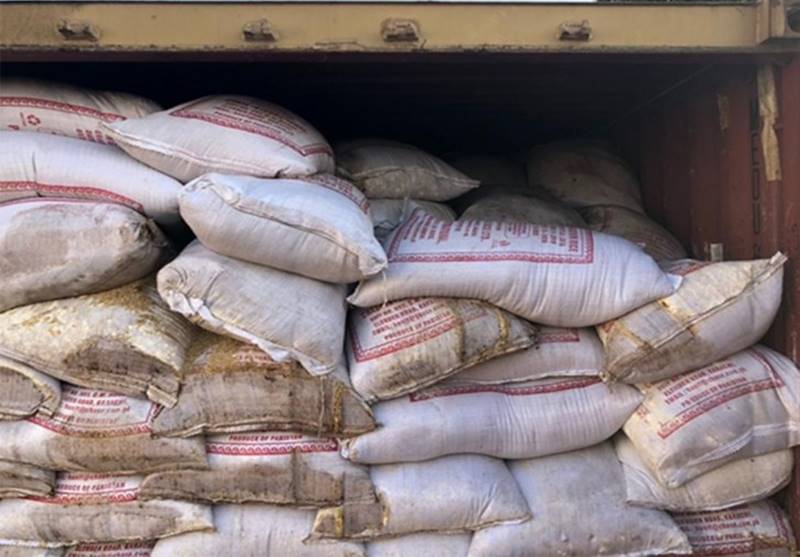 Humidity is a term used to describe the amount of water vapor present in air. and this summer, there sure is a lof of it! Water vapor, the gaseous state of water, is generally invisible to the human eye and if left untreated, it can be very destructive to stored items such as electronics, textiles, metals, spices, flour, automobile interiors and marine cabins. It can also weaken cartons and warp labels.
Each year around 1.7 billion metric tons of goods are shipped around the world and a worth of $500 billion goods are damaged every year before reaching their end-destination, 10% of these are due to moisture damages. Did you know that those containers could be protected from moisture damages with as little as $75?
Too low humidity may make materials brittle and too much can make materials soggy or damp. A particular danger to delicate or sensitive items regardless of the operating humidity range is condensation. Condensation is the change of the physical state of matter from gas phase into liquid phase and occurs when a sealed item or area are subjected to fluctuations in extreme temperatures.
When an item is transported from a cold place (e.g. garage, car, shed, shipping carton) to a warmer place, condensation or the "the sweats" may develop and coat surface areas that could lead to:
Short circuits in electronics

The growth of mold or mildew

Corrosion and rust on metals

Spoiled food items

Peeling and warping

Deteriorated packaging

Clumped or caked powders

Chemical degradation
Desiccants Are Easy, Effective & Inexpensive!
To offset moisture related damages and prolong product quality, many factories and fulfillment centers place a desiccant packet inside their finished product and/or packaging. A desiccant is a vessel made of a solid, moisture absorbing substance that induces or sustains a state of dryness in any environment inside its sealed vicinity to preserve, prolong and protect items during transit or storage.
Resembling a sugar or salt packet, these "Do Not Eat" pouches are commonly found inside pre-packaged consumer goods and regulated products such as pharmaceuticals and food items. Designed to regulate moisture as goods pass along the supply chain, desiccants are also used to reduce bacteria and pathogens that thrive in wet surfaces pressure but not all desiccants are created equally.
Cargo Dry is Consistently R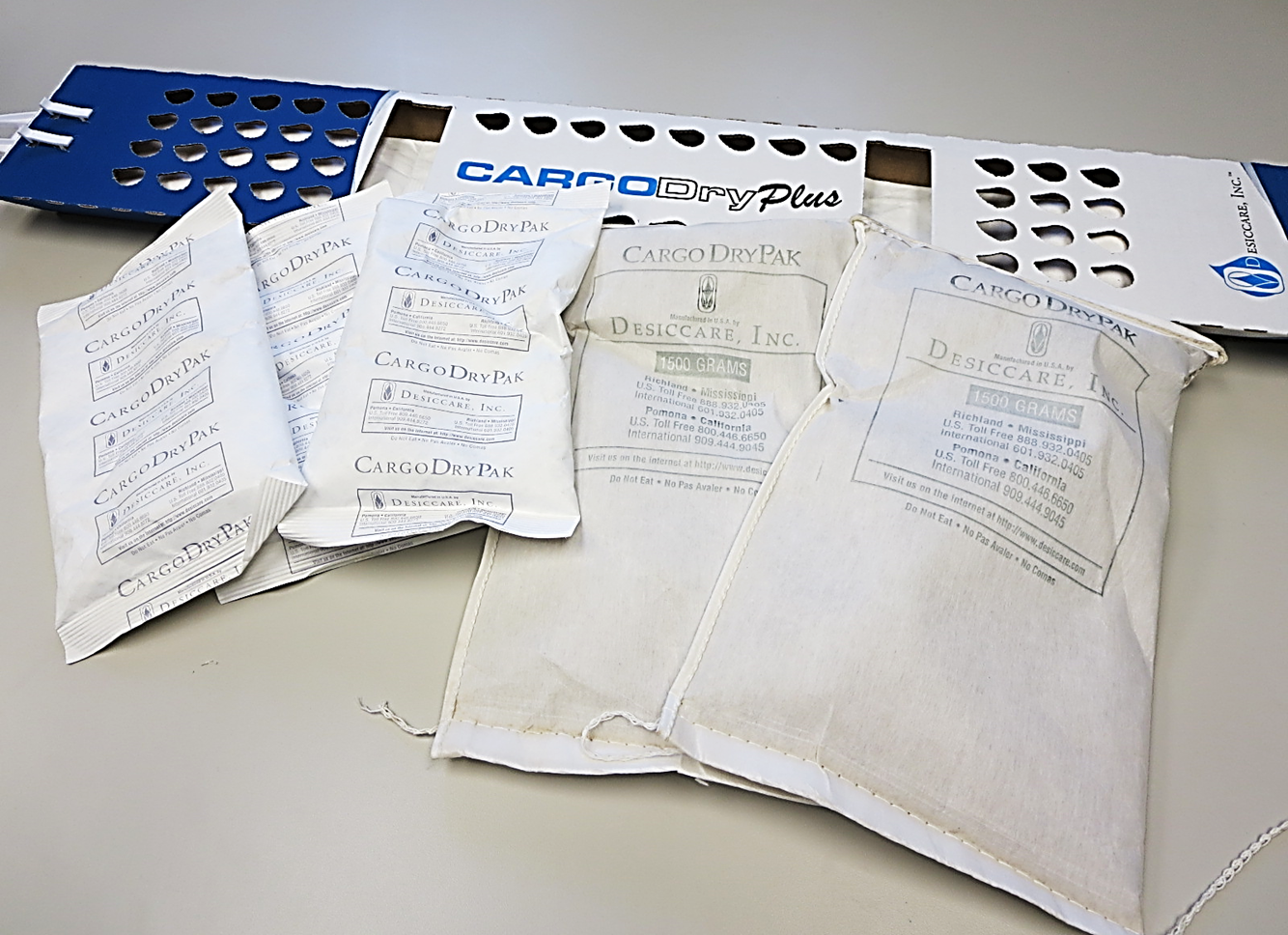 anked Among the Highest Performing in the Moisture Absorbing Industry
Environmentally Friendly. Non-Toxic.
Cargo Dry is a commercial grade desiccant specifically formulated to absorb 158% its weight in moisture and regulates humidity to prevent mold, mildew and corrosion to the contents of shipping and storage containers for 60-90 days. Cargo Dry Plus is environmentally friendly, non-toxic, contains no hazardous materials and can be disposed as normal waste.
Goods worthy of storage or that merit enclosed transportation generally have significant value, making the decision to use cost-effective Cargo Dry to prevent "Cargo Sweats" an easy cost effective solution.
Available in three formats:
+Cargo Dry Plus Strip Packs consists of a three heat sealed Tyvek® bags in a strip format containing 1000 grams. It's secured within a 36-inch long perforated cardboard dispenser, riveted to a convenient plastic hook that is easy to hang in any container or on cabinets, doors and more. One unit treats 108 cubic feet area (4-1/2' x6 'x 4-1/2' +/-). One master case (6 units) effectively treats a 20' GP container.
+Cargo Dry Paks 500 gram pouches are designed to be placed and spaced throughout. This desiccant is packaged in Dupont Tyvek® pouches and packed 30 units to a poly lined carton. One unit treats 36 cubic feet area (3' x 4' x 3'). One master case (30 units) effectively treats a 20' GP container.
+Cargo Dry Saks 1500 gram sacks feature rope ties that enable units to be hung but can placed and spaced throughout. This desiccant is packed 10 units to a poly lined carton. One master carton (10 packs) effective treats a 20' GP container. One unit treats 108 cubic feet area (4-1/2' x6 'x 4-1/2' +/-). One master case (10 units) effectively treats a 20' GP container.
Invisible Protection
The Cargo Dry family of products are specially formulated to keep cargo dry during ocean-going voyages but has found use in many other applications. Cargo Dry has been used to successfully protect everything from lawnmowers to paint cans, from auto parts to electronics and from clothing to spices. It is even used to protect the interior quality of collectible and exotic automobiles, boats, RV's, campers and items placed inside storage lockers and units so items remain in pristine condition.
Preserve, prolong and protect across town, across country or across the planet! Cargo Dry provides up to 90 days or more of moisture protection; it induces or sustains a state of dryness to inhibit the formation of mold, mildew, rust, and corrosion. Cargo Dry is the cost-effective insurance policy against moisture damage occurring to your valuable cargo. Leave moisture problems behind easily and affordably, just tap the link and ...
Volume Discounts. Questions. Orders. Samples.
Call or Click
Monday-Friday 8:30-4:30 E.S.T.
+800.274.4637 | +716.668.4001 | [email protected]