Stop Using Your Sleeve Cuff
Elasticover

™

Barrier Skins Prevent

the

Spread
There's no more powerful tool to selling than cleanliness! Cover your investment, present a pristine product and show customers and staff you care.
---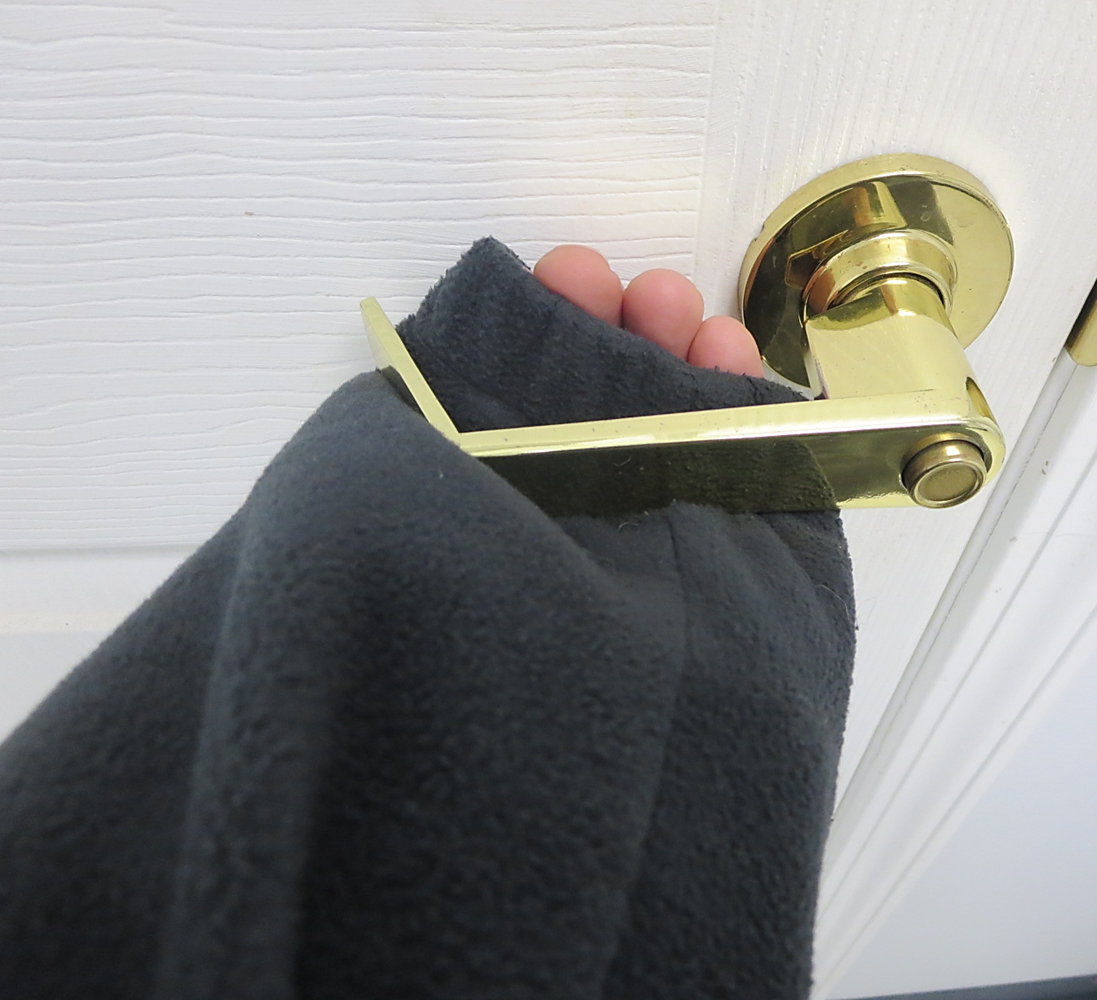 Individuals suffering from mysophobia, also known as verminophobia, germophobia, germaphobia, bacillophobia and bacteriophobia scrutinize every item they come in contact with. These individuals are very hesitant to use or touch publically shared items or surfaces such hand rails, elevator buttons, light switches, door handles and knobs, staplers, escalator rails or fixtures. But germo or not, there's one public surface no one really likes to touch and it's public lavatory door knobs and handles!
Stop Using Your Sleeve
Have you ever witnessed an individual tucking their hand inside their sleeve to grab a handle? They do this because touching a dirty bathroom handle or knob after washing the hands not only defeats the purpose of the washing, it can cross-contaminate germs and bacteria to your freshly cleaned hands.
High volume public lavatories, especially those located in amusement parks, airports, malls, casinos, professional sporting events, restaurants, theaters can easily spread and compound germs fast!
Touched all day, every day commonly touched public surfaces are a breeding ground and catalyst for acquiring disease causing viruses and bacteria like salmonella, strep, staph, e. Coli, MRSA and the common cold or flu. Germs can enter our bodies through the mouth, nose, eyes and breaks in the skin without our even knowing we've been infected. Germs can be transferred from inanimate surfaces to hands and vice-versa. Some germs can live on dry surfaces for several hours and moist surfaces for up to three days.
Promote Good Hygiene & Reduce Germ Transfers
There's no more powerful tool to selling than cleanliness! Cover your investment, present a pristine product and show customers you care. Disposable surface barrier products help safeguard against cross contamination and elevate infection control levels easily, quickly and affordably. If you're searching for an affordable solution to grabbing public door handles, check out these Elasticover™ 9-inch x 9-inch polyethylene surface barrier skins!
Consumer Appreciated
Elasticover™ infection control barriers reduce surface contact and are designed for use as a quick, easy barrier between your hands and commonly touched publicly shared surfaces. Elasticover™ protective covers are ideal for pubic lavatories, office lobbies, break rooms for use on dirty items such as door handles, door knobs, gear shifters, staplers, tools, jars, exam light handles, cell phones and more!
One-At-A-Time Dispensing
Elasticover™ is a thin, lightweight transparent polyethylene film with a sewn elastic gathering that stretches to snugly fit the item being covered. These protective skins feature a pleated accordion style fold that makes it easy to tote, dispense and apply.
Elasticover disposable infection control barrier covers are easy to apply and remove. They provide reliable protection without interfering with the operation or view ability. They're designed to cover, prolong and protect surfaces against liquid spills, scratches, bacteria, germs, dust, food, oil, grease, lint, finger prints, moisture and more.
Elasticover skins are 100% latex-free and great for use in hospitals, laboratories, libraries, offices, retail stores, restaurants, hospitality, production lines, automotive service and food processing plants where hygiene is important and all items must be disposable for contamination control.
Prevent the spread of germs with these protective surface barrier covers outside and inside public settings, but first you need to …
Monday - Friday 8:30am - 4:30pm Eastern Time
Call or Click
Orders. Questions. Samples. Volume Discounts.
+(800) 274-4637 | +(716)668-4001 | [email protected]