Avoid the Cross-Contamination of Healthcare Acquired Infections
If A Pillow Is Employed At Your Facility, Then You Need These FlexAir® Single-Use Inflatable Adjustable Comfort Pillows! +Simply click here!
When new patients are admitted into a hospital room, transported via an ambulance or placed on an exam t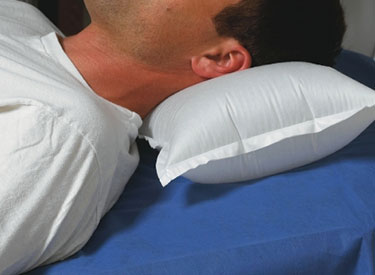 able, there's an expectation that the environment has been properly disinfected and is free from harmful pathogens known to cause healthcare-associated infections (HAIs). Unfortunately in infection control and prevention, the use of disinfectants and rigid protocols doesn't fully guarantee disinfection and oftentimes pathogens are left behind on surfaces.
Stretchers, examination tables and hospital gurney beds are areas well recognized as an increasingly important source of healthcare-associated infection. However there's one potential source that is frequently overlooked when it comes to harmful pathogens that lead to HAI's: patient pillows.
PILLOWS & INFECTIONS
Not only do pillows play a role in a patient's physical comfort, they can also combat serious underlying complications such as Hospital Acquired Infections (HAIs) according to OR Today. The recent study showed that over 30 types of bacteria and pathogens were found on samples of reusable hospital pillows.
Cross-contamination may occur from the pillow to the patient, from the pillow to the healthcare worker to patient, and from the patient to the pillow. Roughly one out of 20 hospital patients developed an HAI, in the end costing the healthcare industry $35 billion. If you're currently searching for a cost-effective and comfortable headrest, limb support or posture support pillow for your operation, check out these inflatable single-use FlexAir® pillows from Graham Medical®.
INFLATIBLE FLEXAIR® PILLOWS
Provide a fresh support every time. With the versatile FlexAir® Pillow, practitioners, first responders, shelters, chiropractors, tattooists, spa providers, massage therapist can rest assured their patients will have a sanitary, pathogen-free and a comfortable place to rest and support their heads or limbs.
Available in 2 sizes, FlexAir® Pillows are the lightest inflatable pillows available. They are compact and so simple to use. The firmness can be easily adjusted for maximum comfort. The space-saving design stores flat and inflates in just seconds for immediate use while an adjustable valve allows easy inflation or deflation as needed. Quiet, durable and non-irritating, the exterior has a soft nap, non-wo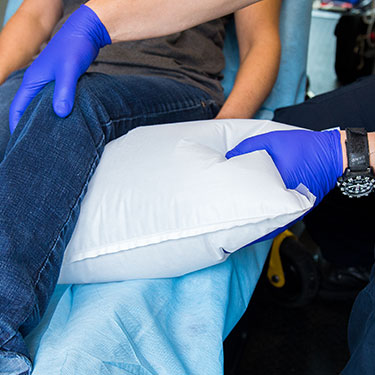 ven exterior material that's comfortable against the skin.
Ultra-light and compact
2 Sizes – minimalist or comfort
Easy inflation, quick deflation
Adjustable firmness for max comfort
Soft, durable, quiet and non-irritating non-woven poly exterior material
Folds and packs flat for easy storage and transportation
Cleans easily with damp cloth
Practitioners work hard to ensure their facility is properly disinfected to protect patients, clients and employees. What they may not always realize is that just one contaminated surface has potential to lead to healthcare-associated infections (HAIs), a major cause of patient morbidity and mortality.
Reusable patient pillows pose a serious cross-contamination risk. Graham Medical's single-use FlexAir® Inflatable Single-Use Patient Pillows play a vital role in creating a reliable and hygienic barrier and will help you prevent the spread and assure patients have a pathogen-free place to rest their heads.
For maximum infection control and comfort, be sure to use FlexAir® pillows in conjunction with Graham's line of single-use blankets and fitted sheets for maximum comfort and warmth!
Monday – Friday 8:30am – 4:30pm EST
Call or Click
Samples. Non-Published Volume Discounts. Questions.
Toll-Free +800-274-4637 | +716-668-4001 |

[email protected]
"We Want You To Return Home Safely...Every Day!™
Instructions:
To inflate, insert the straw provided about 6 in. (15 cm) into the clear plastic valve near the corner of the pillow. Blow directly into the end of the straw until the pillow reaches the desired firmness. This should take just 3-4 puffs. Then pull the straw out (the valve will self-seal) and store it where you can find it later.
To adjust pillow firmness, re-insert the straw and blow into the end to inflate or release air to deflate. When finished, pull the straw out. Many prefer less than fully inflated.
To quickly deflate, re-insert the straw into the valve and squeeze the air out until the pillow is flat. Roll or fold the pillow for storage and stow the straw with it.
If you lose the straw, the pillow can be inflated by blowing directly into the valve and deflated by sticking a long, thin, non-sharp object into the valve to release the air.
Cleaning:
Wipe with a damp cloth, do not machine wash