It's More Than Just a Glove Liner
IMPACTO® Anti-Impact Glove Utilizes Visco-Elastic Polymer (VEP) Padding That Protects the Palm From Impact and Shock
There's a saying that too much of anything is a bad thing and if you're a laborer in the landscaping or construction industries, vibrations and repetitive strain are unfortunately part of the job. Long-term exposure to these negative work forces can have an adverse effect on your hand health. It's very important that you protect you most important tool – the hands before any symptoms appear!
Impacto® Impact Products offers laborers with highly specialized hand protection products focused on reducing impact, vibration and repetitive motion in any work environment.
PROFESSIONAL SPECIALIZED HAND PROTECTION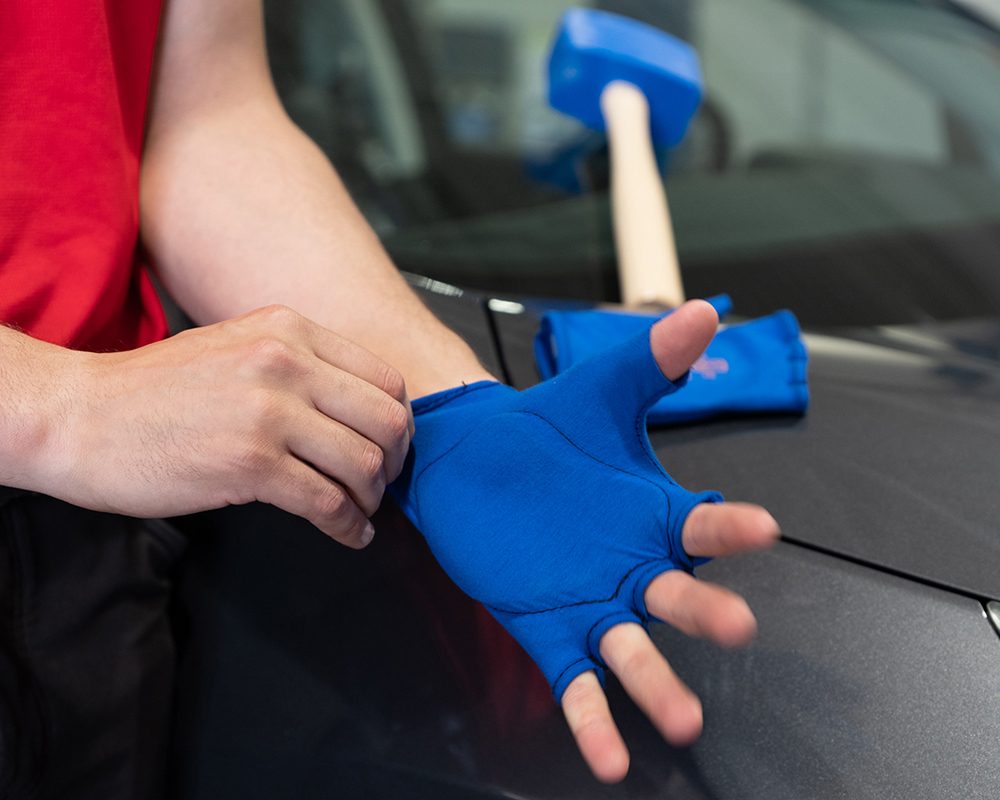 Designed to minimize the risk of injury to musculoskeletal system and lower Worker Compensation claims, the Impacto® 501 glove liner is designed to be used under work gloves for versatile usage while maximizing productivity and wearer comfort.
Pneumatic and impact tools such as sanders, chipping hammers, jackhammers, chain saws, grinders, cultivators and trimmers emit powerful vibrations that left unregulated, could result in a serious hand injury. All that pulsing and shaking can affect circulation in the hand and fingers while long term exposure can permanent damage the blood vessels, nerves, tendons and muscles in the hand.
From air tools to sudden impact, The Impacto® 501 Original Anti-Impact Palm Pad Fingerless Glove Liner makes the hardest work a breeze on your hands. Used alone or as a glove liner, the 501 deadens shock and impact keeping your hands safe and comfortable.
SPECIALIZED PROTECTIVE PALM PADDING
Constructed with four-way stretch polycotton, the Orginal 501 Glove allows full mobility, offers excellent breathability and comfort. Contoured visco-elastic polymer (VEP) 1/8" padding in the palm protects from vibration and impact without hindering hand movements. Fingerless style leaves the fingers exposed for tactile feedback and mobility.
Visco-Elastic Polymers (VEPs) are solids that mimic the behavior of liquids, which allows dissipation of shock waves better than any other material. VEP absorbs shock waves in all directions at once, reforming to its original shape at a rate that is slow enough to not exert outward pressure, but fast enough to regain its original shape before the next shock. In laboratory tests, VEP has proven its ability to absorb up to 500% more shock than foam of the same thickness.
The IMPACTO 501-00 is great for protection from electric, manual and power tools in applications including construction, assembly, manufacturing, maintenance and warehousing.
Prevention is critical to the wellbeing of your staff so don't wait until the symptoms appear. If you haven't already tried these specialized industrial safety products, what are you waiting for? Injury prevention is just a click away - all you need to do is tap the link and …
Orders. Questions. Volume Discounts. Special Requests.
Call or Click
+800-274-4637 | +716-668-4001 | Fax +716-668-4496 | [email protected]
"We Want You to Return Home Safely Every Day"