ATG® Series | MaxiFlex® Comfort™ Grip Gloves
High-Grade Absorbing Cotton Lining. Luxurious Precision Handling.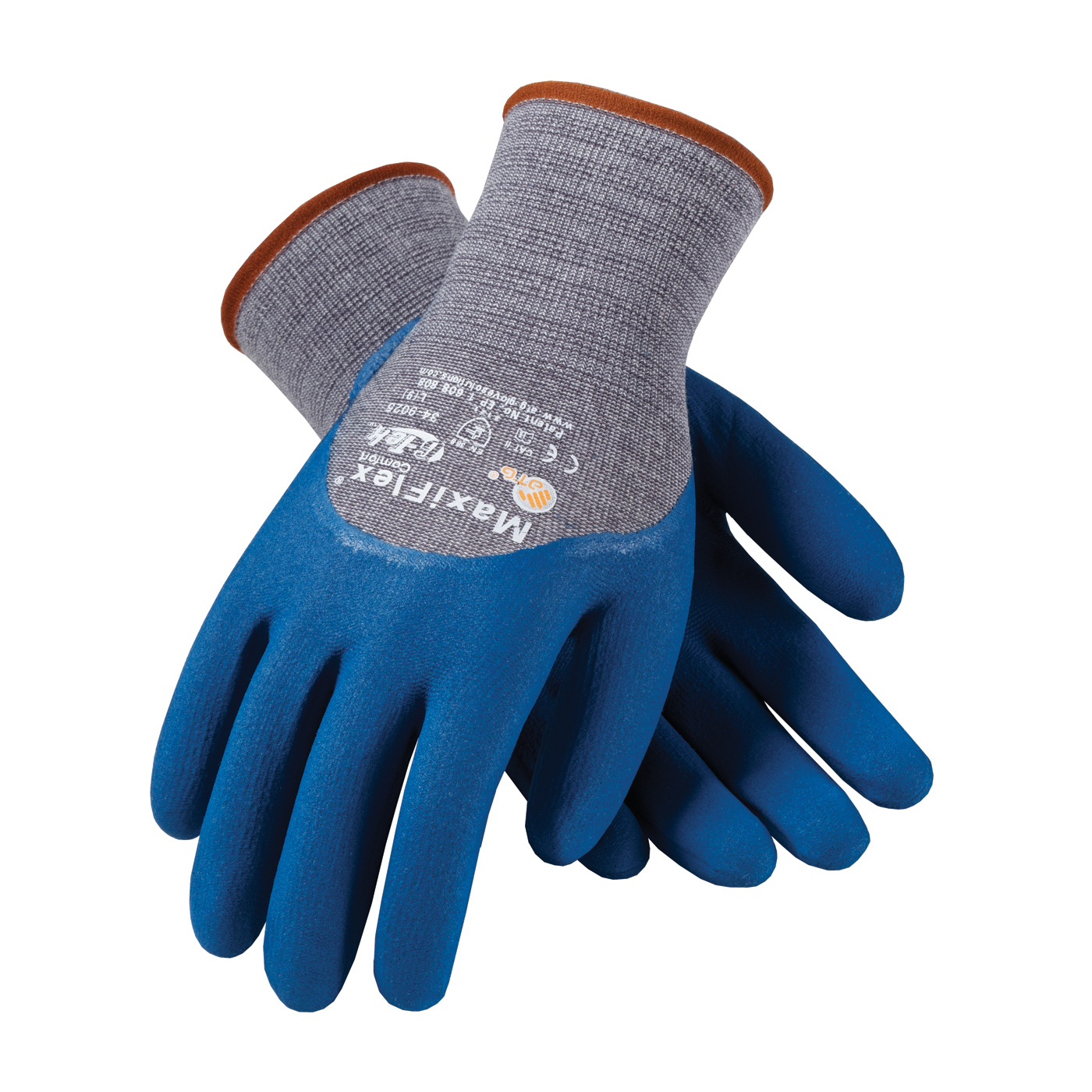 Designed and developed as a breathable glove, MaxiFlex® Comfort™ is a precision handling general purpose work glove that has an inner lining made from high grade soft cotton for the the ultimate in hand comfort and sweat management.
Pioneered by ATG® technology and partnered with PIP® (Protective Industrial Products), Maxiflex® Comfort™ Gloves are changing the way employees wear hand protection!
Unmatched Maxiflex® Comfort™ Features
Class Leading Breathability
Constructed with ATG® AIRtech® technology, which enables 360◦ breathability of the hand, is delivered through PIP®'s patented foam technology that allows air to circulate making MaxiFlex® Gloves cooler to wear.
Gripping Power
This glove line features a proprietary MaxiFlex® micro-foam that's constructed of millions of tiny particles that sit in the liner but away from the hand. This foam coating technology optimizes a grip through a unique micro-cup finish that's designed to channel away liquids to when handling in wet and dirty conditions. This coating provides extra abrasion and tear resistance and is compatible with oils, petrochemicals, fuels and most acids.
Class Leading Fit, Form & Feel
ATG® proprietary technology platforms resulted in the Maxiflex® Comfort™ Gloves being 25% thinner than most foam nitrile coated gloves but offering twice the mechanical performance in form, fit and feel. Being super thin at 0.95 mm, MaxiFlex® delivers exceptional levels of dexterity, flexibility and twice the durability. Advanced manufacturing processes are utilized to mimic the natural contours of the hand while smooth, rounded fingertips reduce hand fatigue and increase fingertip sensitivity. Combine ergonomics with an ultra-thin palm coating and the result is increased comfort and tactility like no other!
Maxiflex® Comfort™ Gloves are manufactured extremely clean. They are treated with Actifresh® to impede odors and eliminate germs and are also laundered prior to final packaging. The Oeko-Tex® Association has evaluated and certified Maxiflex® Comfort™ Gloves to be skin safe and free of DMF and THF - two potentially harmful compounds that can be absorbed through the skin. All ingredients used in the manufacturing and construction of this product are compliant with the REACH legislation and glove component materials comply with Federal regulations for food contact, 21 CFR, 170-199. These gloves are also silicone-free and launderable.
MaxiFlex® is more than a glove, it's a productivity tool. These are the most breathable and flexible gloves offered in the market and will increase worker comfort and productivity. Maxiflex® Comfort™ Glove series has become the benchmark for precision handling in dry environments.
#34-9025 MaxiFlex® Comfort™ Seamless Knit Cotton/Nylon/Lycra® Gloves features a blue full finger and ¾ nitrile foam knuckle coating. They are ideal for General Assembly, Micro-engineering, Material Handling, Automotive components, Painting and Horticulture. Available in sizes extra-small through extra-large, the cuffs feature color-coded hems for easy and fast size identification.
Contact us for volume discounts, samples, to place an order or for PIP® optional customized services.
+800.274.4637 | +716.668.4001 | [email protected]
We want you to go home safely everyday!