Does Your Boat, Car or RV Get The Sweats?
We've all seen those "DO NOT EAT" white or brown paper absorber packets made in China. They're commonly packaged inside bottles, bags and boxes to prolong and protect consumer products and food items. Considered desiccants, they regulate moisture and sustain dryness as goods pass along the distribution supply chain.
A desiccant is a vessel made of a solid, moisture absorbing substance that induces or sustains a state of dryness in any environment inside its sealed vicinity. Desiccants are commonly encountered in the packaging of pharmaceutical, electronics, food and manufacturing industries as a way to prolong, preserve and protect items.
A particular danger to food items, consumer products or fabrics regardless of the operating humidity range is condensation. Condensation is the change of the physical state of matter from gas phase into liquid phase and occurs when a sealed item or enclosed area are subjected to fluctuations in extreme temperatures. For example, when an item is transported from a cold place (e.g. garage, car, shed, shipping container or carton) to a warmer place, condensation or "The Sweats" typically develops and often leads to mold, mildew and rust when packaged, shipped or stored for extended periods.
Stop using those cheap silica, charcoal and clay type packs or containers made in China!
Made in the

USA

, Premium Line of Moisture Absorber Pouches Protect Interiors and Product Quality Against the "Sweats" for 90+ days!
Made over here in Buffalo NY USA we took those DO NOT EAT packs and "put them on steroids" to create a premium line of industrial-sized, commercial-grade desiccants designed to safeguard the interiors of marine crafts, recreational vehicles, antique, exotic collectible sports cars and other cherished valuables while in storage or sealed for extended lengths of time.
Originally patented to absorb "cargo sweat" inside oceanic shipping containers, our moisture absorber and mold/rust inhibitor pouches incorporate the same absorbing technology for cars, boats, RV's and storage units and will outperform silica type sorbent products. These jumbo sized absorber pouches capture and convert moisture into dry crystal like flakes preventing potential mold, mildew or corrosion damages to interiors up to 90+ days (depending on humidity). Air activated, technology activates in the presence of moisture and automatically shuts "off" and turns "on". Our absorber pouches will remain in a dry condition when desiccant has reached full capacity-meaning there is NO water by-product or leaching.
Here are some other awesome features: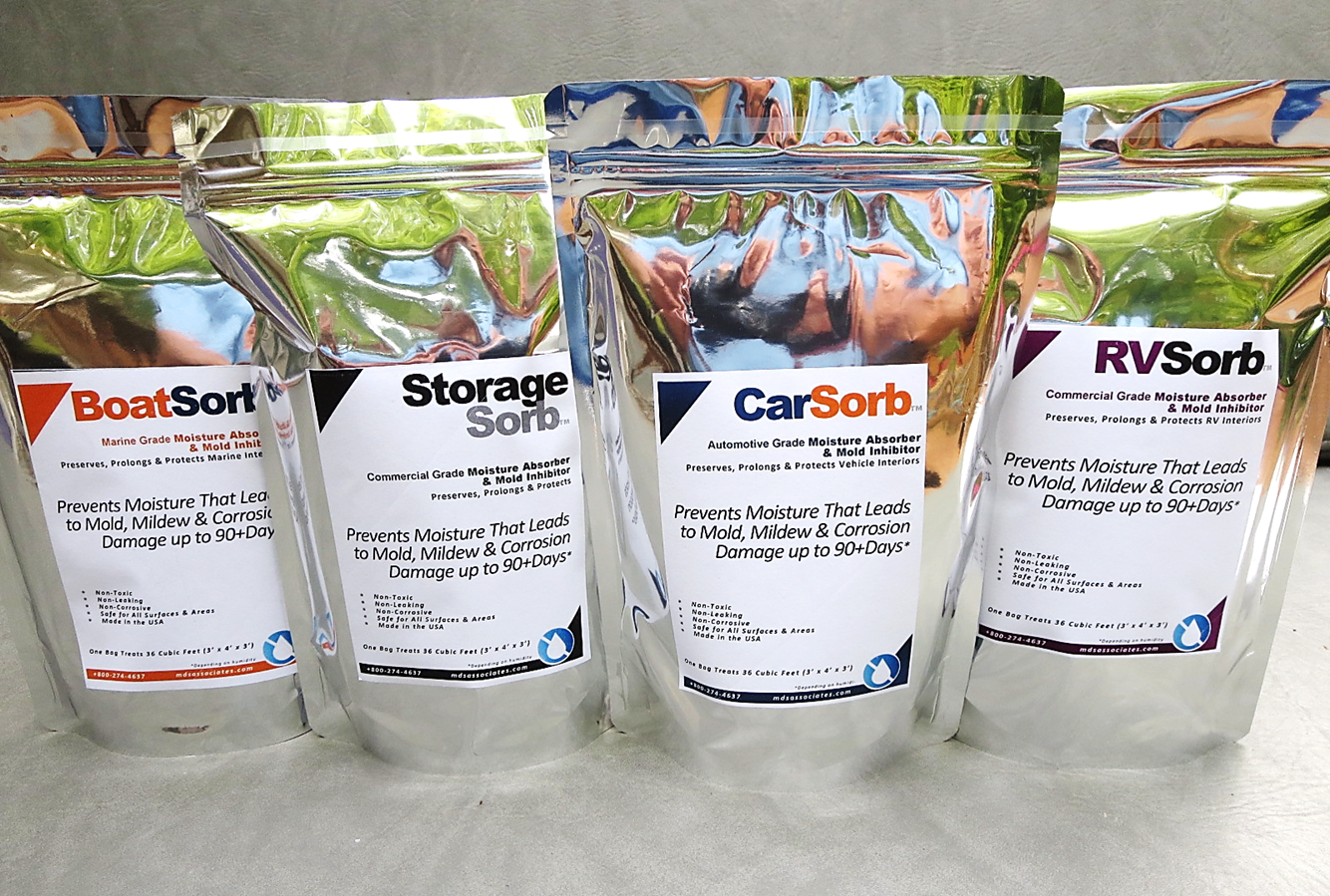 Non-Toxic

Non-Leaching

No Water By-Product

Non-Corrosive

No VOC's

Fragrance-Free

Disposes Safely in Trash

Safe for All Surfaces

Made in the USA!
Protects Against the Threats We Can't See....Rid Mold, Mildew & Rust!
Preserve, prolong and protect products from moisture related threats! Great for all seasonal use and winter storage! Try one of these moisture absorbers when shipping, storing or sealing items for extended periods and keep goods fresh and dry. Simply place these pouches throughout interior areas to be treated Tyvek® side up and seal shut. One 196 gram weight bag treats 36 cubic feet (3' x 4' x 3') area and remember, you can increase the absorbing duration and volumes by adding a few extra packs. Ask for a sample today!
Shop Now
+Shop for BoatSorb™ Moisture Absorber & Mold/Rust Inhibitor Pouches here
+Shop for CarSorb™ Moisture Absorber & Mold/Rust Inhibitor Pouches here
+Shop for RVSorb™ Moisture Absorber & Mold/Rust Inhibitor Pouches here
+Shop for StorageSorb™ Moisture Absorber & Mold/Rust Inhibitor Pouches here
+Desiccant Information/Instructions
---
Contact us for volume discounts, samples, dealer inquiries, to place an order or for samples.
Monday-Friday 8:30-4:30 E.S.T.
+800.274.4637 | +716.668.4001 | [email protected] | MDSassociates.com