Heavy-Duty, Extended-Use
Orange

Industrial Nitrile Gloves
Orange Guard™ Premium Industrial Nitrile Gloves with Raised Diamond Texture Technology Provides a Tenacious Grip and Chemical Barrier Protection!
---
Mechanics, technicians and many operators who work with oil, grease and chemicals are often required to wear disposable gloves to keep their hands clean and protected. Unfortunately industrial liquids and chemicals make gripping utensils, small parts, instruments very slippery and can degrade the protective barrier properties of the glove. Industrial disposable nitrile gloves are also at risk to snags on parts, machines and tools that can cause tearing.
If You Currently Use Gloveworks® or Grippaz® Nitrile Glove Brands, Then Be Sure To Check These Out!
When it is comes to single-use nitrile gloves, textured surfaces and glove thickness become of increasing importance to the wearer. The GUARD™ brand of affordably priced Extended-Use Heavy-Duty Premium Nitrile Gloves can help with productivity and safety and when on the job.
ORANGE GUARD™ Premium Heavy-Duty Industrial Nitrile Gloves
Product Features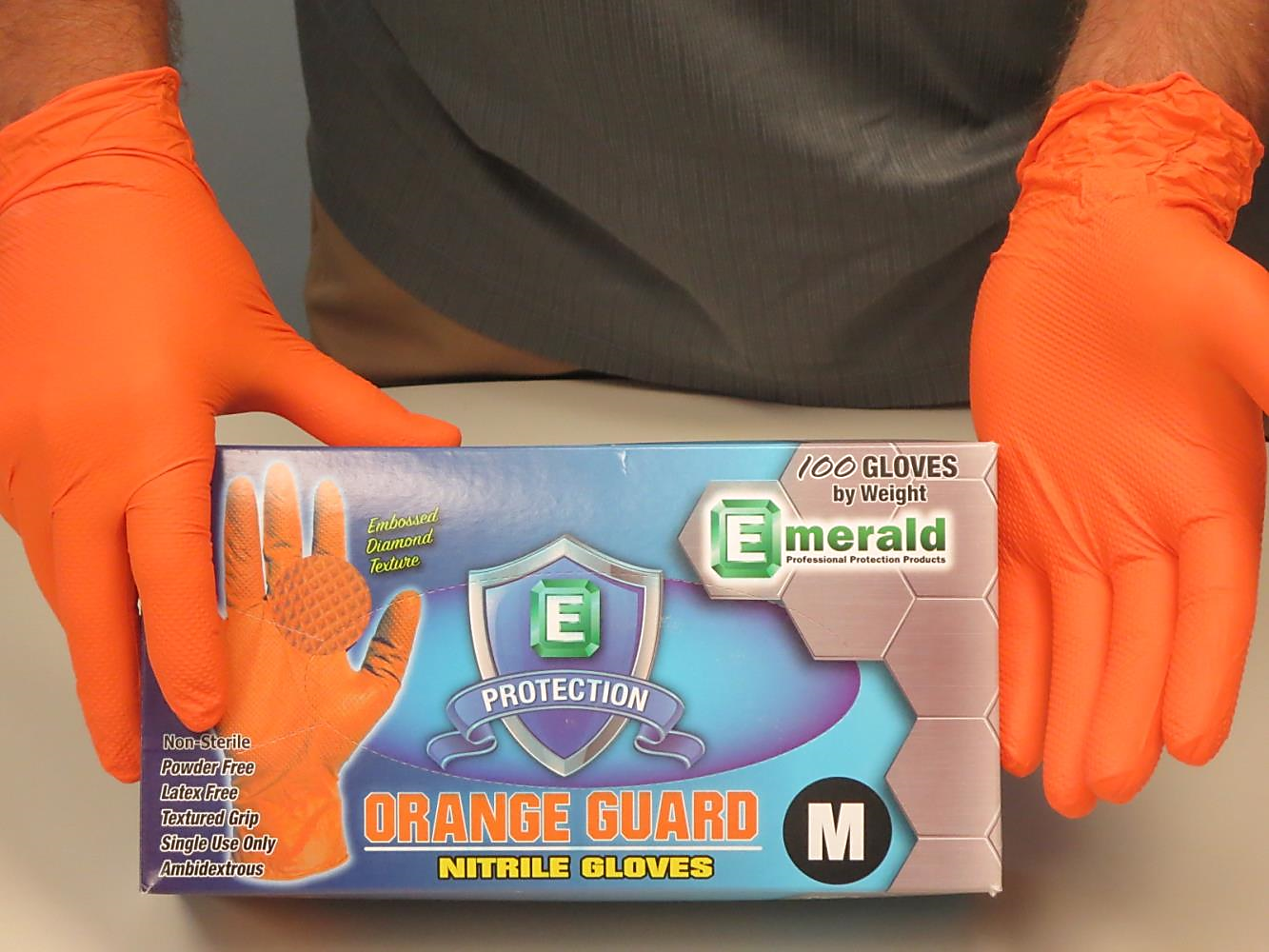 These ORANGE GUARD™ Heavy Duty Powder-Free Nitrile Gloves are made for tough industrial work environments where extra gripping power, enhanced visibility and glove thickness matter. They're ideal hand protection for use in industrial settings where chemical breakthrough times and tensile strength are demanded most.
Boasting a modest 7-mil thickness, these premium latex-free nitrile gloves provide long chemical breakthrough times – almost 5X longer than regular disposable gloves in industrial applications making these ideal hand protection from common industrial compounds such as pesticides, herbicides, detergents or specialty chemicals like iodine, automotive paints, brake fluid, hydraulic fluids, oil, gas, grease, butane and solvents.
ORANGE GUARD™ Industrial Nitrile Gloves are powder-free and chlorinated to reduce contaminates and feature a special polymer coating that makes the gloves easy to slide on the hands saving the wearer time and energy.
Amazing Premium Raised Diamond Texture Technology
An aggressive raised diamond textured grip throughout the fingers and palm regions is designed to channel or allow liquids to pass through. This diamond grip technology enables greater surface contact to enhance the grip in wet or dry conditions so you can work with greater security, confidence with less loss .
Heavy-Duty | Extra Thick
At 7-mils thick, 1-pair of Orange Guard™ Nitrile Gloves is like wearing 2 pairs of typical disposable nitrile gloves. They offer longevity, strength and comfort with tactile sensitivity. This extra thickness reduces snag-related rips, tears and punctures when working around sharp items.
Bright, Visible Orange Color | A Call for Safety
A bold, high visibility orange color stands out and enhances safety, focus, compliance checks and hand signaling. The hi-vis orange color is also perfect for color-coding departments, assembly lines or staff/personnel. Use orange colored gloves to provide safety cues throughout the workday.
Ideal for Janitorial, Painting, Plumbing, Automotive Service, Labs, HVAC, Agriculture, Manufacturing, Food Processing
GUARD™ Premium Extended-Use Heavy-Duty Industrial Nitrile gloves are also available blue and black colors. If you currently use Grippaz® brand gloves from PIP® or use Ammex® Gloveworks HD brand gloves be sure to check out these heavy-duty nitrile grip gloves from Emerald Personal Protection Products available at a fraction of the cost!
---
Monday – Friday 8:30am – 4:30pm EST
Call or Click Today
Samples. Non-Published Volume Discounts. Questions.
Toll-Free +800-274-4637 | +716-668-4001 |

[email protected]
"We Want You To Return Home Safely...Every Day! ™