Serious Disposable Nitrile Grip Gloves
For

Serious Pros
Guard™ Extended-Use Nitrile Gloves with Raised Diamond Texture Provide a Tenacious Grip and Chemical Barrier Protection! If You Currently Use Gloveworks® or Grippaz® Brands, Then Be Sure To Check These Out!
According to the Environmental Science and Technology, there are more than 350,000 chemicals and chemical mixtures in the world registered for commercial production use. Operators who come into contact with chemicals, hazardous substances and gases are at serious risk to side effects if not properly protected. To protect workers from these health concerns, shop owners and safety managers need to purchase the proper hand protection for their employees.
DISPOSABLE GLOVES
Disposable type gloves are commonly worn by those who handle or are exposed to chemicals, oils and cleaners. Because latex is an organic material that can be broken down by solvents and other shop chemicals, they are a poor choice for extended protection. The best disposable glove material for industrial chemical handling applications is nitrile. Nitrile gloves provide the best breakthrough times among disposables against dangerous chemicals in petroleum-based products, brake cleaner, auto paints, fuels, oils, and solvents.
Disposable gloves are slick by nature and when oil, grease, hydraulic fluids, detergents, soaps and water coat the surface of the glove and tool, it could result in a personal hand injury or product damage. From micro-texture to fish scale patterns many glove factories have introduced innovations in glove textures in an attempt to aid workers at greater risk of slippage which include those who work in:
Automotive Service and Repair

Electroplating

HVAC

Paint Spraying

Food, Fish, Meat, Poultry, Fruit & Vegetable Processing

Dairy Production

Small Engine Repair

Housekeeping/Janitorial
Same Performance But At Half The Price. NO MAP Pricing!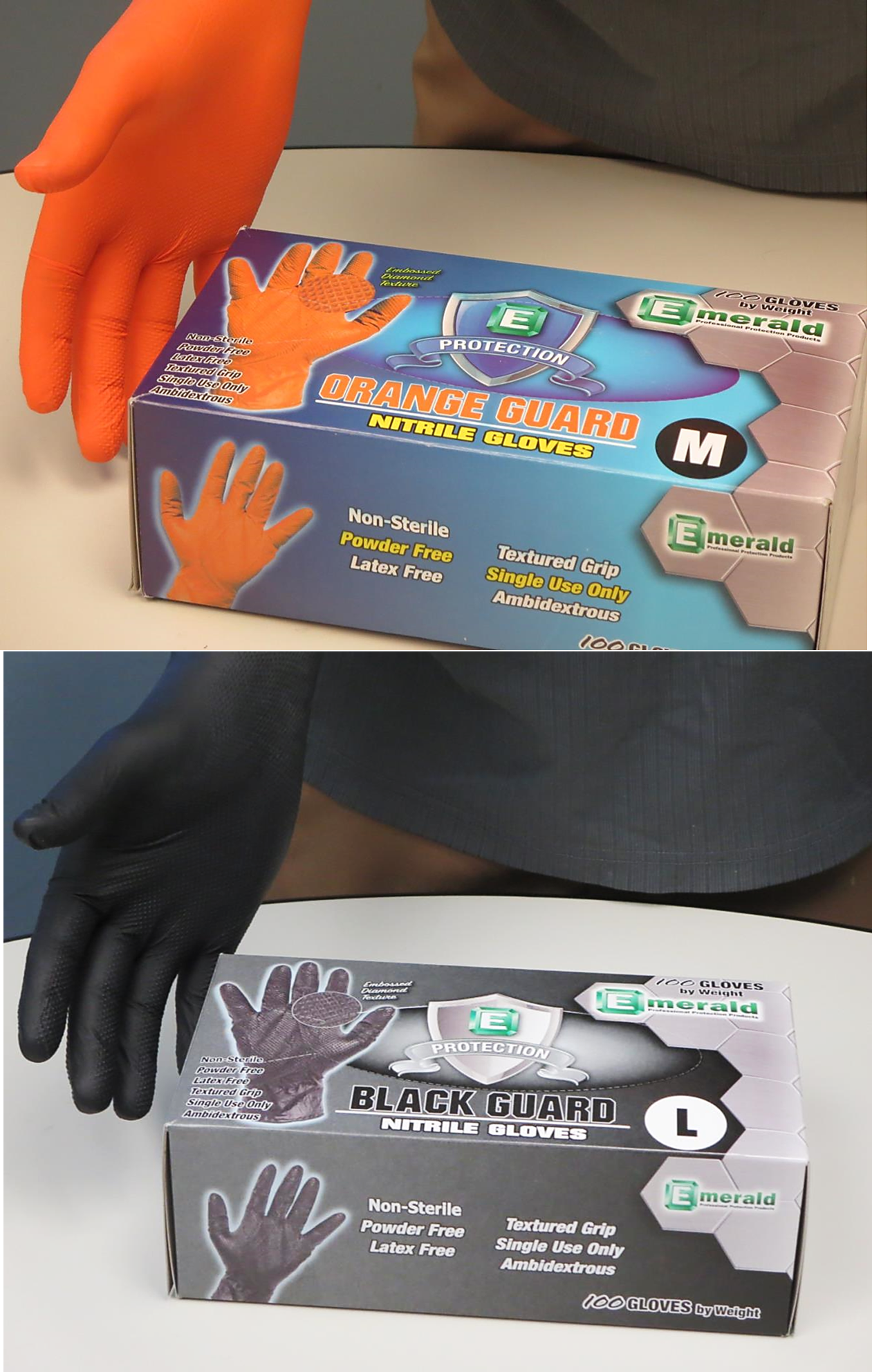 If you currently use Grippaz® brand gloves from PIP® or use Ammex® Gloveworks HD brand gloves and grown tired of inflated prices or minimum advertise pricing (MAP pricing), then check out these heavy-duty nitrile grip gloves from Emerald Personal Protection Products available at a fraction of the cost!
Guard™ Extended-Use Nitrile Gloves Feature Raised Diamond Textured Traction Grip
Available in popular black or hi-vis orange colors, Emerald's extended-use latex-free Guard™ brand gloves feature innovative raised diamond texture technology on virtually all of the glove's gripping area.
This texture has channels between each raised diamond that allow liquids to pass through, which enables greater surface contact, enhancing the grip in wet or dry conditions so you can work with greater confidence.
Boasting a modest 7-mil thickness, Guard™ brand gloves resists tearing, punctures while providing long chemical breakthrough times – almost 5X longer than regular disposable gloves in industrial applications. This translates to less consumption and money saved.
Dexterous, flexible and durable, Orange Guard™ and Black Guard™ Nitrile Gloves are also touchscreen compatible to allow the user to operate a touch screen phone or device without removing gloves.
Guard™ Extended-use Nitrile gloves provide mechanics the comfort and tactility they are looking for in a good pair of disposable gloves while textured glove surfaces give workers extra grip when working with tools, parts or instruments. The raised textured surface is also ideal for cleaning paint from paint brushes!
Safety managers and site managers will notice improved productivity with less fatigue, fewer injuries and reduced consumption saving your facility money.
Skip the compromises when wearing disposable gloves and get your Guard™ today. Protection and grip are only a click away. All you need to do is tap the link below and ...
OR
Monday – Friday 8:30am – 4:30pm EST
Call or Click Today
Samples. Non-Published Volume Discounts. Questions.
Toll-Free +800-274-4637 | +716-668-4001 |

[email protected]
"We Want You To Return Home Safely...Every Day! ™