Disposable Nitrile Gloves

That Utilize

Raised Diamond Grip
Guard™ Extended-Use Nitrile Gloves with Raised Diamond Texture Provide a Tenacious Grip and Chemical Barrier Protection! If You Currently Use Gloveworks® or Grippaz® Brands, Then Be Sure To Check These Out!
---
If there is one glove texture that raised the bar across the disposable glove segment, it's th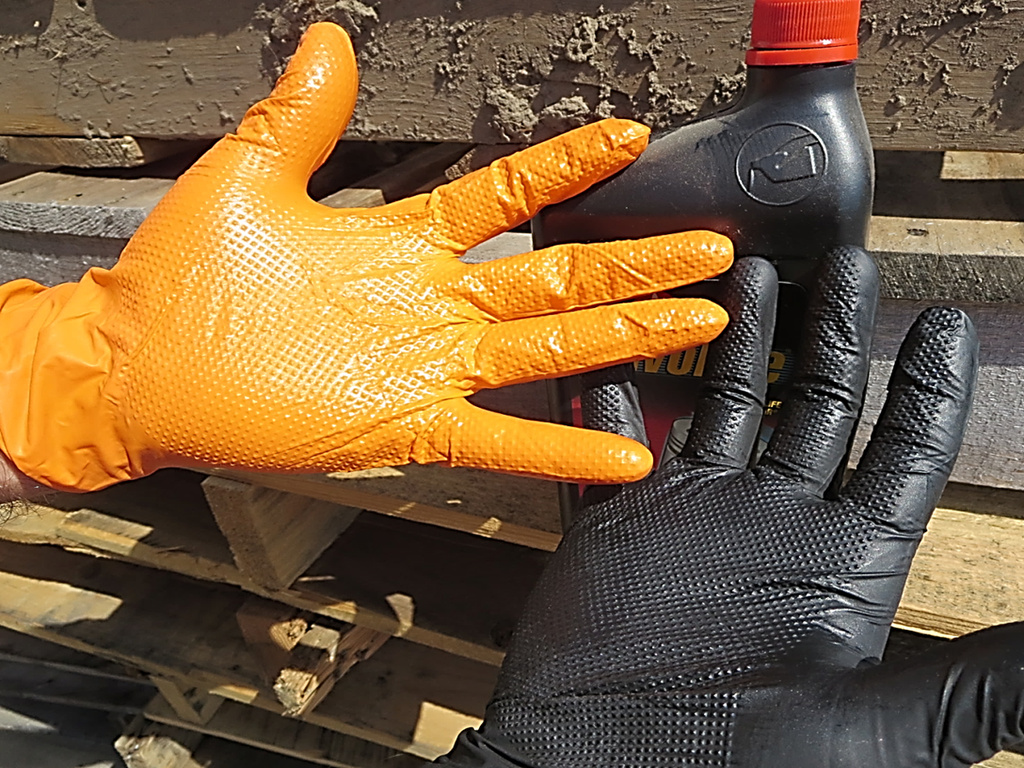 e Raised Diamond Texture. When your customers want the best gripping power on the market, they should reach first for Emerald's GUARD™ brand of Industrial Nitrile Gloves with Raised Diamond Grip. End-users love them for their strength, durability, barrier protection and oh yeah, the grip!
Incorporated on the entire glove surface (fingers, fingertips and palms) is a raised diamond texture - a very aggressive gripping technology. This pattern simulates channels that allow fluids to flow along the surface easily without interfering with the grip. Even when the gloves are slick one can hold on tight, especially important when using oily, wet tools.
These are gloves that last. Available in 7-mil thickness and in high-visibility orange and black colors,
GUARD™ latex-free industrial extended-use gloves provide excellent barrier protection from grease, oil, solvents, cleaning solutions, specialty chemicals, especially petroleum-based products iodine, butane, herbicides and pesticides requiring less glove changes. This translates to money saved and higher productivity!
Bright orange color is easily seen even in low-light conditions.

Workers are less likely to be injured when they are wearing high-visibility colors.

High-visibility gloves lead to a higher compliance rate, as it is easier for a safety director to see who is wearing them, especially in dark work environemnts

Bright color alerts wearer to hand placement when working.
The

BLACK GUARD™

Advantage:
Black color masks staining from blood, grease, oil, dirt , etc.

Black color portrays professionalism

Popular in tattoo, spas, salons, law enforcement, security, construction, high end restaurants and automotive service
Dexterous, flexible and durable, Guard™ Orange and Guard™ Black Nitrile Gloves are also touchscreen compatible to allow the user to operate a touch screen phone or device without removing gloves. Guard™ brand Extended-use Nitrile gloves provide mechanics the comfort and tactility they are looking for in a good pair of disposable gloves while raised diamond textured glove surfaces give workers extra grip when working with tools, parts or instruments. The raised textured surface is also ideal for cleaning paint from paint brushes!
Safety managers and site managers will notice improved productivity with less fatigue, fewer injuries and reduced consumption saving your facility money.
Skip the compromises when wearing disposable gloves and get your Guard™ today. Protection and grip are only a click away. All you need to do is tap the link below and ...
OR
Monday – Friday 8:30am – 4:30pm EST
Call or Click Today
Samples. Non-Published Volume Discounts. Questions.
Toll-Free +800-274-4637 | +716-668-4001 | [email protected]
"We Want You To Return Home Safely...Every Day! ™