Orthodontic Patient Kits For Home Care
Orthodontic Braces are an exciting time for many, but as times grows on, they become somewhat of a nuisance. Soon patients realize there is extra oral care needed both in time and money, and for some, this be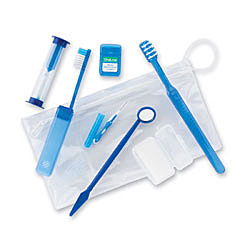 comes a burden. Mom and Dad are forced to shop for special brushing aids that are retail pricey. On top of that they then realize that the counter top is a collection of expensive loose items scattered throughout.
Orthodontic patient kits, also known as patient hygiene kits, are one of the top giveaway items by Orthodontists. Orthodontic Kits are a pre-assembled collection of ortho specific aids or tools that patients can use on a regular basis and contain everything they need to clean and maintain their braces between meals and snacks. They are appreciated by the patient and their guardians and can be used when at home, school or while on vacation to maintain a healthy smile.
Giving orthodontic kits to patients is a valuable way to show that the patient's business, oral health and their braces are important. Some patients feel the gift signifies the value of their business to their doctor. Orthodontic Patient Travel Kits from MDS Associates are perfect for patient maintenance and keeps all the supplies accessible in one convenient bag or hard case. Each kit comes enclosed in a heavy duty durable vinyl bag or a hinged plastic case for travel or ease of storage.
Each Orthodontic Kit Includes A Variety of Items
Orthodontic Take-Home Kits include a variety of ortho hygiene tools like orthodontic wax, floss threaders, dental floss, v-trim toothbrushes, dental mirrors and more. And best of all, they are pre-packed in travel bags or hinged hard cases that you simply hand-out. All of these professional items can help orthodontic patients keep their mouth healthy, clean and beautiful until their next visit to the orthodontist.
Besides the benefits of keeping patient's mouth cleaner, these dental kits also act as a reminder to return to the orthodontist or dentist whenever the items in the dental kit are used. Promotional or giveaway items, such as these orthodontic patient kits, are fantastic way to increase referrals and market an orthodontic or dentist office. Plus, dentists and orthodontists will find that their p
atients love them. Contact MDS for custom imprinting and other Orthodontic Aid Configurations and Travel Bag Options!
Like patient appliance boxes or toothbrushes, dental hygiene kits are an important part of any dentist's office. They benefit the patients by keeping patient's mouth healthier, and act as subtle reminders to schedule and keep their checkup appointments, and most importantly shows that their doctor cares about them.
---
If your dental office could benefit from promotional dental or orthodontic kits, contact MDS Associates or Call MDS for samples, volume discounts or to place an order!
+800.274.4637 | +716.668.4001 | [email protected] | Fax +716.668.4496 | MDSassociates.com