Introducing

G-TEK®

ECOSeries

™
BIO-BASED FIBER TECHNOLOGIES & SUSTAINABLE SOLUTIONS IN INDUSTRIAL HAND PROTECTION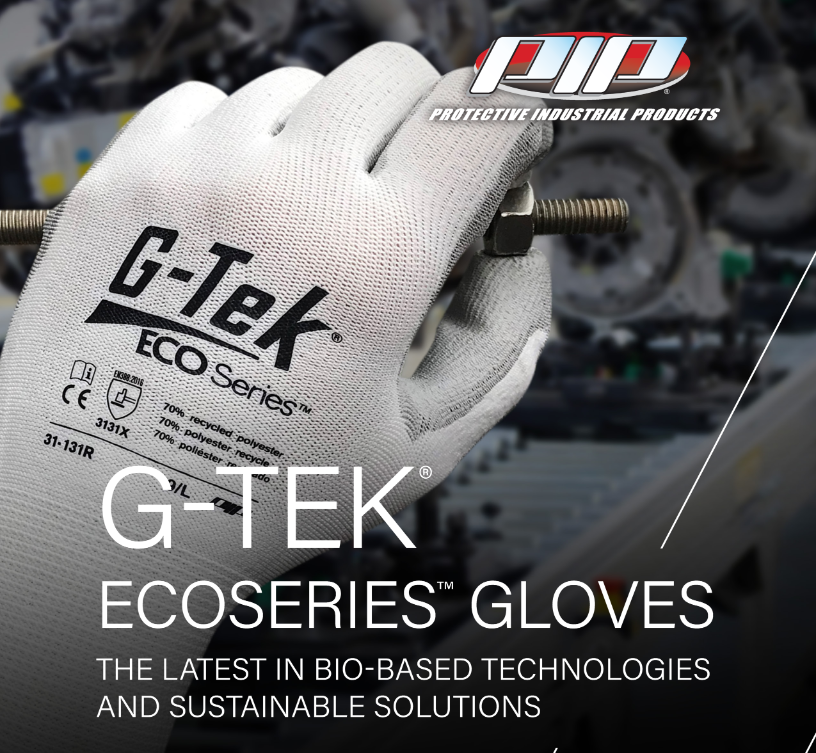 For many of us, environmentalism begins with the recycling symbol and ends at the blue recycling bin. The simple act of throwing something away like a plastic bottle into a large box marked with a recycling sign is enough to make some of us feel good, like we've done our part to help reduce landfill waste. Unfortunately, many people don't realize there's a very dirty side to recycling.
Unfortunately 80% of plastic water bottles end up in landfills and it takes at least 1000 years to decompose, leaching pollutants into our soil and waterways. As a result, U.S. landfills are overflowing with 2 million tons of discarded water bottles.
We've been warned of the consequences of pollution and climate change and for some it goes in one ear and out the other. There's one corporation listening and doing their part to reduce their carbon footprint and reliance on fossil fuel based resources ...AND reducing stockpiles of useless P.E.T. water bottles!
As a global provider of personal protection and safety products to the industrial safety and construction markets, PIP® (Protective Industrial Products) understands the importance or reducing waste. Not only as a means of reducing costs but also as a way of reducing environmental impact.
Sustainable Industrial Work Gloves
The folks at PIP® are proud to introduce their latest innovation in industrial hand safety. The new G-Tek® ECOSeries™ line of coated gloves uses the latest in bio-based and recycled fiber technologies. PIP® has partnered with global partners like DSM Dyneema® to develop gloves with yarns derived from the world's first bio-based HMPE fiber technology.
Better for the Planet
While you may not notice a difference in comfort or function, you will feel better that these new G-Tek® ECOSeries™ gloves with advanced technology greatly reduced the manufacturing carbon footprint. But it doesn't stop here.
Recycled P.E.T. Bottles
PIP's global partners decided to build on their innovative eco-technology platform by first using recycled P.E.T. water bottles that were shredded and extruded as a fiber. and then blended with recuperated polyester yarns, with some of the new gloves containing up to 70% of recycled content. The combined result is PIP's newest line-up of G-Tek's ECOSeries™ of coated seamless knit work gloves using environmentally friendly fibers and recycled yarn technologies.
FEATURES
ANSI safety rated resistance agaiunst abrasion

OEKO TEX Approved

Snug Fitting

Non-Irritating to wear

Washable

Resistant to chemicals, water and ultraviolet light
ECOSeries™ PASSES GLOBAL RECYCLED STANDARD
70%
RECYCLED

POLYESTER
60%
RECYCLED

POLYESTER
55%
RECYCLED

POLYESTER
ANSI RATED CUT-RESISTANCE
We are proud to bring you products that maximize recyclability and reduce our carbon footprint that matters to our future and planet.
Orders. Questions. Samples. Volume Discounts.
Click or Call Today
Monday - Friday 8:30am - 4:30pm EST
Toll-Free +800-274-4637 | +716-668-4001 | [email protected]
"We Want You To Return Home Safely Every Day™"
+click to watch YouTube video here