PREVENT

RED

NECK
Soon the summer sun will emitting powerful UV rays and if you aren't protected, it can cause damage to the skin. If you're a landscaper or contractor, you call the outdoors your office. You also deal with the elements on a regular basis. If there's one injury that will hinder productivity it's sunburn, and if there's one body area prone to a sunburn, it's the neck region.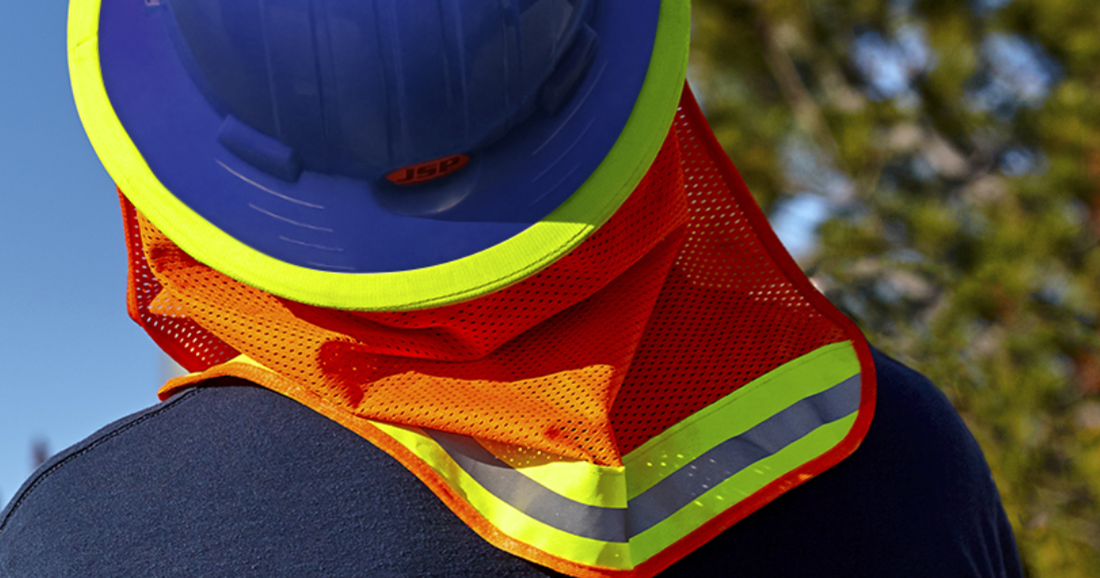 Just as damaging in the winter as they are in the summer, sunburns linger for several days and have a profound negative affect on a worker's job performance and overall production. Simple work movements, showering and even sleeping can be intolerable. Sun damage also leads to premature skin aging and dangerous melanoma.
Reporting a sunburn injury really upsets supervisors and health/safety officers. Why you may ask? Well, with proper precautions, sunburns are highly and easily preventable!
SUN PROTECTION
To protect exposed skin from the sun's harmful rays, outdoor workers need to have the proper sunscreen accessories available such as sunscreen lotion or a sun blocking product. Popular among outdoor laborers are hard hat visor neck shades designed to help screen the workers from the sun's damaging UV rays, to alleviate the toll it takes on productivity, skin and the ability to keep hydrated.
EZ-COOL® HARD HAT SHADES
Designed to fit virtually all full brim hard hats, the EZ-Cool® Hard Hat Visor and Neck Shades from Protective Industrial Products (PIP®) features an elastic gathering at the back for easy, fast and secure draping on the safety helmet. An extended visor at the front blocks the sun from the worker's eyes while lightweight mesh polyester/solid fabric drapes at the back to shade the neck. The EZ-Cool® Hard Hat Visor Neck Shade is available with or without Flame Resistance treatment (up to 25 washes)
ADDITIONAL EZ-COOL® SAFETY BENEFITS
This shouldn't come as a huge surprise, but the main advantage to wearing high-visibility work apparel (HVSA) is it can improve worker visibility on the job. While visibility is sometimes overlooked during PPE selection, in reality, this is a very important safety factor to consider. These high visibility EZ-Cool® Visor Neck Shade accessory has highly reflective properties and is easily discernible from any background making these the perfect companion with hi-viz safety vests, hi-viz work gloves and/or hi-viz work T-shirts.
EZ-Cool® hard hat sun blocking accessory is ideal for construction, automotive, mining, commercial fishing, highway contruction, roofing, farming, medical/emergency services, food services, oil rigging, industrial sites, and sporting events.
Remember, even if the sun is not shining and its overcast or foggy, you can still get badly burned. Protect your employees and yourself especially if near the water, as the sun's rays can reflect off of the water and still cause a pretty significant burn.
Prevention is just a click away. If you haven't already purchased yours, what are waiting for? All you need to do now is tap the link and ...
Monday - Friday 8:30am - 4:30pm EST
Call or Click
Questions. Samples. Special Requests.
Toll-Free +800-274-4637 | +716-668-4001 |

[email protected]
"We Want You To Return Home Safely...Every day!™