Be Seen. Stay Safe.
HI-VIZ WORK T-SHIRTS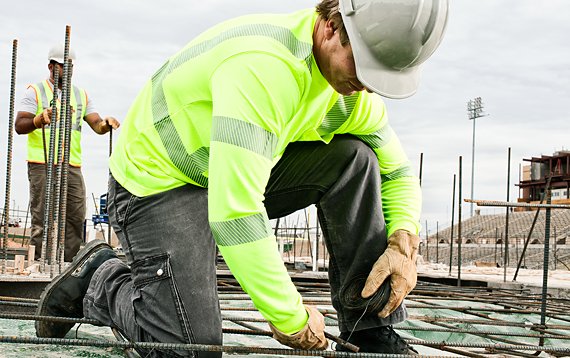 Soon "the pause" will be lifted and it will that time of year where the jack hammers, street rollers, pylon cones and highway workers line the roadways. When construction season officially starts, workers will be required to wear their hard hats, work gloves and they will transform the landscape with bright colored work clothing.
High-visibility safety apparel (HVSA), sometimes known as "hi-viz", is any clothing worn that has highly reflective properties or a color that is easily discernible from any background. Most employers require hi-vis garments as a type of personal protective equipment (PPE) that must be worn while on the job.
Hi-Vis t-shirts provide optimal visibility, maximum safety and are a lightweight and comfortable alternative or addition to wearing a vest or jacket. Available in both short and long sleeve options, workers can still attain up to a Class 3 requirement wearing a garment that they may be less likely to remove while on the job.
Perfect for Working Outdoors for Any Application
All of PIP's shirts are made with a breathable, wicking Birdseye Mesh to keep workers safe, comfortable and in compliance. Available in different performance categories and styles, these safety shirts are tailored for every jobsite's needs, from the basic every day to premium to specialized functions. Available with or without pockets, you can select from basic non-ANSI style to ANSI Class 2 and 3, we have a T-shirt for every type of weather and work environment.
The addition of black fabric on the front side helps to mask daily dirt and grime while maintaining ANSI compliance.
Enhanced with 50+ UV sun protection or with built-in insect repellent, these T-shirts are designed to repel mosquitos, fleas, ticks, ants, bees, mosquitos and other biting insects when in the field.
Styles are available in hi-vis orange or yellow colors and with two tone tape, x-back or silver retro-reflective tape in ANSI Class 2 or 3.
Non-ANSI shirts made with ANSI compliant hi-visibility fabric, for a strong presence though they are not ANSI rated.
Roadwork, rail yard, construction, towing/salvage and emergency response are not limited to the daytime, and it's critical to be easily seen in all light conditions and backgrounds. Being seen is important and PIP® has been a leader in Hi-Vis garments for all applications where workers are at risk. From work shirts to warm winter jackets that keep workers safe and seen no matter what the job, PIP® offers hi-viz garments for all conditions, climates and applications where workers are at risk. Now all you need to do is hit the link and ...
Orders. Questions. Volume Discounts.
Free Shipping on Orders +$499
+800-274-4637 | +716-668-4001 | Fax +716-668-4496 |

[email protected]
"We Want You to Return Home Safely Everyday"
contact MDS for custom printing or logo options.