Be Seen. Stay Safe.
HI-VIS JACKETS

&

COATS
The PIP® Difference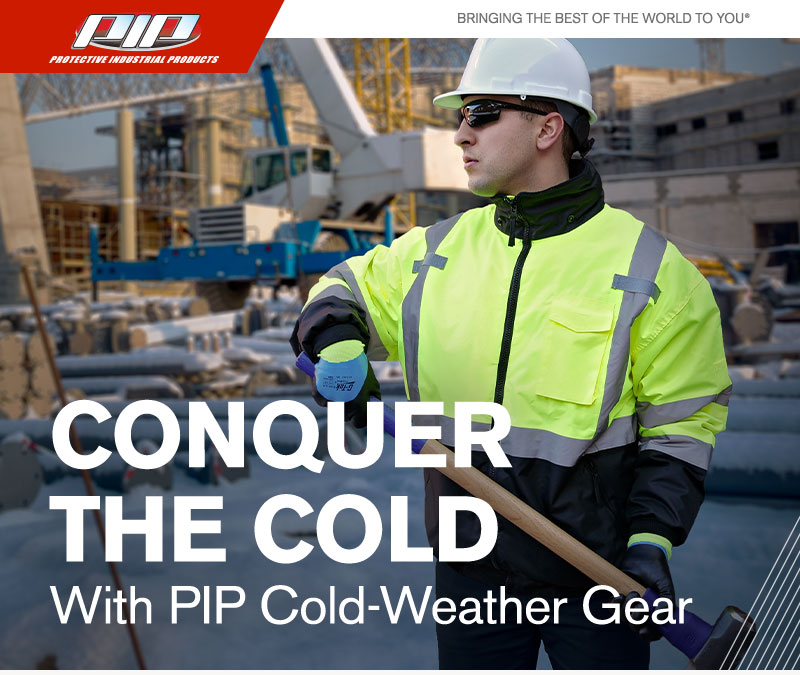 High-visibility safety apparel (HVSA) , sometimes known as "hi-viz", is any industrial safety clothing worn that has highly reflective properties or a color that is easily discernible from any background. Most employers require hi-vis garments as a type of personal protective equipment (PPE) that must be worn while on the job.
Occupational wearers of clothing with high-visibility features such as retro-reflective stripes include emergency responders, utility personnel, railway and highway workers, construction workers, towing services, airport workers, or many other places where workers are near moving vehicles or in dark areas or low light conditions. Some cyclists, joggers or walkers wear high-visibility clothing when out amongst motor vehicles. Hunters are typically required to wear designated high-visibility clothing when in the woods to prevent accidental shooting.
Buyer Beware: Not all apparel is created equal. A jacket's function is to keep the wearer dry, warm and highly visibile. While outer shells may appear to be equal in quality, one needs to look closely at the overall craftmanship, features and thermal linings.
Cold Weather Outer Gear
The PIP® difference is their materials are top quality through and through. Thick 300D polyester shells create a strong and durable barrier against the elements, where others may cut costs by lowering the weight of material. Paired with insulation options that are dense and warm but do not add constricting bulk, workers will be prepared to beat the cold and conquer the task at hand.
Available in different performance categories and types, high visibility jackets are tailored for every jobsite's needs, from the basic every day to premium to specialized functions with today's technology in mind. Hi-vis outerwear provides the cold protection and versatility workers need to help them stay warm without hindering their ability to perform the task at hand. Available in reversible styles or with detachable sleeves, some jacket styles feature the following safety options:
"D" ring access for use with fall protection

Two-tone/contrasting colored reflective tape

Silver retro-reflective tape

Segmented silver reflective type

X-back design

Choice of hi-visibility orange or yellow colors
Shell & Liner Materials
RIP STOP : Reinforcement threads are interwoven at regular intervals in a crosshatch pattern, making it resistant to tearing and ripping. It is also coated to create a waterproof barrier.
COATED POLYESTER : Durable polyester creates a barrier against the cold and wind. PVC can be used as a coating, but tends to make the garment stiff. Our garments use polyurethane, which allows the jackets to be more flexible and comfortable.
REMOVABLE FLEECE LINER : Polyester fleece is a versatile fabric that provides warmth and have quick drying properties. Being able to remove the liner helps keep workers at the right temperature without the risk of sweating.
HI-LOFT FIBERFILL INSULATION : A built-in insulation that resists water absorption and is quilted to resist migration.
Jacket & Coat Styles
BOMBER JACKETS : Elastic-bottomed outerwear that hits below the waist.
WINTER COATS : Longer, straight bottomed garments that go to the top of the thighs or below.
ALL CONDITIONS COATS : Offer multiple combinations to adjust to the seasonal weather, with inner garments that can be worn as stand-alone or combined pieces.
Roadwork, railyard, construction and emergency response tasks are not limited to just the daytime, and it's critical to be easily seen in all light conditions and backgrounds. From safety vests to work shirts, through to warm winter jackets that keep workers safe and seen no matter what the job, PIP® offers hi-viz garments for all conditions, climates and applications where workers are at risk. Now all you need to do is hit the link and ...
Orders. Questions. Volume Discounts.
+Free Shipping on Orders +$499
+800-274-4637 | +716-668-4001 | Fax +716-668-4496 | [email protected]
"We Want You to Return Home Safely Everyday"