Industrial Work Safety

Sweaters

Provide 360° Slash Protection
Cut-Resistant PPE Safeguards Vulnerable Areas of the Upper Body from High-Risk Accidental Lacerations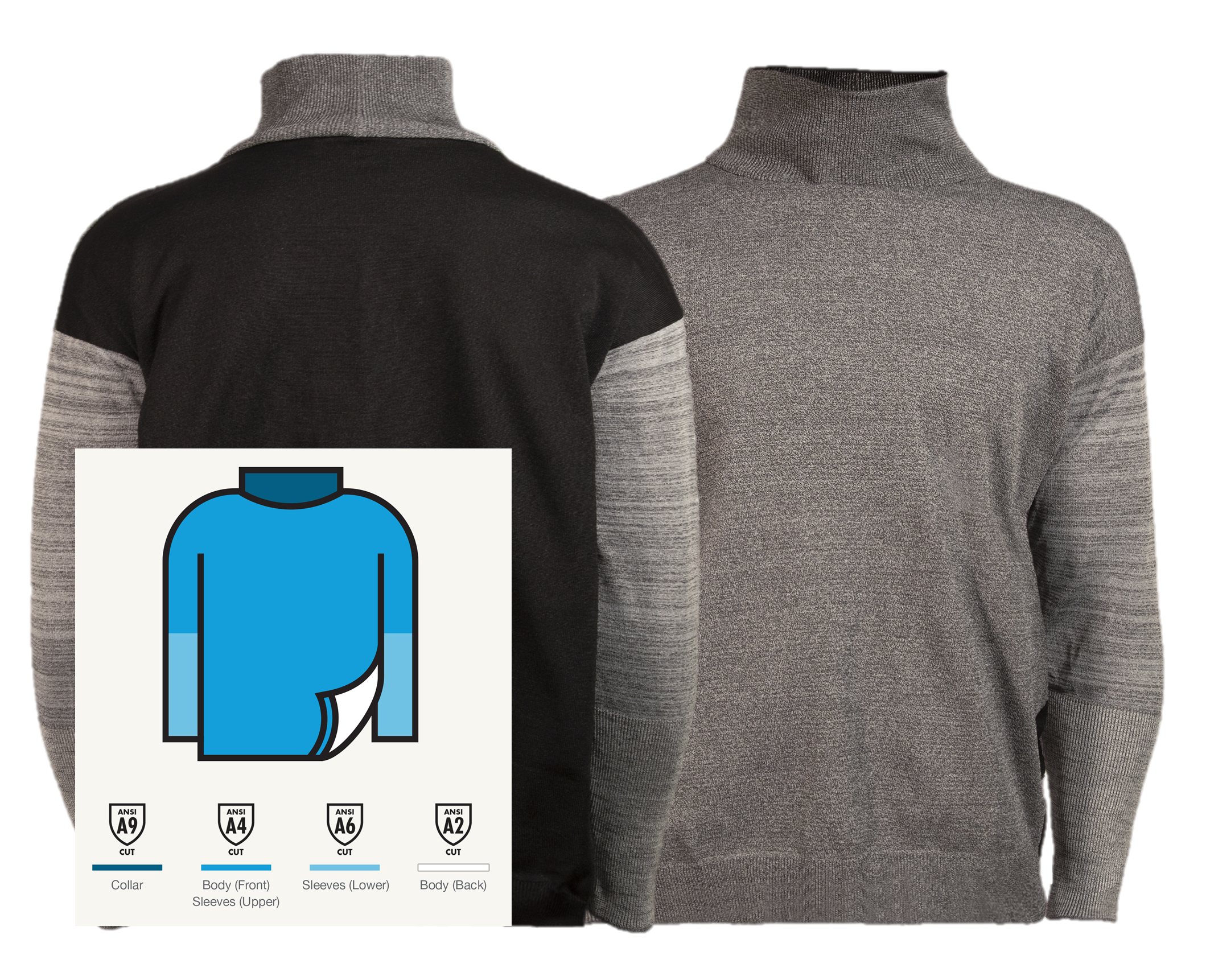 Faced paced, hectic work conditions and high demand workloads combined with sharp cutting surfaces can brew mishap. One slip, stumble or break in focus and it can quickly lead to a serious personal injury or even death.
If work includes bottling lines, glass handling, glass manufacturing, metal banding, metal fabrication, food processing, law enforcement or security, recycling, sorting, sheet metal handling, automotive, waste management then the body is virtually surrounded by serious cut hazards every day of every hour worked.
Most industrial workplace accidents are foreseeable and preventable. Ensuring that you're equipped with the proper personal protection can help get the job done efficiently and most importantly, safely.
Body Cut Protection
Implementing the proper cut-resistant PPE can help prevent a substantial laceration to an artery which can cause rapid blood loss resulting in death and cuts to a muscle, tendon, ligament or nerve that can cause shock or immobility. Cut protection apparel also provides wearers with enhanced confidence and focus.
These Supera™ GSSTAP Industrial Work Safety Sweaters are Designed for Professionals at High-Risk to Slashing Injuries.
FOCUSED ZONAL PROTECTION
Quality made in the USA, these Supera™ GSSTAP Cut Safety Shirts provide 360° ANSI rated cut-resistance for vulnerable body areas such as the torso, neck and arms from high-risk accidental laceration injuries. Designed with an anti-slash high collar (mock turtleneck) and tapered sleeves, these anti-slash sweater shirts can be worn under clothing as a protective base layer or worn as part of a work uniform.
These professional Supera™ anti-slash sweater shirts are constructed with zonal cut regions. The chest, abdomen and upper arm areas protect against moderate cuts while the polyester back provides light cut protection and breathability for comfort.
ANSI SAFETY RATED PROTECTIVE ZONES
+ANSI Cut Level A9 | ANSI Level 5 Puncture Resistant
BODY (FRONT) & SLEEVES (UPPER) PROTECTION
+ANSI Cut Level A4 | ANSI Level 5 Puncture Resistant
SLEEVES (LOWER) PROTECTION
+ANSI Cut Level A6 | ANSI Level A5 Puncture Resistant
+ANSI Cut Level A2
ALL-DAY COMFORT
Designed to protect against slash injuries in the highest-risk areas, these industrial pullover sweaters are made from extremely strong, high performance TenActiv™ fibers to deliver significant levels of cut resistance. TenActiv yarn is a proprietary non-irritating high-performing composite material that's breathable, lighter and stronger than steel and very comfortable against the skin. Highly breathable to keep the wearer cool and dry all day.
Implementing the use of cut-resistant apparel in commercial or industrial work settings is a better alternative and a wise business decision. Get protection where it's needed most. Prevention is just a click away.
+Click or Call
Monday - Friday 8:30am - 4:30pm EST
Questions. Samples. Special Requests. Orders.
Toll-Free +800-274-4637 | +716-668-4001 | [email protected]
"We Want You To Return Home Safely...Every Day!™