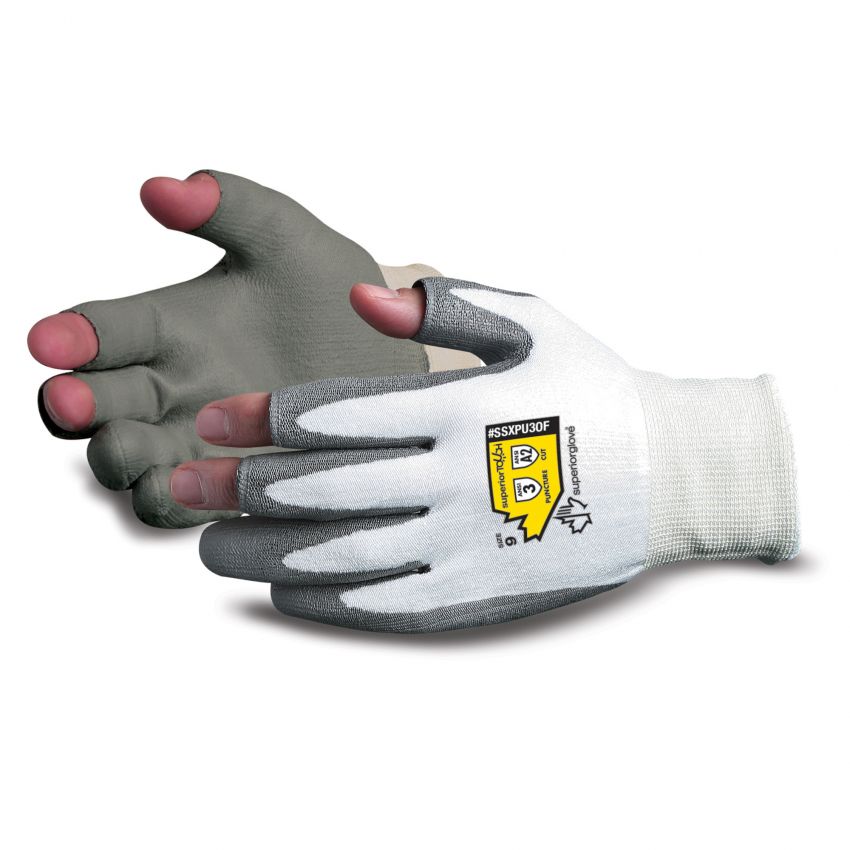 When Fingertips Matter - Try Superior Touch® Gloves!
In order to protect the hands, work gloves are traditionally constructed with full finger coverage, but if you're an operator working with very small parts or tools, you already know there is no substitution for bare fingertips. You also know that safety compliance officers won't look the other way and allow you to work with unprotected hands when there is the threat of a cut injury. Well folks, we have a great compromise!
If you are working with delicate or fine parts such as circuit boards, screws, bolts, nuts, nails or wiring and require basic industrial cut protection, then we have a glove that you should consider!
Highly specialized jobs or applications call for highly specialized industrial safety and versatile hand protection - Superior Glove® has just the solution. Stop dropping parts and stop cutting the fingertips off your work gloves - try these Superior Touch® open finger work gloves!
Handling sharp materials poses the greatest risk to the palm and the thumb crotch area, but when cut resistance or puncture protection in this area is combined with open fingers, the worker can seamlessly switch from a high tactile task like computer repair to a task like data entry without having to remove work gloves.
These Superior Touch® 13-gauge seamless string knit gloves feature fingertips that are open or uncovered on the thumbs, index and middle digits. Combine this with a thin and flexible polyurethane palm coating and you get the ultimate in grip, dexterity and cut protection.
Ideal for:
Electronics

Appliances

Material Handling

Automotive

Detailing

Carpentry

Plumbing
For the ultimate in comfort, fit and protection, these Superior Touch® Fingerless Gloves are constructed with stretchy, snug fitting and cooler-to-wear Dyneema®. This glove also boasts ANSI rated A2 cut level protection and ANSI rated level 3 puncture resistance. The color-coded hems make for easy size identification. Launderable.
Elevate productivity, comfort and compliance today! Try a pair for yourself.
Monday - Friday 8:30am - 4:30pm Eastern Time
+(800) 274-4637 | +(716) 668-4001 | [email protected] | Fax +(716) 668-4496