Hand Protection for Hobbyists?
Go Fly a Kite!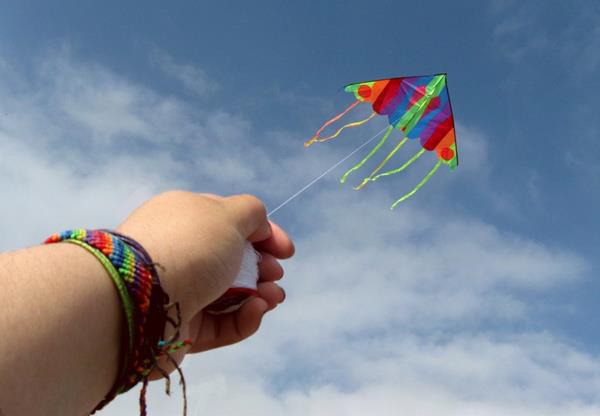 Flying a kite is an exciting way to enjoy the fresh air and get some exercise. If you never had the opportunity to try it, then let me tell you that kite flying has both its challenges and yes, dangers.
Part of the draw to kite flying is the challenge of catching the right breeze so it soars upward into the sky. With some experience, you can actually learn to manipulate the kite and make it plunge, soar or even "dance" but this can result in a minor, but very annoying, preventable hand injury...seriously!
If you ever experienced a kite "grab air" you know what happens next – the line spools off the reel leaving you to pinch the line and the result is typically a laceration similar to a paper cut! Kite line is made of small diameter twisted nylon similar to fishing line. It's very thin and strong and when ripped across the flesh at high speeds, it slices deep and boy does it sting. Because these cuts often occur in the folds of fingers and palms, the stinging effect could last for awhile.
Shop Now
Cut-Resistant Rated Protection | ASTM ANSI Cut Level A1 Rated
If you are looking for a reasonably priced protective grip glove that will allow you to enjoy your outdoor activity without sacrificing dexterity, then we suggest you check out these 15-gauge lightweight industrial work gloves from TraffiGlove®. Barely noticeable when worn, they will protect the hands against minor cuts and abrasions. The black textured grip surface provides extra gripping power in dry or wet conditions. Offered in a full range of hand sizes, the red color shell makes them easy to find should they be set down.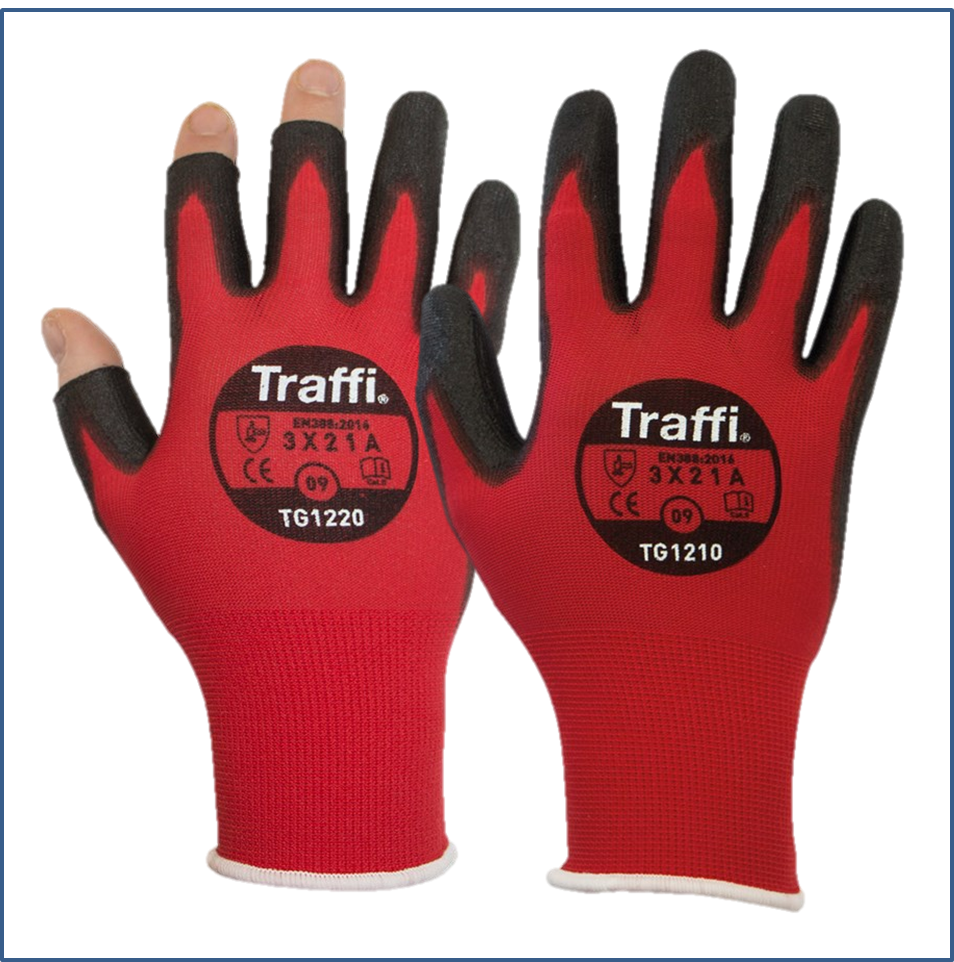 The +TG1220 Traffi® Open Finger Work Gloves are designed with three uncovered or exposed fingertips (the pointer, middle and thumb) so one can manipulate objects but cover the areas prone to injury. They are available in hand sizes X-small through XX-large.
The +TG1210 Traffi® Work Gloves feature fully covered covered fingers and are available in hand sizes X-small through 3X-large.
Both gloves are constructed with form fitting and lightweight seamless knitted nylon that's highly breathable and feature color-coded sewn hem cuffs for easy and fast size identification. The are dipped in a flexible polyurthane palm coating that's perfect for precise gripping on slippery smooth surfaces. Perfect for hobbyists and outdoor enthusiasts seeking basic hand protection.
See the Difference- TrafficGlove® is Where Hand Safety is Headed! By incorporating new, innovative technologies into TraffiGlove® color-coded traffic light visual safety awareness system in cut blends and coatings, TraffiGlove® has developed a leading range of proven safety gloves to keep operators safe on the job. But don't take our word for it ...
Orders. Questions. Volume Discounts.
Monday - Friday 8:30am - 4:30pm EST
Toll-Free +800-274-4637 | +716-668-4001 | [email protected]