Reach

for the

Rebar

with these TenActiv™ Tough Work Gloves
Steel reinforcing bars or rebar is known as reinforcing steel and is common on construction sites. It's a steel bar or mesh of steel wires used as a tension device in reinforced concrete and reinforced masonry structures to strengthen and hold concrete in tension. There are six types of rebar and it is commonly used in commercial and residential buildings and projects such as:
Water supply storage cisterns
Poured concrete column and wall footings
School or building floor slabs and columns
Bridge abutments
Bridge beams
Poured concrete flow channels
The primary danger posed by construction with rebar arises from the associated physical hazards. The steel bars are heavy, clumsy to maneuver, and have sharp, abrasive edgese that can stick out from construction projects. Rebar surfaces are often patterned or ridged to form a better bond with the concrete and it can be highly abrasive or sharp, especially when it is cut to length. It is also very common for rebar to rust when subjected to environmental conditions.
Working with rebar requires at a minimum the use of a good pair of protective work gloves but a common complaint among construction crews and foremen is that their work gloves often degrade too quickly. This not only potentially exposes workers to punctures or slash type hand injuries and possible infection, but it also drives glove replacement costs to spiral out of control. Injury recordables and loss time equate to elevated insurance rates and a loss in overall productivity which often turn disastrous, i.e. deadlines. It also drives replacement costs to spiral upward!
Shop Now
For those seeking a durable and economical work glove recommended by Superior Glove® for use with steel concrete reinforcing bars are two TenActiv™ Brand seamless knitted industrial work gloves. These protective gloves are made with a high performance lint free filament yarn composite that's stronger than steel based on an equal-weight basis!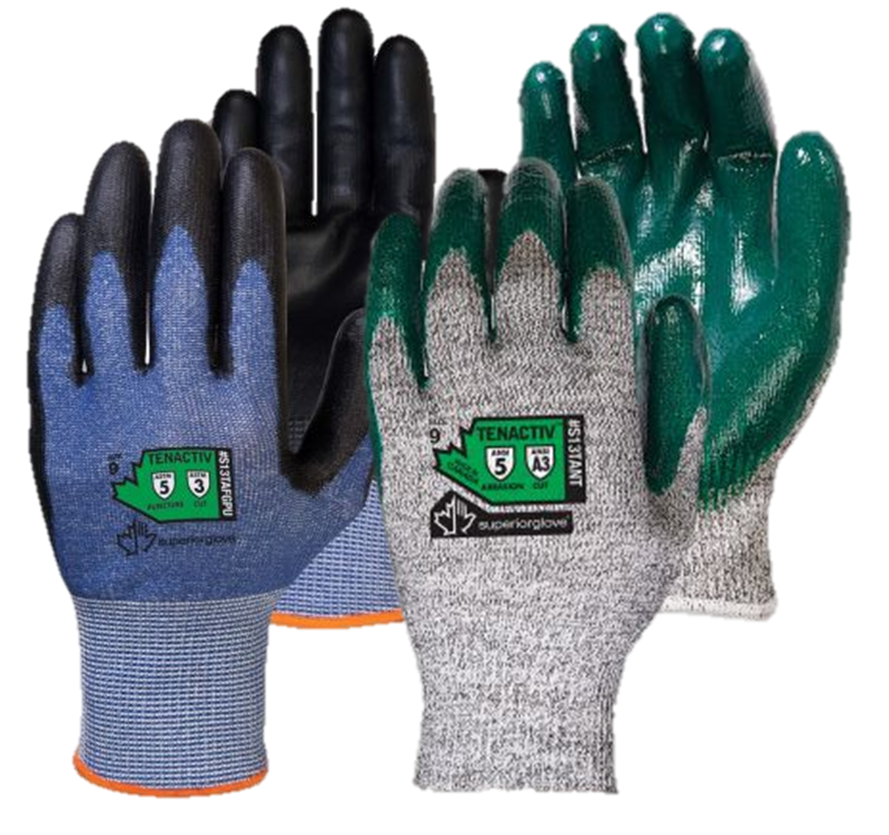 S13TAFGPU TenActiv™ Knit Gloves with Black Polyurethane Palms
Enhance grip without interfering with touch sensitivity or adding bulk making these ideal for handling steel mesh rebar. Quality crafted, tactile and strong, these TenActiv™ gloves are ANSI safety rated:
ANSI Level 5 Puncture Resistant
ANSI Cut Level A3 Resistant
If you are tiered of glove burnouts then try a pair of these affordable, effective industrial work gloves. Durable than most, they offer a great balance between cost and performance.
Why don't you try for yourself - Tap here and purchase a pair today+
S13TANT TenActiv™ Knit Gloves with Green ZedCoat™
The green ZedCoat™ palm coating is Factored™ to prolong the life of the coating and provides amazing gripping power and agility in wet or dry conditions. Highly abrasion resistant, Zedcoat™ withstands oil, water, solvents and are ANSI safety rated:
ANSI Level 5 Abrasion Resistant
ANSI Level 5 Puncture Resistant
ANSI Cut Level A3 Resistant
And the best part is workers no longer need to remove a glove to swipe or touch an electronic device-these work gloves feature smart technology fingertips for full functionality on your devices! Durable, comfortable, textured and dexterous, these are one serious work glove and highly recommended for use with rebar!
Why don't you try for yourself - Tap there and purchase yours today+
Why stop protection at the hands? Enhance worker safety by creating continual barrier protection for the forearms with knitted protective sleeves that aid against scrapes and cuts- a perfect pairing to industrial work gloves.
Make sure to also read more about an amazing line of Award Winning Industrial Work Gloves or you can tap the button below and
Orders. Questions.
Free Shipping on Orders +$499
+800-274-4637 | +716-668-4001 | Fax +716-668-4496 |

[email protected]
"We Want You to Return Home Safely Everyday"