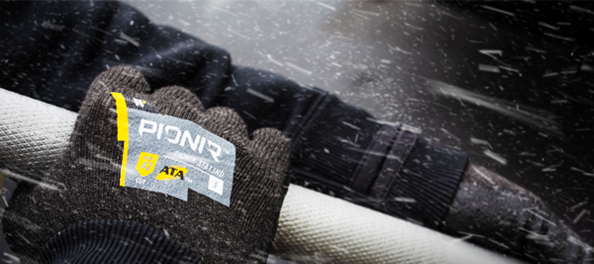 NEW PRODUCT ANNOUNCEMENT
Blazing Thermal Hand Protection
Now working outdoors in the cold doesn't have to mean cold hands
When you work outdoors in the winter, cold hands can be a real problem. Cold hands negatively affect productivity and in extreme cases, can cause cold stress such as frostbite and hypothermia. Increased wind speeds can cause the air temperature to feel even colder, further increasing the risk of injury. Cold weather work gloves play a huge role in prevention and can be the difference between a tolerable and a horrible afternoon out in the elements.
Many glove designers have attempted to find a remedy for cold hands with winter gloves that feature battery powered heating or thermal insulations such as Thinsulate™. The downside of insulation is that the more you have, the higher the warmth, but it also means lowered dexterity. Insulated gloves are typically bulkier, thicker and can make many jobs nearly impossible. If you're searching for a cold weather outdoor work glove with plenty of dexterity and warming properties, then check out these revolutionary knit gloves!
We would like to introduce PIONIR work safety gloves from Worldwide® Protective Products, a PIP® family brand. PIONIR work gloves are the first cold weather, cut-resistant work glove made in the U.S.A. that actually warm up without bulky batteries, heat packs or insulation. These innovative gloves use the power of the Sun's rays and convert it to produce heat!
It's About the Fiber
The sun warms our planet every day and is the most important source of energy for life on Earth. The breakthrough engineered hollow core fiber knitted into ATA PIONIR work gloves actually absorbs near infrared rays (NIR) generated from the Sun and converts that energy to produce heat.
Infrared radiation (IR), or infrared light, is a type of radiant energy that's invisible to human eyes but that we can feel as heat. When exposed to certain indoor lighting or Near Infrared Rays, these innovative PIONIR gloves can actually increase in temperature by as much as 18° F.
PIONIR Gloves are available in three cut-resistant styles:
PIONIR-ATA10 PIONIR Heat Producing Work Gloves feature a charcoal 10-gauge seamless knit construction, continuous cuffs and ANSI Level A3 cut-resistance.
PIONIR-ATA13 PIONIR Heat Producing Work Gloves feature a charcoal 13-gauge seamless knit construction, continuous cuffs and ANSI Level A2 cut-resistance.
PIONIR-ATA13ND PIONIR Heat Producing Work Gloves feature a charcoal 13-gauge seamless knit construction, foam nitrile palm coating and ANSI Level A2 cut-resistance. This textured coating enhances the wearer's ability to do their job without having to take off their gloves. This increases the amount of protection the gloves provide, as the wearer is not forced to take them off to actually perform a task.
PIONIR Outdoor Work Gloves are ideal for Snow cleanup crews, Construction workers, Recreational workers, Postal/Delivery workers, Law enforcement officers, First Responders, Miners, Towing, Baggage handlers, Landscapers, Oil and gas operations, Dairy, Agriculture, Utilities, Cold storage.
Made in the USA, these innovative PIONIR gloves can be machine washed or dry cleaned without ever affecting the technology. Don't let the winter conditions freeze your production- just tap the button and
Questions. Orders. Volume Discounts.
Monday - Friday 8:30am - 4:30pm EST
Toll-Free +800-274-4637 | +716-668-4001 | [email protected]
"We Want You to Return Home Safely Everyday™!"