Multi-Dimensional Award Winning Industrial Work Safety Gloves
It can be said that if you won an award, it could have been 'dumb luck' or just 'your day', but when you win award after award, year after year, you are a serious game changer.
Well Superior Glove® boasts a whole bunch of awards and it isn't by fluke. The engineers over at Superior Glove® corporate headquarters are the best in the world. Working in their corporate Q&A and R&D labs, engineers engage closely with their sales staff and customers to create a one of a kind industrial work safety glove that often results in ANSI rated hand protection against a variety of workplace hazards. The result typically is an award!
Superior Glove® currently boasts many awards and the following list of industrial work gloves and protective sleeves have won awards from DuPont, ISHN, ASSE, OHS, NSC and more for technology or innovation in hand - arm protection and worker safety. Winning various Best New Product, Kevlar® Innovation Awards, Best In Show or Reader's/Attendee's Choice Awards, we would like to list these gloves for you to review and consider. After all, wearing an award winning work glove should be an easy sell to your Safety Director and production crew!
Award Winners: Hand Protection Solutions:
#K835KPALP Dragon™ High-Heat Leather Palm Gloves with A4 cut-resistant Kevlar® Outer Shell and Aluminized Reflective Felt Liner are made with a seamless-knit construction and split-leather palms to provide unparalleled dexterity and comfort for workers.
#S13KGPN Dexterity® Kevlar® Coated Knit Gloves feature a cut-resistant 13-gauge Kevlar®/composite filament fiber blended string knit glove with micropore nitrile palm coating that displaces liquids when grabbed.
#STAGYPNVB TenActiv™ Anti-Impact Hi-Viz Micropore Nitrile Grip Knit Gloves offer impressive protection against many different types of workplace hazards such as cuts, bumps, scrapes, punctures and abrasions.
#STAGPNVPI TenActiv™ Micropore Nitrile Grip Knitted Gloves feature neoprene padding designed to meet a range of cut and puncture safety applications while reducing shock and vibration associated with pneumatic and vibrating hand tools.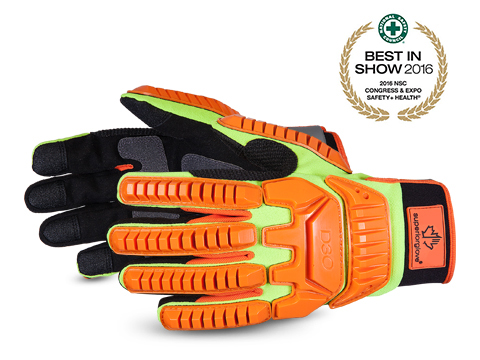 #MXD3O Clutch Gear® Hi-Viz Anti-Impact D3O® Mechanics Gloves provide phenomenal anti-impact protection where it is needed, flexibility where it counts and enhanced worker safety. Select this glove for severe hand impact protection. Meets new ANSI/ISEA 138 Impact Resistant Standard.
#505KGWS Endura® Deluxe Cut-Resistant Welding Gloves provide rugged durability along with high abrasion and heat resistance, these tan colored cowhide welding gloves offer great dexterity that improves with each use.
#SKGCXPS Contender™ Kevlar® Blend Knit Gloves marries a high level of A7 cut protection with reliable abrasion resistance, comfort, dexterity, and longevity.
#SBKG Contender™ Heavyweight Black Kevlar® Knit Gloves has an A5 cut rating and passed a 10-second flame test making it is suitable for job applications with heat and sparks.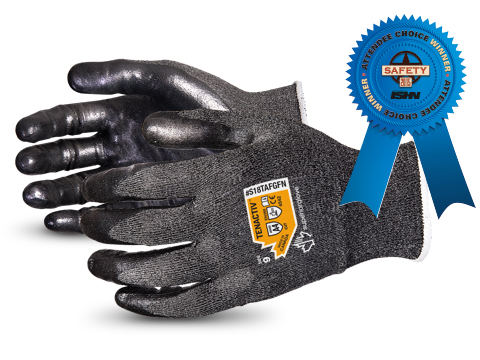 #S18TAFGFN TenActiv™ Composite Foam Nitrile Palm Knit Gloves were perfected after two years of research and development. These highly dexterous gloves protect against cuts and punctures and also are compatible with electronic devices with touchscreens.
#S18KGFN Dexterity® Foam Nitrile Palm Knit Gloves are silicone-free and offer both cut and puncture resistance with the fit and feel of bare hands. They are also touchscreen compatible.
#S13KFGPU Dexterity® Polyurethane (PU) Palm-Coated Knit Gloves is low-shedding, highly dexterous, yet provides stellar cut and puncture protection.
#S13FRNE Dexterity® Flame-Resistant Arc Flash Neoprene Palm Gloves are scientifically engineered to comfortably combine flame resistance and cut protection to help protect workers against arc flash and flash fire hazards.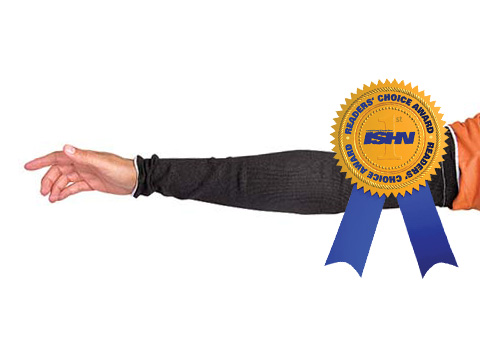 #KBKB1T Contender™ Flame-Retardant Thumbhole Knit Sleeves with STAYz-UP™ Armbands and are specially engineered with a combination of black Kevlar® and flame-retardant modacrylic that's suitable for work around sparks in spot weld applications and more.
#S15TAFGPU TenActiv™ Polyurethane Palm Composite Knit Gloves protect against cuts and offers a high coefficient of friction that is non-shedding.
#365DLX6KG Endura® Deluxe Kevlar®-Lined Lineman Gloves with 6" Retro-Reflective Gauntlet Cuffs are made with cowgrain leather. They meet ANSI/ISEA 107-2015 Standards for high-visibility and protect against industrial cuts and puncture hazards.
#S18KGNE Dexterity® Flame-Resistant Arc-Flash Gloves with Neoprene Palms are the thinnest arc flash rated safety glove available. They are ANSI resistant rated against abrasion, cuts, punctures and are touchscreen compatible.
#S15KGVNVB ChemStop Impact-Resistant PVC Gloves with Kevlar Liner & Full Nitrile Coating provide ANSI rated protection against industrial impacts, abrasion, punctures, cuts and resists a wide range of chemicals, oils and solvents.
---
Volume Discounts. Questions. Orders.
+800-274-4637 | +716-668-4001 | [email protected]