Fall Foliage Signals the End

of

Summer & the Start

of

Seasonal Boat Storage
The daylight hours are getting shorter and the leaves are dropping yet it seems like just last week I was taking the boat out of winter storage and getting it ready for an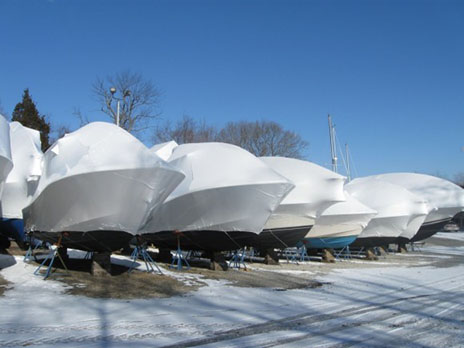 other season of weekend family fun on the Eastern end of Lake Erie.
For many boat enthusiasts, the fall season signals the need for seasonal storage space and winter preparations such as oil changes, battery trickle chargers, acid washes and protection against mold, mildew and corrosion. To protect against these threats, one needs to understand how these dangers exist.
The Phenomenon
When the season ends, boats are often abruptly removed, then power washed, shrink wrapped, then stored inside barns or boatyards for many months. Very often they're still damp from the summer fun. Now add temperature variations and a protective covering and it creates condensation referred to as boat sweat". Seasonal storage creates condensation which if left unregulated, will create damages to the interior cabin areas beyond repair. Many boat owners are shocked to see that mold, mildew and rust have developed in the cabin's interior during winter storage (as well as during the boating season) and once these make a home, they can have a killer effect on marine fabrics and components.
Are You Still Pouring Out Your Moisture Absorber? There is NO Dehumidifier Product That Will Compete With BoatSorb™
Limited Options
Many boaters and mechanics that I have chatted with typically buy some type of moisture absorber that requires a reservoir container that feature a brine substance designed to soak and hold moisture, but having a container of water by-product inside my boat's cabin doesn't fly with me. I have also heard of some that will use a hanging system that uses absorbent pebble like granules but these need to be recharged by baking in an oven. Both of these systems create water by-product which defeats the specific purpose of a dehumidifier.

After a long search for the perfect moisture absorber, we are excited to share with you a desiccant perfect for the marine market!
A desiccant is typically a sealed packet filled with a solid, moisture absorbing substance or blend that induces or sustains a state of dryness in any environment inside its sealed vicinity. These desiccant absorbers are commonly encountered in the packaging of pharmaceutical products, electronics, food, footwear, clothing and manufacturing industries as a way to prolong, preserve and protect supplies along the supply chain.
The Concept
We took the concept behind those white or brown paper "DO NOT EAT" packets and "put them on steroids" to creat BoatSorb™ - a premium line of industrial-sized marine-grade desiccants designed to safeguard the interior components, surfaces and fabrics of your of your powerboat, sailboat, yacht, jet-ski or recreational watercraft.
BoatSorb™ Dehumidifier and Mold/Rust Inhibitor Pouches were originally formulated to protect supplies and packaging along the supply chain, Designed to absorb "cargo rain" within international oceanic shipping containers, BoatSorb absorber bags can be placed inside cabin, compartments and under shrink wrapping.
BoatSorb™ Tyvek® Packs prevent potential mold, mildew or corrosion damages to stowed items, surfaces, fabrics, paper, metals electronics, nylon, cardboard, vinyl and more during seasonal use or winter storage up to 90+ days (depending on humidity). Air activated technology automatically shuts "off" and turns "on" in the presence of moisture and there is NO water by-product or reservior water chambers that need to be emptied
Easy, Effective & SAFE to Use!
BoatSorb™ is perfect for year round protection and seasonal storage/shrinkwrapping. Simply toss the appropriate number of humidity absorber packs throughout the cabin, deck, compartments and cover or wrap. Your carpet, cabinets, vinyl, canvas, PVC, steel, aluminum and more are now protected by an industrial absorber pouch! Simple and effective—you can trust the protection of BoatSorb™.... eliminates moisture so you will never see corrosive rust, mold or mildew growth and the cabin will smell fresher and feel drier.
Here are some other product features: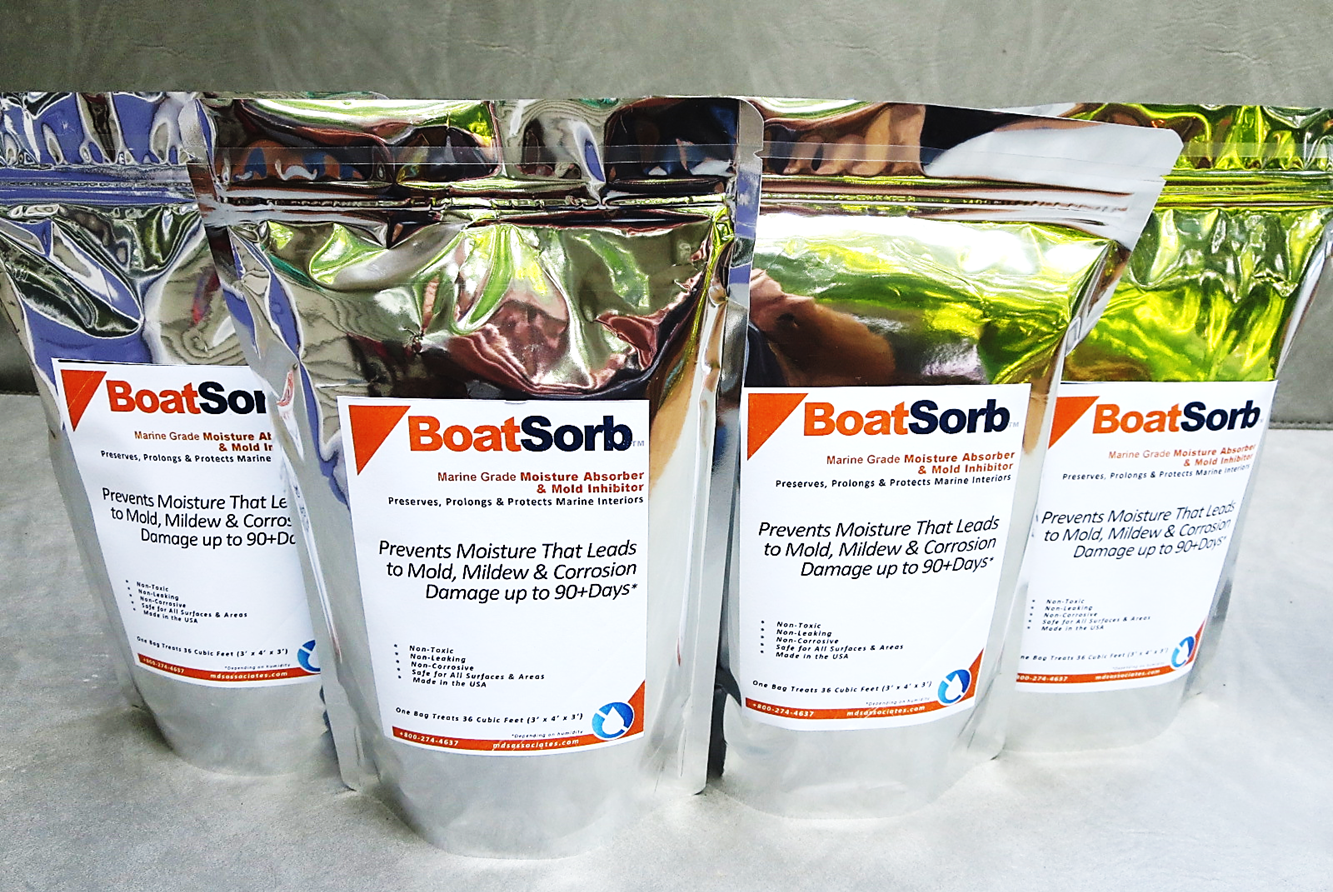 Non-Toxic

No Water By-Product

Non-Corrosive

Safe for All Surfaces

No VOC's

Fragrance-Free

Disposes Safely in Trash
One 500gram weight bag treats 36 cubic feet (3' x 4' x 3') area. Available in 4-packs and for wholesale storage applications or large vessels, bulk packed master cartons are available. Stop dumping out water and get the newest moisture absorbing technology available today!
Questions. Samples. Volume Discounts. Rresale Inquiries.
Monday – Friday 8:30am – 4:30pm E.S.T.