Protective Apparel That

Doesn't

Slide-Up

the

Wrist

!
High risk environments require many different levels and layers of protection to prevent an individual from exposure to particulate migration,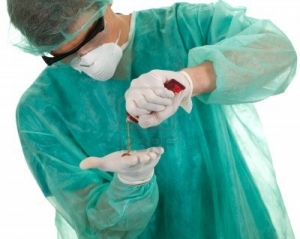 chemical infiltration, infectious or contaminated materials. Operators are required to wear a disposable protective garment and a pair of single-use gloves. Unfortunately, when protective apparel is collectively donned, one critical area at high risk to exposure is the wrist area.
Because manufacture of gloves and garments involves separate industries, the wrist area is susceptible -and this puts one at risk for glove-to-skin transmission or cross-contamination. This problem area has plagued P.P.E. wearers since the inception of protective apparel and continues to create burden today!
The garment-glove interface is the weakest point in the present barrier system of protection. As one works, the gloves and garment sleeves sometimes slide or shift, putting the operator at an elevated risk to exposure and contamination. Because this wrist area is extremely vulnerable, many operators often expend time and energy correcting this breach.
THERE'S A NEW CUFF OPTION THAT EFFECTIVELY LOCKS IN THE SLEEVE TO REDUCE POTENTIAL EXPOSURE & CROSS CONTAMINATION
Incorporated on disposable clothing are two innovative cuff-technologies™ that effectively anchor the cuff under the glove and seal the area between the glove's and garment's edges. The flexibility of these technologies allow for easy and fast to engage. Simply slide through protective garment sleeves and into a naturally adaptive, soothing knit ribbed material featuring finger tacks and finger slits.
Drive Compliance & Productivity to New Levels
A new portfolio of disposable barrier gowns, sleeve protectors, coveralls and lab coats keep protective barriers in its proper place and stop inspections at the wrist area. Blend this technology with OSHA accepted barrier fabrics such as •spunbond polypropylene •PE coated polypropylene •multi-ply (SMS) •spunlace and •microporous laminate in popular finished or custom designed garments. Ideal for healthcare operators at high risk exposure to: chemicals, bloodborne pathogens, particulates, mold, mildew, inks, paints and cleaners.
Buy our new generation apparel for zero-tolerance applications in medical research, pharmaceutical, animal care, EMS, food processing, electronics, biochemistry, infectious diseases, industrial safety, surgery, blood banks, dialysis, medical examiners, mold and mildew remediation, asbestos removal, clean-rooms, spray painting, printing and hazmat.
click here to shop our line of limited-use protective apparel. Make sure you look check out our apparel with exposure control cuffs.
---
Call Us For Special Requests, Samples & Volume/Educational Discounts!
+800.274.4637 | +716.668.4001 | [email protected] | Fax +716.668.4496