Disposable Towels for Wet Pets, Grimy Workers & Dirty Equipment
Did you realize that companies that provide portable lavatories, commonly referred to as porta-potties, now offer shower trailers for rent? I bet Mike Rowe would be one happy camper! These portable shower units are towed and set up on a remote site and are available in different configurations and sizes.
So why would anyone rent a shower trailer? One reason is they are a convenient and effective means for people to get clean and maintain good hygiene when there is limited access or no access to public restrooms, or where large crowds are expected. Portable shower units can also help expedite a recovery effort and can prevent the spread of disease and contaminants. There's actually quite a few other situations where a shower trailer would be needed.
Disaster Relief

Emergency Response

Remote Work Sites

Oil & Drilling

Military Training

Industrial Outages

Festivals

HazMat

Filming Events
While these portable washrooms may solve hygiene issues, the need for bath towels to dry individuals now becomes a concern. Implementing reusable linens is not a logical option as it requires inventory management plus commerical laundering. For some industrial operations, reusing a laundered bath towel is not permitted as hazardous byproducts could potentially tranfer or cross contaminate. But what wet wiping options exist to dry one's body after showering?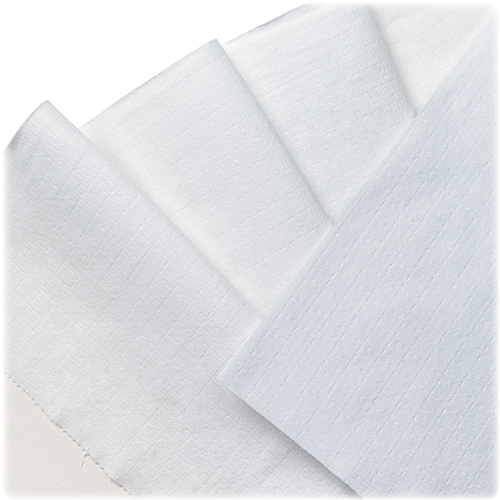 Disposable Bath Towels are the Perfect Solution for Shower Trailer Units or Remote Work Tasks
Advances in manufacturing and technology have created high-end industrial disposable wiping solutions that virtually perform and feel like reusable linen cloths.
Resembling a standard white bath towel, disposable shower/bath towels are very popular among spas, health clubs, tanning salons and oil/gas/mining operations where workers typically shower at the end of their shift. Its' large size is also perfect for soaking up large spills and wiping down very large surfaces such as industrial machinery and equipment.
Businesses or individuals concerned about clean surfaces are also using these disposable bath towels to cover and protect delicate surfaces. Placed on seat cushions, chairs, mattresses and more, many automotive dealerships, marine/RV showrooms, furniture stores, car museums have found that disposable towels are a strong and affordable solution to protecting surfaces from possible consumer contamination and potential damage.
Effective and affordable, disposable towels can also be used to dry off animals and are growing in popularity by pet groomers for their absorbency, simplicity and speed.
Shop Now
Portable, Practical & Multi-Use
Wypall® X60 Disposable Shower Towels+ resemble the real thing!. These industrial-grade, extra-thick disposable bath towels are reinforced for strength and constructed with a soft, highly absorbent embossed nonwoven tissue fabric that features innovative Absorbency Pockets®. These Hydroknit pockets quickly absorb and hold fluids without sacrificing its strength. These X60 Wypall® disposable towels come ¼-folded are and generously sized at 22-1/2" x 39". To eliminate waste, the A-Frame dispensing feature eliminates tearing and grabbing more than one towel at a time.
Clean-Safe™ Disposable Shower Towels are specifically constructed for personal care use and made in the USA with 50% recycled fibers. They are super strong when wet and very absorbent. They come multi-folded, measure 19" x 39" is size and available in different absorbency levels:
Chicopee® Disposable Sports Towels+ are the easiest, most effective and affordable way to ensure surface sanitation. They feature three-dimensional, Microban® antimicrobial protection and unlike cotton, paper, and standard non-woven towels that can bind with sanitizer and prevent the solution from reaching surfaces, this Chix® SC sports towel is engineered to release the required ppm sanitizer to effectively clean your surfaces per FDA food code. Chix® SC Recreational-Sport Towels are tri-compatible with quaternary, chlorine and hydrogen peroxide based sanitizers. Soft, absorbent and strong, this towel features a lightweight, open-weave construction that is highly absorbent, abrasion resistant, and is durable enough to be rinsed and reused for 5-7 days. The 14" x 24" makes them ideal for personal or equipment wiping.
Throw a few in your gear bag, locker, tool box, glove box or cab to absorb oil, grease, mud, water and more until you are able to wash or shower. Absorbent, soft and generously sized, disposable shower towels save on laundry associated costs and easily dispose in the trash. To compliment these towels, check out our disposable robes and patient washcloths!
Monday - Friday 8:30am - 4:30pm EST
Orders. Questions. Volume Discounts.
+800-274-4637 | +716-668-4001 | [email protected]