Firefighters Do Many Things.

So

Should Their Work Gloves!
Multi-functional hand protection designed to protect first responders against a variety of industrial hazards and extreme cold working conditions!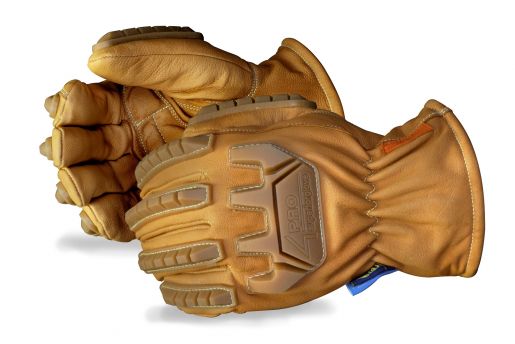 Firemen play a very important role in our communities. They help people and animals in emergencies, put out fires so our homes, buildings, and lands don't burn down. They teach our children how to be safe around fires. Part of their job requires the use of powerful hydraulic cutters, spreaders and other firefighting tools such as, drip torches, spanner wrenches, fire axes, hoes, shovels fire hoses and more.
Firefighters perform many tasks and so should their work safety gloves. After all, their hands are life-saving instruments that need protection against a variety of environmental and industrial work hazard threats. If you are seeking one work safety glove that does it all then check out these drivers style, cold condition work gloves from Superior Glove®! Loaded with enhanced safety and comfort features, they are becoming very popular among first responders.
PROTECTING THOSE THAT PROTECT US
With smart styling and design, these innovative Endura® brand 378KMT 4PRO™ Insulated Driver Gloves capture many hand safety protocols and are the perfect all-in-one work glove for fire and rescue personnel. Endura® 4PRO goat-grain leather driver gloves are supple and feature a waterproof breathable membrane that keeps water out, the heat in and allows the hands to breath. The Thinsulate™ lining provides exceptional warmth while maintaining mobility in the palm region to -13°F, and additional insulation in the fingertips is rated to -22°F; constructed as such to prevent heat loss when handling cold parts or tools so they keep on fighting the good fight!
Often referred to as nature's strongest leather, goatskin has high tensile strength, puncture protection, abrasion-resistant properties and the brown color hides dirt, grease staining. Fully lined with a blend of Kevlar® and composite filament fiber, these multi-functional industrial work gloves provide ASTM cut-level A6 protection. The leather is treated with oil and water resistant Oilbloc™ during the tanning process ensuring treatment that lasts for the longevity of the glove.
The back of the glove feature anti-impact protectors designed to deflect impact energy and meet ANSI ISEA 138 Level 3 Impact Standards. These strategically placed knuckle guards are comfortably flexible, supremely durable and will not stiffen or crack in frigid temperatures. Lastly, the palms feature a layer of padding for minor vibration dampening making these ideal for use with power tools and hydraulic equipment.
APPLICATIONS:
Oil & Gas

Utilities

Firefighters

Construction

Mining

Search/Rescue

Towing/Salvage
ASTM ANSI SAFETY RATINGS:
ASTM ANSI Cut Level A6

ASTM ANSI Puncture Resistance Level 4

ANSI ISEA 138 Impact-Resistant Performance Level 3
Don't pay more for less. Consolidate to one glove and upgrade your team's hand protection today! All you need to do is to tap the link below and …
Questions. Samples. Special Requests.
Monday - Friday 8:30am - 4:30pm EST
+Free Shipping on Orders +$499
Toll-Free +800-274-4637 | +716-668-4001 | [email protected]
"We Want You To Return Home Safely...Every Day!™
---
Also available in non-winter Arc Flash rated version (#378GKG4P)-view here