When it Comes to Line Clearance Services, Be Prepared for Nature's Worst
Reliable, uninterrupted power is an important service provided by the world's electrical utilities. Tree experts such as Asplundh are contracted to provide clearance services to the utility industry, railroads, pipelines and departments of transportation to keep the power flowing for residents and businesses alike.
As a full-service utility contractor, one is expected to perform tree pruning and removal, right-of-way clearing and maintenance, vegetation management with herbicides and emergency storm work. Line clearance services is a dangerous outdoor job that requires the use of sharp power tools in extreme weather conditions and often requires operators to dodge live electrical lines and transformers.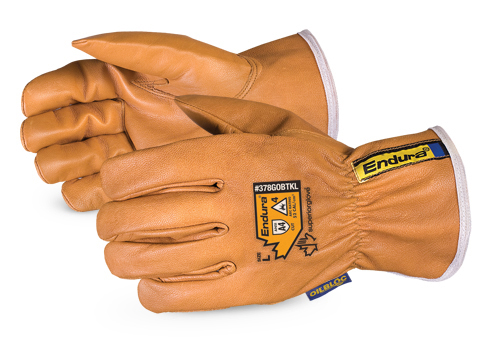 Personal protection equipment (PPE) such as hard hats, safety glasses, hi-viz safety apparel and industrial work gloves are critical to personal safety and wellness.
The dynamic demands of this job requires a dynamic pair of safety gloves but locating such a pair that withstands a variety of hazards such as rain, arc flash shock, frigid temperatures, industrial punctures and hand lacerations can be very difficult to locate, that is... until now!
Leather work gloves were the foundation of the glove empire Superior Glove® and boy did their glove engineers really deliver on this one. Check out this supple and durable 378GOBTKL Endura® Winter Driver Glove.
SAFETY FEATURES
These Endura® brand leather work gloves are constructed with abrasion resistant goat-grain leather that has been treated with Oilbloc™ for water, oil and stain-repellent properties making them perfect for rainy days. This style Endura® Glove features a 100 gram Thinsulate™ liner for warmth down to 5º F without the added bulk. Highly dexterous, these winter work safety gloves are ANSI safety rated against both industrial punctures threats (Level A4) AND industrial cut hazards up to 1800 grams of force (Cut Level A4). Additional Arc flash testing placed these gloves at level 4, with an Arc Thermal Performance Value (ATPV) of 52 cal/cm².
An elasticized cuff traps in hand heat and makes these leather driver gloves easy to slip on and off. They are also available in full range of hand sizes (Small through 3X-Large). Check out these dynamic industrial work safety gloves for yourself today....
Monday through Friday 8:30am-4:30pm EST
+800.274.4637 | +716.668.4001 | [email protected] | Fax +716.668.4496 | MDSassociates.com