ORDER EARLY AND AVOID BACKORDERS
These Endura® Leather Winter Mitts Rock!
INDUSTRIAL-GRADE HAND PROTECTION FOR COLD WORKING CONDITIONS
A beautiful summer season has past and it's hard to grasp that in just a couple of months, we will be digging out the extreme winter gear to battle the cold and snow. Here in the northeast, we brace ourselves for the worse winter conditions but hope for an unusual 'mild' winter season or better yet, an El Nino type effect!
If you have spent time in cold conditions, you know your fingers are usually the first thing to get cold. First the tingling starts, then the prickly pain or throbbing follows and these are signs that your winter glove is not well suited for the frigid temperatures you are working in.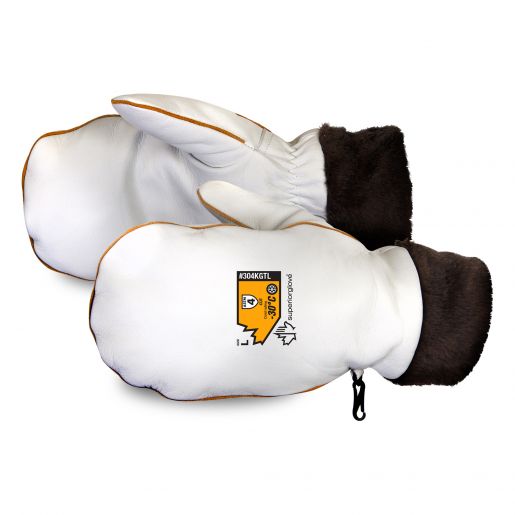 If there is one winter item that I will not do without, it's my collection of extreme cold winter snow gloves designed by Superior Glove® and I'll be adding these new Endura® winter work mitts to my collection! Let me share why.
First, mitts keep the hands warmer than gloves. This new +304KGTL Endura® brand of winter work mitts are constructed with goatskin for its high strength-to-weight ratio, abrasive-resistance, and toughness. These winter mitts are lined with Kevlar® and G200 3M™ Thinsulate™ for winter protection to -30°C / -22°F** and cut-resistance without the added bulk. Other features include:
Mitt style keeps hands warmer than gloves

Slip-on styling for easy donning and removal

ANSI Safety Rated Cut Level A4

Elasticized at front of wrist for snug fit, keeps warmth in and cold out

Soft brown faux fur BOA cuffs for added warmth

Plastic clips to hold gloves together
THE HAND PROTECTION DIFFERENCE
You may be wondering what makes these winter mitts from Superior® Glove so special? Well for starters, they are industrial quality - meaning they are designed for rugged use. Superior Glove® spends considerable energy into their internal research and the development of hand protection.
Superior Glove® work gloves are engineered with the finest materials available and designed for the most extreme industrial job site conditions. You won't be blowing a seam in these gloves anytime soon! Superior Glove® winter work gloves are also constructed with state-of-the-art technology and then tested in-house for heat loss using thermal imaging. Thermal imaging detects manufacturing defects or weak spots that allow the heat to escape. The most common areas for heat loss are found in the seams and in the lining materials-typically in the thumb area.
Don't get me wrong, our Buffalo NY winters can be extreme and my hands do eventually get cold, but once I started using these brand of industrial cold condition work gloves, my hands stayed warmer longer and the gloves last a very long time!
These Endura® Goatskin Winter Mitts are quality made and effective industrial-grade hand protection designed for cold weather work conditions, but don't take our word for, just click the button below and start shopping today...
+Free Shipping on Orders +$499
Orders. Questions. Volume Discounts.
Call or Click Today
Monday - Friday 8:30am - 4:30pm Eastern Time
+800.274.4637 | +716.668.4001 | [email protected] | Fax +716.668.4496
"We want you to go home safely every day"
**It not guaranteed that the hands will stay warm down to this level. Gender, age, activity level, temperature and basal metabolic rate (BMR) are factors that affect hand warmth and will vary from person to person.