This

Alcohol Spray Keeps

the

Germs Away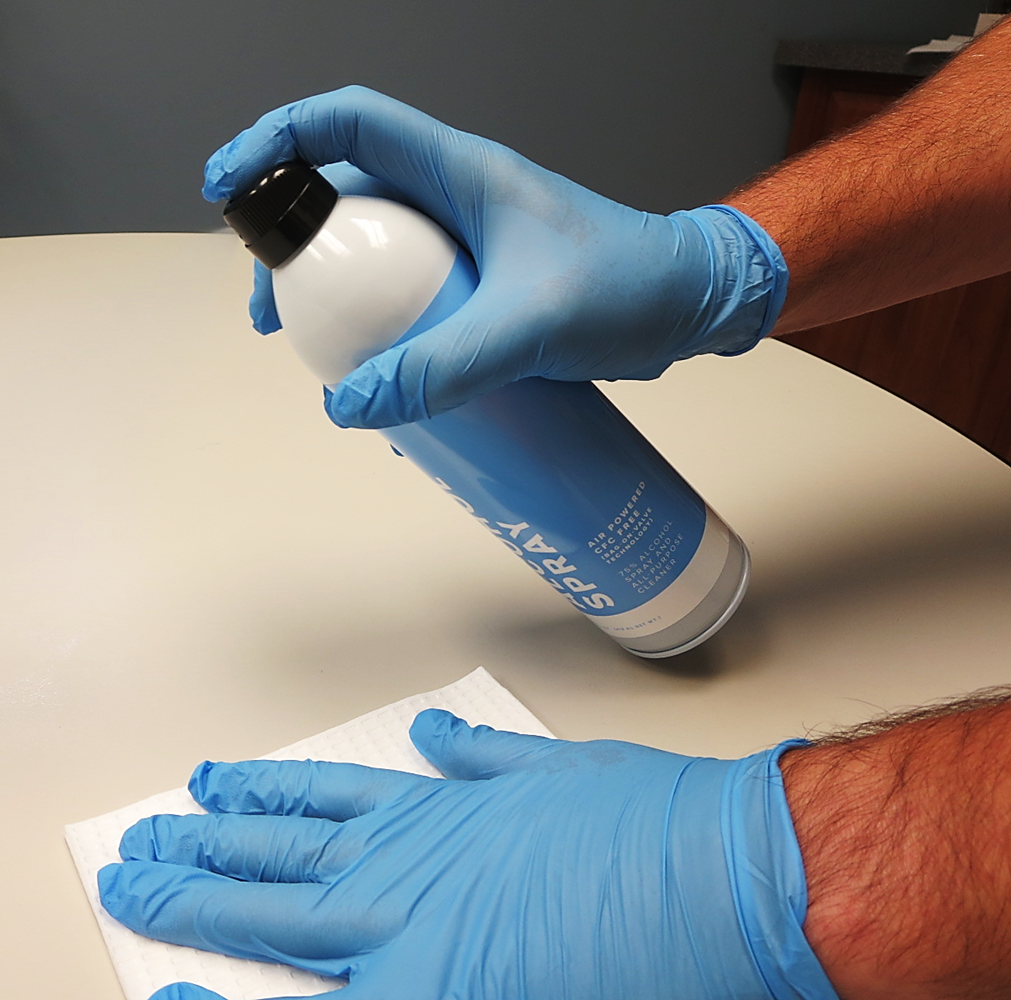 The pandemic has introduced a new level of heightened conscious to touching publically shared items and surfaces. If you manage a movie theater or are an automotive operator for a company such as Uber or Lyft, comfort and safety is part of the job.
Arguably one of the most powerful selling tools in the pandemic era will be cleanliness. Taking extra precautions to ensure the physical and mental safety of your guests will most likely be the new norm for a long time.
IMMOBILIZE THREATS
A clean automobile interior prevents the potential for cross-contamination and the risk of infection but automotive steering wheels, upholstery, seat belts, door handles, command displays, stereo's, glove boxes, cup holders, shifters are commonly touched or shared. If they're not properly sanitized they can become a breeding haven for germs. With environmental hazards virtually everywhere it's always a good practice to have the means to shield against threats as much as possible.
If you manage an automotive dealership, a car rental agency, service center or transportation service then removing germs, dirt, biofilms and other unwanted impurities from surfaces become paramount to preventing microorganisms from making residence. Many folks will use disinfectant wipes to clean dirty surfaces but readers might be shocked to know that in order to effectively sanitize a surface, it needs to remain wet for a specific period of time, referred to as the kill time. Long kill times can translate to wasted time, energy and lost profitability. Disinfects can harm fabrics, release chemicals that could irritate the respiratory sytem and long term usage can cause deterioration. We're proud to announce ...
A Safe, Fast & Easy Solution to Cleaning a Vehicle's Interior!
This new and innovative spray cleaning product is keeping the interior compartments and surfaces of cars, limos, taxis, buses sanitized and consequently putting germophobic passengers and owner operators at ease. A quick spritz of this chemical-free aerosol spray cleaner on commonly touched surfaces or the hands easily helps to prevent the cross-contamination and spread of disease. It is also ideal for the re-opening of movie theaters where seats can be easily and quickly sanitized between shows.
WHAT'S ISOPROPYL ALCOHOL?
This quick-drying surface cleansing spray formula includes 25% purified water and 75% isopropyl alcohol which exceeds the CDC's recommended 60% alcohol concentration for effective cleaning. When the pandemic hit our shores, isopropyl alcohol and products containing it experienced national shortages because it is rapidly antimicrobial on surfaces and can be used as a hand sanitizer.
Isopropyl alcohol (2-propanol), also known as isopropanol or IPA, is the most common and widely used disinfectant within pharmaceutics, hospitals, cleanrooms, and electronics or medical device manufacturing and is rapidly antimicrobial against bacteria, fungi, and viruses. If you ever had a shot or blood test, IPA was most likely used on the skin to prep and clean the injection site. The presence of water is a critical in destroying or inhibiting the growth of pathogenic microorganisms with isopropyl alcohol. 70% IPA solutions penetrate the cell wall more completely which permeates the entire cell, coagulates proteins, and therefore kills the microorganism. Extra water content slows the evaporation process, therefore increasing surface contact time and enhancing effectiveness.
PRODUCT FEATURES
NO CHLROFLUOROCARBONS (CFCs)
AIR-POWERED SPRAYER
This innovative alcohol spray bottle uses a Bag-On-Valve (BOV) technology which uses chemical-free, all-natural compressed air that empties 99.9% of its contents and boasts a longer shelf life than products with traditional aerosol sprayers. With a simple twist of the cap, BOV technology allows for powerful and continuous spraying from all angles, even upside down! It is fragrance-free but does emit has a medicinal alcohol scent that quickly dissipates after dispensing.
ULTRA-FAST DRYING
Quiet and non-chilling dispensing, it generates a fine mist with broad coverage and leaves no sticky residue. Isopropyl spray is ultra-fast drying making it ideal for direct use on electronic devices. For maximum cleanliness just spray, air dry and then cover surfaces with single-use barrier device.
A MYRIAD OF USES
Available in two can sizes, this spray cleanser is perfect for Police, Fire, EMT, Day Care, Education, Athletics, Electronics, Pharmaceuticals, Clean Rooms, Veterinary and more. It can be applied to effectively clean often used or commonly touched surfaces including desks, chairs, door knobs, toilets, phones, purses, floors, glass, plastics, electronics, keyboards, remotes, office phones, cell phones, tools, athletic equipment, laundry machines, playground equipment, furniture, lockers, toys, park benches, grocery carts, tables, counter-tops, faucets, switches and more!
The next time you pull up to pick up, be sure to keep a can of this spray in the cup holder. Your customers will take notice and from what I hear, it may equate to nice tips! But don't take of word for it, just tap the link and …
Monday-Friday 8:30-4:30 E.S.T.