Featured News - Current News - Archived News - News Categories
Dupont Limited-Use Protective Apparel Guide
by mdsassociates
Wed, Jul 13th 2022 08:00 am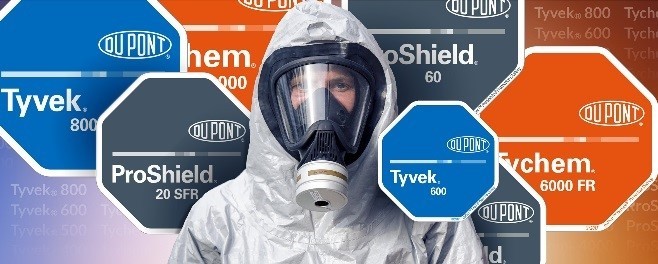 Limited Use Chemical-Resistant Apparel Product Guide
Select the correct level of protection with the new DuPont™ Personal Protection product identification system. Simple to use, the global rebranding and recertification of its extensive range of limited-use PPE garments includes the ProShield®, Tyvek® and Tychem® brand of chemical-resistant products. For ease of ordering, product numbers and references were retained.
ProShield® Garments - ProShield® offers a range of comfortable, soft and breathable limited-use garments that protect against non-hazardous dry particles and light liquid splash applications typically found in industrial situations.
Tyvek® Garments - DuPont™ Tyvek® is a versatile material that's durable and comfortable, providing an excellent barrier against hazardous fine particles, chemicals, lead, mold and asbestos. A unique nonwoven material with protection built in to the fabric itself, Tyvek® has no films or laminates that can abrade or wear away over time. The Tyvek® range resists a wide array of low-pressurized, water-based low-concentration chemicals and particles down to 1 micron in size. Tyvek® also provides an ideal balance of protection, durability and comfort to employees in industrial applications and contamination control environments, including manufacturing, pharmaceutical, automotive, and utilities.
Tychem® Garments - Tychem® brand chemical protective garments are used by HAZMAT responders, law enforcement, hospital first receivers and military personnel. This brand of protective garments helps protect against a variety of hazards—from light liquid splash to heavy exposures of industrial chemicals and warfare agents. Tychem® fabrics have been tested by third party labs for permeation against hundreds of chemicals. The result is chemical protection available against hundreds of toxic liquids and vapors from sarin to chlorine gas.
-------------------------------------------------------------------------------------------------------------------------------
+ Learn more about the new DuPont® Chemical-Resistant Garment guide here
+ Shop DuPont® Chemical-Resistant Garments here
Related Articles