Disposable PE Coated Safety Sleeves
Protect Against Cross Contamination and Skin Exposure
Disposable sleeve protectors are typically worn as a personal safety device to cover and protect the arms or under garments from contamination liabilities. For operations such as pharmaceutical manufacturing, electronic assembly, cleanroom or food processing, product contamination from human hair, cosmetics or skin flakes are of the utmost concern. For those who work in medical research or laboratories, protection against infectious pathogens or industrial chemicals are forefront.
Protective Sleeves are typically 18-inches in length, feature elastic ends and are worn as a barrier over the entire arm area (wrist to the bicep) to protect against fluids, chemicals or particulates. Affordable and effective, disposable sleeve protectors are a first line defense for personal safety when worn along with protective work gloves or disposable type gloves.
U

nfortunately, when protective gloves and sleeves are worn together, one critical area at high risk to bare skin exposure is the wrist area. Because gloves and garments involves separate industries, little attention has been given to this critical cuff boundary (the garment sleeve and the glove cuff).This leaves operators susceptible to glove-to-skin transmission or cross-contamination.
As operators work, the cuffs of a glove and a garment often shift or come apart with work movements and this presents a bare skin hot spot. It is common practice among many PPE wearers to use duct or cuff tape to secure an effective barrier along the wrist cuff area and recognizing this phenomenon, we have created an impervious sleeve protector featuring knitted thumb saddles that's designed to anchor the garment cuff under the glove, thus eliminating sleeve slide or exposure as it's known in the biz.
Our Innovative PE Coated Sleeve Protectors with Thumbholes Elevates Safety Compliance! Simply Slide On & Engage!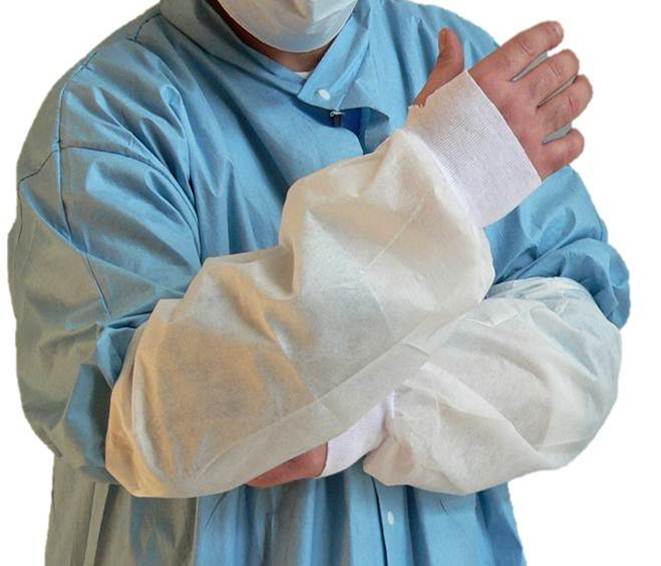 MDS disposable PE Coated Sleeve Protectors feature an outer layer of polyethylene over a soft inner layer of spun bound polypropylene to provide the wearer's arm with an impervious barrier against fluids, particles and chemicals. These innovative PE Coated Sleeves have an elastic gathering at one end while sewn to the other are knitted ribbed cuffs that feature optional Thumb-Slits™ that when engaged, will anchor the protective sleeve under the glove. Soft, absorbent and easy to use, engaging these thumb restraints also makes PPE layering, or glove donning, much easier and faster!
---
Select our exclusive PE Coated Sleeve Protectors when contamination or potential exposure is the concern! Far less expensive than Dupont Tyvek® arm covers, these coated sleeves are versatile, effective protection for moderate to high risk applications and will elevate safety compliance in the workplace!
Contact MDS for samples, volume discounts or to place an order. Not shown but also available as a special order are sleeves in constructed of SMS (Multi-Ply), Polypropylene and Microporous Laminate-contact us with your preferred fabric today!
Orders. Samples. Questions. Volume Discounts.
Monday-Friday 8:30am - 4:30 EST
+800-274-4637 | +716-668-4001 | [email protected] | MDSassociates.com
"We Want You to Return Home Safely Everyday"