A "GREEN" Glove That Won Gold
SW's Biodegradable PowerForm® PF-95GY EcoTek® Nitrile Exam Glove with DriTek® Was Announced As the Gold Winner in Hand Protection At the Occupational Health & Safety Industrial Hygiene Awards
---
Single-use gloves are beneficial when it comes to protecting the skin against chemicals, contamination or infection in the medical profession as well as food handling. Disposable gloves keep everyone safer because they minimize the spread of germs and bacteria. What goes on under disposable gloves is a completely different matter.
The impervious nature of disposable gloves also create an air-tight barrier around the hands which causes the hands to heavily sweat. With nothing to wick perspiration, moisture becomes trapped inside the gloves which can breed bacteria. Seeking relief, many users tend to change gloves more often but hands softened from sweat are more prone to injury. Repetitive damp then dry then damp again conditions can cause dryness, hand irritation and even pain.
SW® Sustainable Solutions Inc. has developed a number of new technologies that have transformed the single-use glove category – from simply protecting hands to moisturizing comfort, enabling better barrier detection performance to protect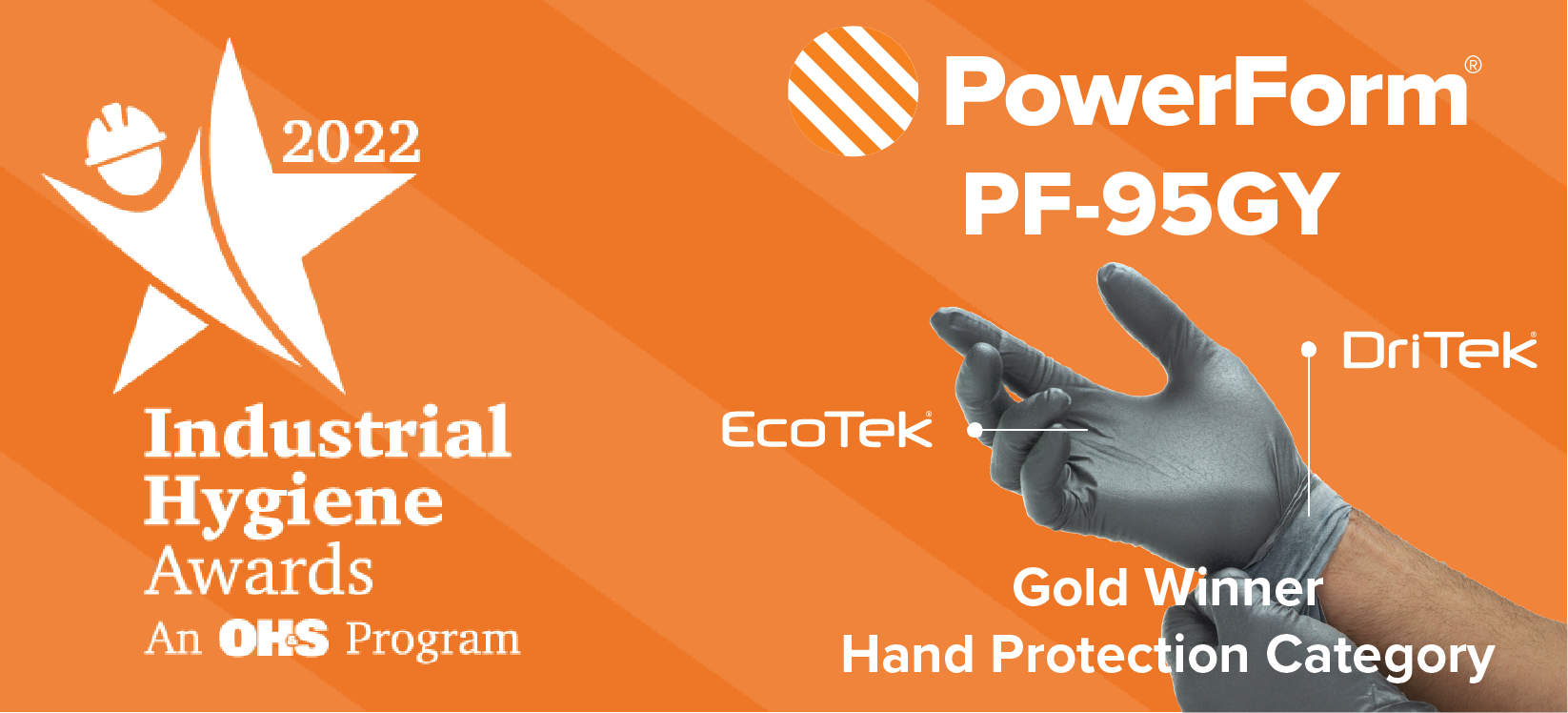 ing the environment.
2022 Gold Winner In Hand Protection
SW®, the industry's leader in glove innovation and sustainable glove solutions, is thrilled to have their PowerForm® PF-95GY EcoTek® Nitrile Exam Glove recognized by Occupational Health and Safety (OH&S) at the 2022 Industrial Hygiene Award.
This annual award program honors outstanding product development achievements in 18 categories of health and safety manufacturers whose products or services are considered particularly noteworthy in their ability to improve industrial hygiene.
PowerForm® PF-95GY features a 8.2-mil thick glove, dark gray color, 100% latex-free nitrile gloves constructed with DriTek® comfort technology. DriTek® moisture-wicking flock-lined system is an absorbent lining that naturally manages sweat/perspiration for drier, cooler, more comfortable hands and easy donning and doffing.
CHEMO APPROVED & FENTANYL RESISTANT
The winning glove is made with full texture to secure grip, FDA approved medical exam grade for the handling of infectious fluids and pathogens. PowerForm® PF-95GY has also been cleared and tested for use with chemotherapy drugs, fentanyl and simulated gastric acid.
SUSTAINABLE ECOTEK® TECHNOLOGY
These SW® Sustainable Solutions PF-95GY PowerForm® Ecotek® Nitrile Exam Gloves allow workers to execute tasks with more confidence and optimize on-the job performance.
These latex-free gloves feature a GreenCircle Certified properietary glove formula that accelerates breakdown in landfills without any performance loss. SW® gloves with EcoTek® technology will biodegrade by 92.6% in only two years and 6 months under test method ASTM D5526-12 without any loss in performance or comfort.
DriTek® Comfort Technology with absorbent lining that wicks away moisture for added extended use

EcoTek® Biodegradability Technology accelerates landfill breakdown without any performance loss

Fully textured for secure grip

Silicone-free for critical environments

Certified safe for use with fentanyl and chemotherapy drugs

1.5 AQL exceeds laboratory standards

ANSI 3 Abrasion resistance

Latex-Free / Powder-Free
When workers are comfortable, they're more likely to wear gloves when they need them. Losing a key employee or employees to dry, irritated skin is unacceptable now-a-days. With the PF-95GY PowerForm® Nitrile Gloves, operators can now wear disposable gloves in comfort and confidence. What are you waiting for? Prevention is only a click away – all you need to do is tap the link and ...
Monday - Friday 8:30am - 4:30pm EST
Click or Call Today
Questions. Samples. Special Requests.
Toll-Free +800-274-4637 | +716-668-4001 | [email protected]
"We Want You To Return Home Safely...Every Day!™