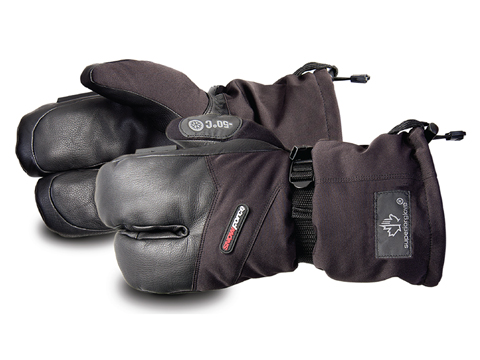 Extreme Cold Conditions Call for Extreme Hand Protection
Discontinued
If you live in a cold weather climate, October signals the time of year where we prepare for the winter season. Many convert their summer tires to snow tires, ready their snow removal equipment, load the snow brushes into their vehicles, and unpack the winter gear that includes snow jackets, boots, caps and winter gloves.
Here in the northeast, we brace ourselves for the most extreme winter conditions that include sub-zero wind chills, blizzards, lake-effect snow storms, sleet and freezing rain that sometimes force schools and businesses to close for days. Many folks seek shelter in their homes but for others, it's just another day at the office.
If you work outdoors or like to engage in cold weather recreational activities such as snowmobiling, having a pair of warm snow gloves or mitts is critical to one's overall comfort. We have just the solution!
If you're seeking the ultimate hand warmth in sub-zero weather conditions, then we have something for you! Nicknamed the "THE WINTER CLAW", these innovative SnowForce™ Brand of Extreme Cold Winter Mitts are serious winter hand protection made by serious glove engineers who despise the cold!
Superior Glove® is based in a northern cold climate and their engineers have created an industrial extreme cold mitt meant for the extreme cold! Constructed for those who live and work in the frigid Canadian Arctic, we are excited to offer these Snowforce™ winter mitts for outdoor recreational enthusiasts or businesses interested in keeping their employees or loved one's hands warm and dry.
You will work longer, faster and feel better in mild to moderate temperatures and environments all the way to tundra-awful cold!
If you seek sub-zero hand protection designed for brutal arctic conditions, then consider these SnowForce™ Extreme Cold 3-Finger Winter Mitts (item #SNOW322L). This innovative winter mitt offers two levels for temperature protection thanks to the two openings at the cuff. The first opening is perfect for dexterity and warmth rated for -4°F while the second opening is designed for extreme cold conditions of -58°F.
This winter mitt features a black cow grain palm that enhances the ability to grip and provides excellent abrasion resistance that increases the lifespan of the glove. The Porelle™ waterproof insert locks out water and wind but breaths to eliminate sweat build up. An adjustable strap on the back of the glove and elasticized wrist for tightening allows an optimal fit while sealing in warmth. The unique claw pattern keeps fingers together for warmth but improves range-of-motion compared to standard mitts or trigger-finger mitts. Check out the built-in goggle wiper on side of index finger-genius!
One size fits most, the Snowforce™ Extreme Cold Winter Claw Mitt is ideal for outdoor activities such as Skiing, Snowmobiling, Snow Removal, Sporting Events, Artic Research, Vehicle Towing, Ranching, Trapping, Hunting, Law Enforcement, Search and Rescue, Military, Wildlife Management, Construction, Cold Storage, Winter Guides, Forestry, Fishing, Climate Researchers/Scientists, Property Management, Cold Storage and more!
Work longer, faster and feel better in moderate to extreme temperatures and environments all the way to tundra-awful cold! But take our word for it...
Order Early and Avoid Back Orders!
Monday through Friday 8:30am - 4:30pm
Orders. Questions. Volume Discounts.
+(800) 274-4637 | +(716) 668-4001 | [email protected] | Fax +(716) 668-4496