WORK GLOVES

THAT TAKE THE

SHOCK OUT

OF THE

DISCHARGE
The FlexTech™ Y9258 Cut-Resistant Work Glove has Anti-Static properties that rapidly neutralize the electric discharge for the worker and ESD properties that protect product equipment and workpieces. And, they're swipe screen compatible too!
---
Electrostatic-sensitive devices can be severely damaged by common static charges which build up on people, tools, and other non-conductors or semiconductors. Static electricity occurs when two different materials or surfaces contact each other and rub together creating an unexpected nuisance referred to electrical static discharge, known also as ESD.
Electrostatic discharge is the sudden flow of electricity between two electrically charged objects caused by contact or an electrical short or dielectric breakdown. A good example of this is the zap you sometimes experience when opening a car door handle. The human body is an excellent conductor of electricity and a person can become statically charged with upwards of several thousand volts. The static charge that builds up in humans must be released usually resulting in an electrical shock.
The shock caused by static electricity can bring more power at your fingertips than you ever imagined but unfortunately you won't be hailed as a super hero if you accidently zap a valuable circuit board or an expensive electronic device.
If you work on delicate electronic components or in electrostatically sensitive work environments such as a manufacturing floor, clean room, or circuit repair operation then electrical static discharge can have a killer effect! Prevention is as simple as having the proper work gloves in the gear bag or tool box!
PROTECT SENSITIVE ELECTRONICS DURING ASSEMBLY & INSPECTION
STOP ELECTROSTATIC DISCHARGE
The FlexTech™ Y9258 from Wells Lamont Industrial has anti-static properties that rapidly neutralize the electric discharge for the worker and ESD properties that protect sensitive products and equipment. It's ideal hand protection for critical environment, cleanroom, biotec, laboratory, metal fabrication, transportation, oil & gas, machinery, equipment and automotive industries for applications involving metal stamping, electronics assembly, small parts handling and assembly applications.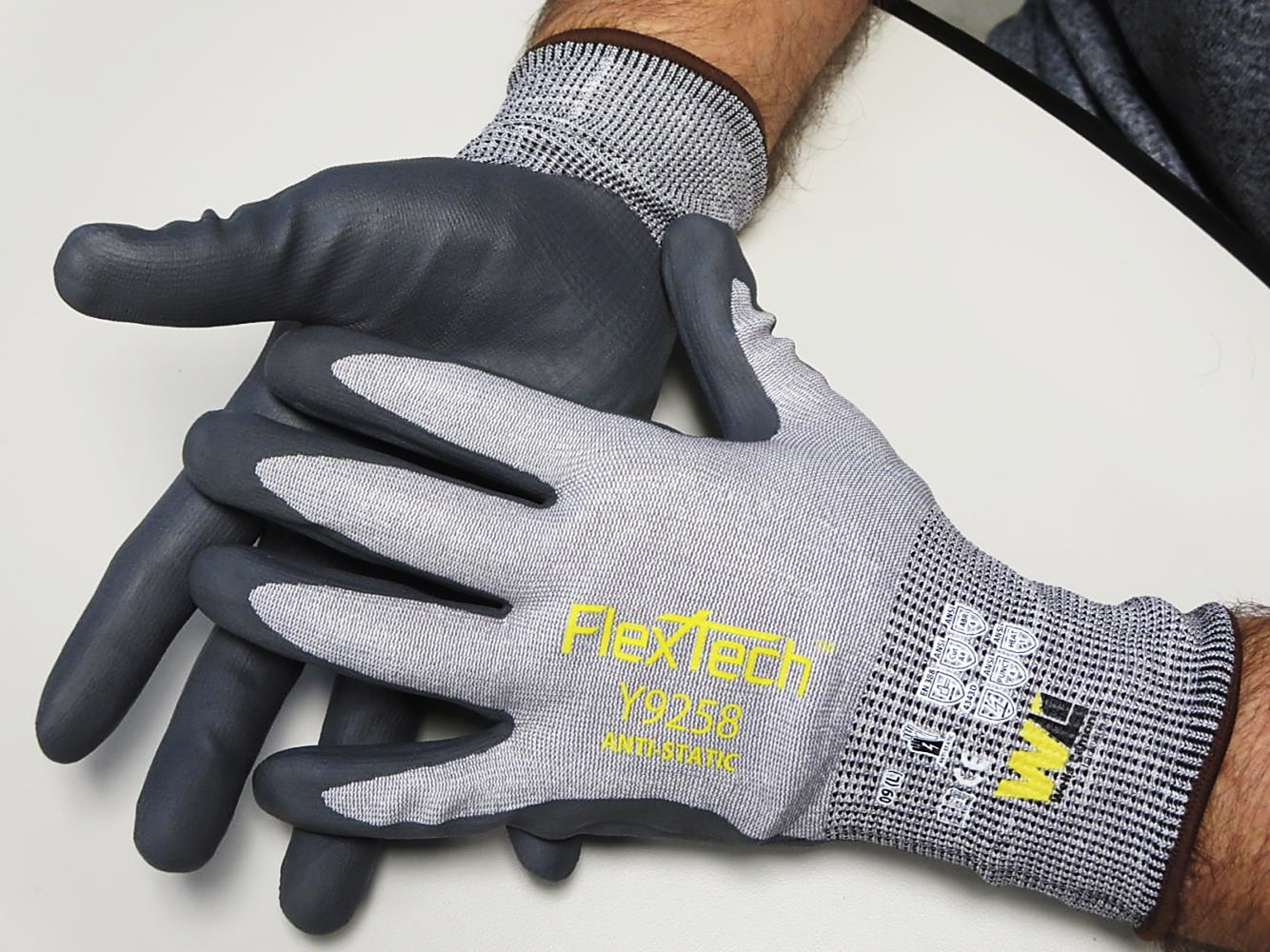 ELEVATE COMPLIANCE
MULTIPLE ANSI SAFETY RATINGS
The FlexTech™ Y9258 work safety glove features an ultra-lightweight 18-gauge cut-resistant seamless knit liner that provides excellent dexterity, tactility, comfort. It also boasts multiple ANSI safety performance ratings against industrial lacerations, punctures, abrasion and heat.
ANSI Puncture Level 4

ANSI A4 Cut Resistance

ANSI Abrasion Level 4

ANSI Heat Level 1 (200°F)
CONVENIENCE
Other features of the FlexTech™ Y9258 work gloves include a durable gray foam nitrile palm coating that enhances grip and ribbed knitted wrists that helps prevent dirt and debris from entering the glove. The color-coded hems allow for easy size identification. These touchscreen compatible work gloves let workers easily and quickly look up information from touch enabled devices without having to remove their safety gloves when using tablets and cell phones.
FEATURE: BENEFIT:
ANSI A4 Cut Resistance: Provides superior cut protection to reduce hand injuries
18 Gauge Ultra-Light Weight Liner Delivers ultimate dexterity and comfort
High Abrasion Performance For durability and ensures longer wear
High Puncture Performance Reduces hand injuries due to sharp objects and burrs
Touchscreen Compatible For easy use with tablets and phones
ESD Protects materials from damaging electric discharges
Anti-Static Protects worker by neutralizing electric discharge
WASHING INSTRUCTIONS
FlexTech™ Y9258 Gloves can be machine washed in warm water with mild detergent or soap for 10-15 minutes. Water temperature should not exceed 160ºF (60ºC). Rinse in cold water. Tumble dry for 10-15 minutes, not exceeding 120ºF (50ºC). Heavily soiled gloves can be pre-treated with a stain remover. Do not use bleach or dry cleaning solution.
Electrostatic Discharge events of only a few volts is enough to cause serious damage to electronic components that costs companies billions of dollars annually. As a result, it's vital in cleanrooms and other technical sensitive areas that these electrostatic discharges are controlled and the FlexTech Y9258 work gloves are just the answer!
Stop the shock! Prevention is only a click away. All you need to do now is tap the link ….
Monday - Friday 8:30am - 4:30pm EST
Click or Call Today
Questions. Samples. Special Requests.
Toll-Free +800-274-4637 | +716-668-4001 | [email protected]
"We Want You To Return Home Safely...Every Day!™