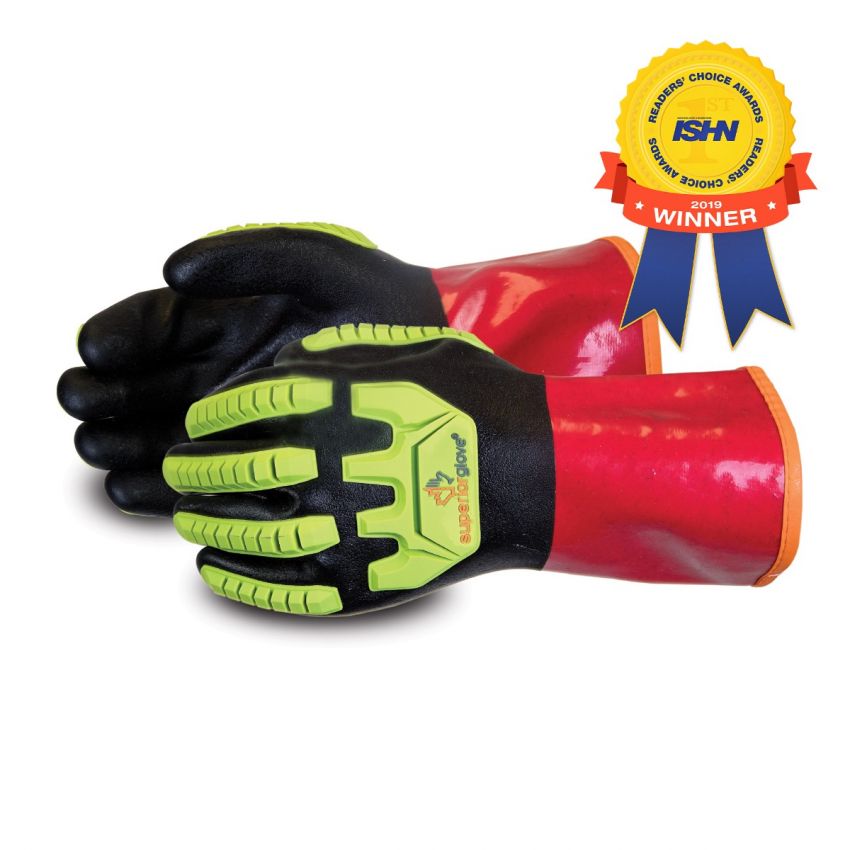 When Handling Chemicals, Check Out These Innovative ChemStop™ PVC Coated Impact Grip Gloves
Award Winning, ANSI Rated Multi-Dimensional Hand Protection Against Industrial Cuts, Punctures, Abrasions and Impacts
If you are an industrial operator working in the mining, construction or in the oil and gas industry, you'll agree that there is little room for error. The last thing any worker needs to worry about is whether or not their work gloves will tolerate the working conditions, especially if multiple hazards exist. One slip, one rip, one cut can mean the difference between returning home safely versus a trip to the emergency room.
DESPERATE TIMES CALL FOR DESPERATE MATTERS
Out of desperation and a desire to protect their crew, many companies require that their workers wear or carry two or three different styles work gloves when on the job. Unpractical and costly, layering these gloves is time consuming, exhausting and requires much inventory management.
If you are searching for one industrial work safety glove that encompasses virtually every occupational hand hazard, then look no further. Superior Glove® boasts a whole bunch of hand protection awards and it isn't by fluke. Now you can add their S15KGVNVB ChemStop PVC Nitrile Coated Gloves to their portfolio! These 2019 ISHN Award Winning Chemstop™ PVC Gloves are loaded with safety and comfort features.
PERFORMANCE & COMFORT FEATURES
These ChemStop™ S15KGVNVB chemical-resistant industrial work gloves feature a comfortable Kevlar® Liner and a full nitrile coating with texturized surface that provides excellent grip by displacing oil on slippery surfaces. Impact-resistant thermoplastic rubber (TPR) backing protects hands and fingers from knocks and bumps and the hi-viz green color increases worker awareness of hand placement reducing the opportunity for injury.
These chemical protection gloves resists a wide variety of chemicals and solvents and are ANSI rated against industrial punctures, abrasions, cut hazards and meets the new ANSI ISEA 138 Impact Standard. Ergonomically-shaped to reduce hand fatigue, the gauntlet cuffs provide added coverage along the wrist and forearm region.
Wearing an award winning work glove should be an easy sell to your Safety Director and crew! These Chemstop™ gloves are truly innovative and provides hand protection you can rely on...
Now all you have to do is tap the link and try these today...
Monday - Friday 8:30am - 4:30pm EST
Toll-Free +800-274-4637 | +716-668-4001 | [email protected]
'We Want You to Go Home Safely Everyday'