Decide to Disinfect with Fast Acting Discide® Ultra Wipes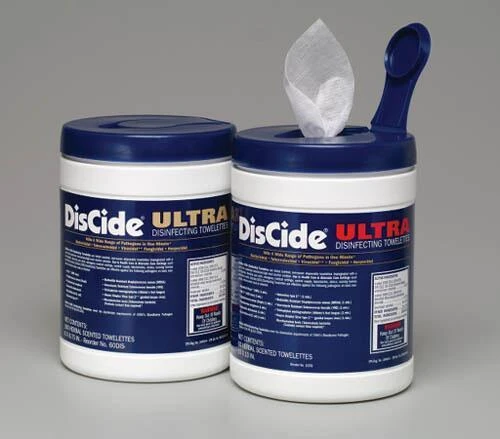 Keeping Surfaces Sanitary and People Healthy
With the cold and flu season in full swing, commonly touched non-porous surfaces become hot beds for germs. Disinfecting these surfaces becomes important as it can lead to an infectious disease transmission in a health care or other facility.
Infectious diseases, or infections, are caused by pathogenic microorganisms. These microorganisms may be bacteria, viruses, parasites, protozoa or fungi. Microorganisms enter into the body in various ways, called routes of transmission. The four key routes of transmission are direct contact, indirect contact, droplet, airborne, and in order for a disease transmission to occur they must follow a "chain of infection".
A critical element in infection control or infection prevention is environmental asepsis or the prevention of cross contamination and disease transmission from equipment or other surfaces through contact or droplet infection. Disinfectants play a key role in the prevention of disease transmission.
Selection
When it comes to surface disinfectants, there sure are a lot of choices to pick from causing much confusion in selection and use of disinfectants. Some simply opt for "the bottom line" but this isn't always the wisest solution. When it comes to kill times (the time it takes to effectively disinfect a surface), the faster, more effective solution isn't always the cheapest solution. Many disinfectants can take up to 10 minutes to take effect which translates to wasted work time, reduced patient turnover and ultimately less revenue.
Accelerated Operatory Turnover
Practice better infection control with this fast acting surface disinfectant. Discide® Ultra is one of the fastest surface disinfectants in the market and will save you time and money. Discide® Ultra is a one-step, ready-to-use hospital-level disinfectant that kills pathogens in one minute or less! This quaternary ammonium, intermediate high-level alcohol-based disinfectant requires no mixing or measuring. With DisCide® Ultra, you can accelerate the way you disinfect clinical settings.
Pure Killing Power
DisCide® Ultra is laboratory proven to kill deadly pathogens in one minute. It effectively kills 99.99% of specified germs including 21 major organisms. It's effective against TB, viruses (HBV, HCV, RSV, HIV-1, Influenza), bacteria (MRSA, VRE, E. coli, Staphylococcus), and fungi (C. albicans). Discide® Ultra is EPA registered and meets the disinfection requirements of OSHA's Bloodborne Pathogen Standard. Specifically formulated to resist evaporation, it's non-corrosive, non-staining, and will leave no messy residue. Discide® Ultra wipes are available in two sizes:
10DIS 10½"x10" 60 count canister
60DIS 6"x6¾" 160 count canister
Get Clean Fast
Discide® Ultra Wipes are great for a wide variety of applications. It's popular in hospitals, EMS, gyms, salons, schools, tattoo salons, dental offices and many other locations where sanitary conditions are important. Use on non-porous surfaces such as floors, exam tables, countertops, exam light handles, door handles' light switches, bath fixtures and more!
Shop Now
Ready-to-use for the ultimate in convenience, DisCide® Ultra is available in identical formulations in spray bottles, bulk gallon refills and pre-wetted towelette formats. Disinfect fast with fast acting DisCide® Ultra today!
Monday - Friday 8:30am - 4:30pm Eastern Time
Orders. Questions. Samples. Volume Discounts.
+(800) 274-4637 | +(716)668-4001 | [email protected]