Extreme Temps

&

Superior Glove®
Lab Safety Hand Protection
This is part two in a series of articles about Cryogenics and three companies making innovative personal protection equipment for humans working with extremely cold temperatures. This article focuses on Superior Glove®, a Canadian glove company using innovation to make some of the most advance gloves on the market.
Superior Glove® is one of North America's leading manufacturers and suppliers of multi-dimensional industrial work safety gloves. A respected source for thousands of customers, Superior Glove® has been in the business since 1910. Specializing in cut-resistant gloves, they are a licensed manufacturer of Kevlar® and Dyneema® product, high-quality work gloves for every industry. With the largest glove selection of any company – over 2500 styles – Superior Gloves' products are also the most technically innovative.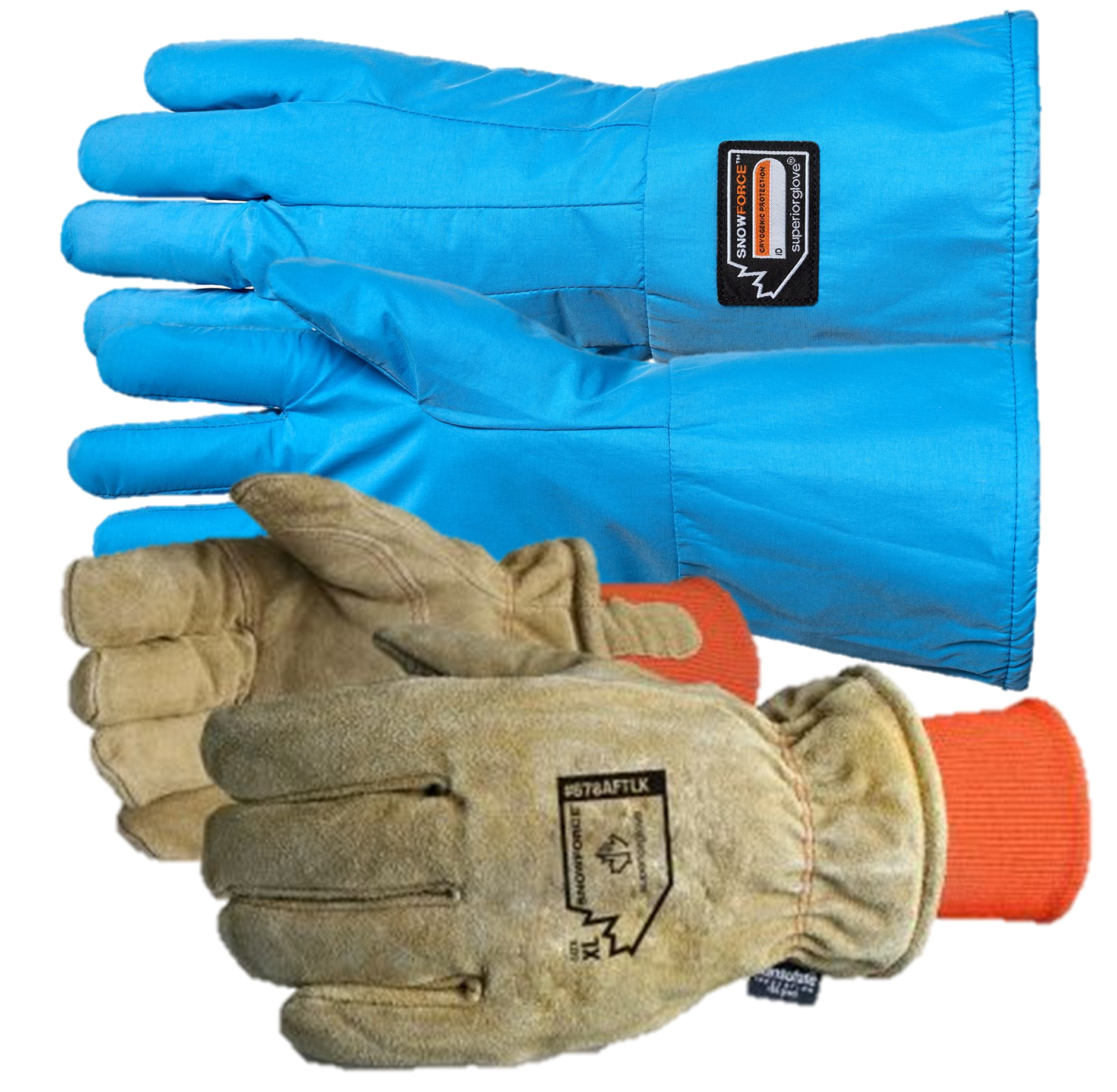 Shop Now
We start by looking at the cryogenic and extreme temperature gloves from Superior Glove®.
The first, the +365CRYO Snowforce™ Extreme Cold Cryogenic Glove is waterproof hand protection designed for handling extremely cold cryogens and vaccine handling. These gloves feature extended cuffs for extra protection, 3M™ 200g Thinsulate™ insulation for warmth and RaoTex™ inserts. RaoTex™ prevents cryogenic liquids from soaking through to the skin and acts as an added insulator, trapping body heat while allowing moisture to escape. Lightweight and comfortable to wear, the loose-fitting structure allows for easy removal in the case of contact with cryogenic fluids.
Not all situations are going to call for the most extreme hand protection. For situations that do not call for direct material handling, but do call for working in extreme temperatures, Superior Glove® SnowForce™ Freezer Gloves are ideal. Whether you are transporting freezer or refrigerated goods, working on heavy equipment, moving building supplies or simply performing outdoor maintenance, +SnowForce™ Split Leather Freezer Gloves will help you stay warm in cold conditions to -13°F. These SnowForce™ grain cowhide gloves provide comfortable, dependable hand protection. Constructed of durable split-leather with double leather palm and thumb patch for increased wear and protection. Extra-long orange knitwrist cuffs seal in warmth and keeps the cold out. Full Thinsulate™ lining adds almost twice the insulation value of down, without being water-absorbent; gloves retain their insulating ability even in damp conditions. SnowForce™ gloves are a real asset to the worker exposed to winter elements, or any type of cold conditions.
---
Contact us for samples, to place an order, volume discounts or custom requests
Monday-Friday 8:30-4:30 E.S.T.
+800.274.4637 | +716.668.4001 | [email protected] | MDSassociates.com
"We want you to go home safely...every day™"