These Hi-Viz Work Safety Gloves Will Grab Your Attention!
Engineered Hand Safety | TenActiv™ Brand
After two years of research and development, the #S18TAFGFN TenActiv™ palm coated seamless knit work glove from Superior Glove® was finally launched in 2014 and since has morphed into one of the hottest-selling industrial work safety gloves in North America.
This TenActiv™ work glove was then the world's first 18-gauge seamless knit ANSI cut-level A4 work glove with 1617 grams of cut protection and today it continues to revolutionize hand safety with its' bare hand feel and multi-dimensional ANSI rated hand safety features!
State-of-the-Art Knitted Glove Shell
This incredible work safety glove is one of our best-selling work gloves for a reason – it performs and it feels great on the hands! Providing great protection against abrasions, cuts and industrial punctures this quality engineered, lint-free foam nitrile coated glove also has an amazing grip in wet and oily conditions. And as an added bonus – they're touchscreen compatible so you can use your tablet or phone without removing your gloves.
In our opinion, it is the perfect all-around work glove and the pinnacle in glove safety, but...if...BIG IF... there's one negative to this TenActiv™ style glove, it would be the color scheme – a black knit shell with a black palm coating. Here's why.
The color black is the darkest color, the result of the absence or complete absorption of visible light. It is an achromatic color, literally a color without hue, like white and gray. It blends in rather than standing out and if you are an outdoor operator working along conjested or fast moving roadways, bucket trucks, with heavy machinery or power tools, communication with the hands becomes critical when on the job. For this reason, wearing a black color glove is not an appropriate color when hand signaling.
Keep the Hands Visible & Safe
The hot-selling TenActiv™ palm coated gloves are now dipped in matching hi-viz foam nitrile.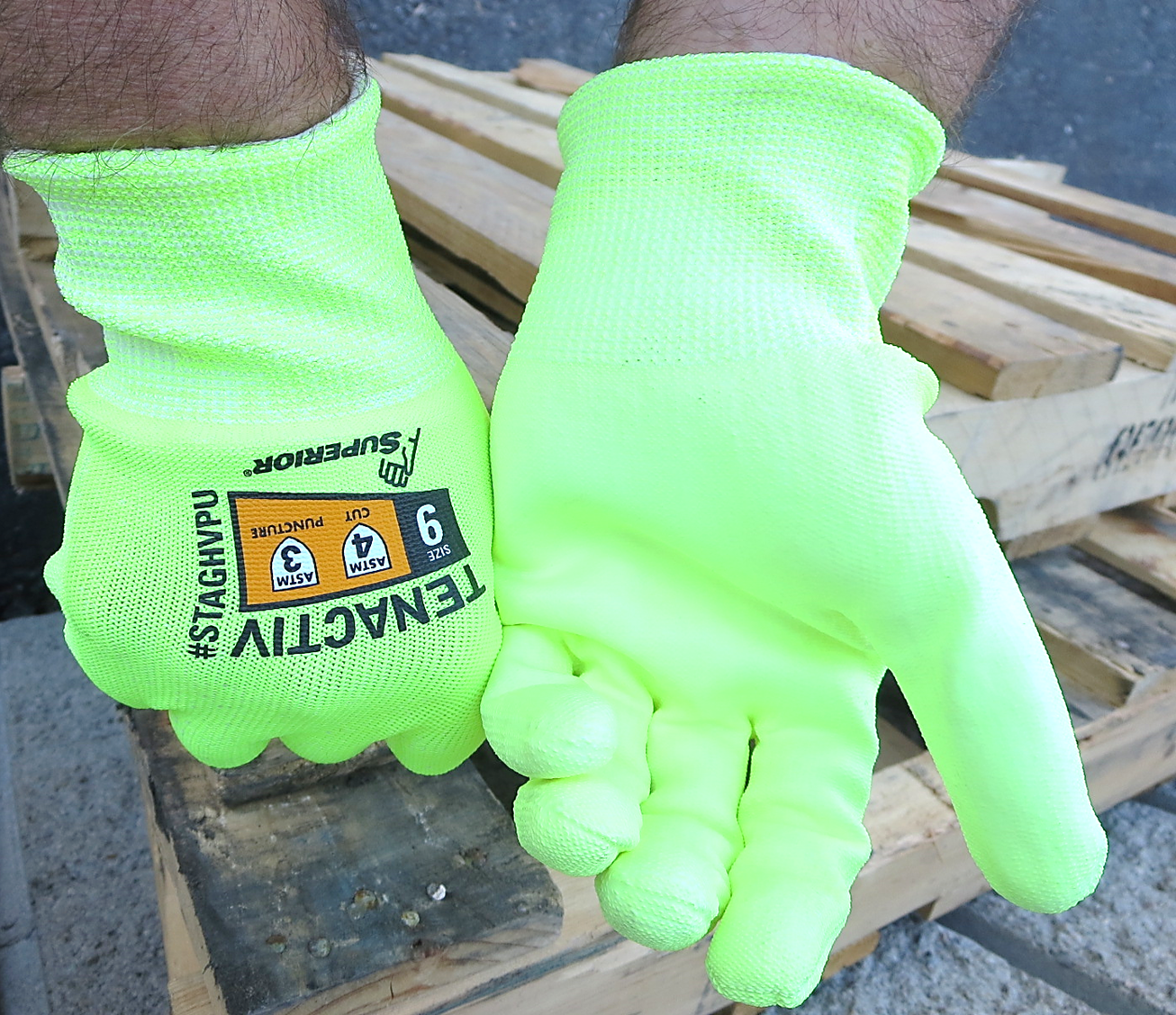 Recognizing that their TenActiv™ glove was growing among the construction trade, Superior Glove® created a hi-viz version of their original and award winning TenActiv™ #S18TAFGFN style. Now available is the #S18TAGOFN (hi-viz orange) and #S18TAGGFN (hi-viz lime green) and boy how they really stand out!
Hi-viz work gloves demand attention and wearing them when directing traffic or when signaling co-workers increases productivity, safety and communication.
No matter where you work, there's always some risk of injury. That's why it's so important to make sure you're ready for whatever the work day brings by wearing the best safety gloves for the job. Affordably priced, these multi-dimensional TenActiv™ brand of seamless knit hi-viz work gloves are less expensive than most medical co-pays and conveniently fit inside your toolbox or cab! But don't take out word for it, hit the button and...
Orders. Questions. Volume Discounts.
+800-274-4637 | +716-668-4001 | Fax +716-668-4496 | info @MDSassociates.com
"We Want You to Return Home Safely Everyday"