For Maxiumum Toughness, Try TuffMax™
Anti-Impact Cut Resistant Hi-Viz Work Gloves
Keep Hands Seen. Keep Hands Safe.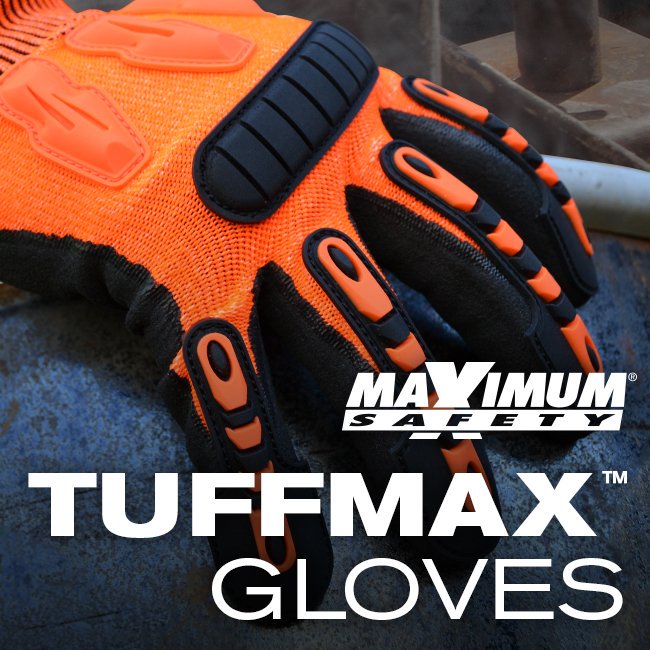 Ideal for petrochem, construction, auto repair, demo, mining, and fabrication, these high-visibility TuffMax™ industrial work safety gloves by Maximum Safety® are distributed by PIP® (Protective Industrial Products). The Maximum Safety® brand of hi-performance gloves was developed to provide the added protection needed that most gloves aren't designed to provide. This glove series provides ANSI Rated Cut Level Protection PLUS added hand protection against impact or pinch type injuries.
Constructed with a 13-gauge ergonomic seamless knit high performance polyethylene fiber (HPPE) shell, TuffMax3™ and TuffMax5™ Gloves are dexterous, tactile, lightweight and suitable for protection against mechanical hazards in the toughest environments. The HPPE fiber is highly resistant to abrasion and chemicals, so you can rely on them to provide long-lasting protection. The bright or hi-viz color makes hand signaling in the field more effective and increases both hand and personal safety.
COATED GRIPPING POWER
This series of work gloves feature a proprietary black MicroSurface nitrile coated palm that's constructed of millions of tiny suction cups. As these suction cups come into contact with a surface, they create a vacuum that disperses fluids away from the object to allow clean contact with the object making it awesome for handling wet and dirty applications. The nitrile compound is a thicker type of coating that offers superior resistance to snags, cuts, punctures, chemicals and abrasion. The palms of these TuffMax™ work gloves are also padded. This padding is incorporated to cushion and comfort the boney areas of the palm against impacts, blisters and repetitive motions.
TuffMax™ gloves feature flexible, hi-viz thermoplastic rubber (TPR) molded fingers, thumbs and back of hand guards to protect the bones for maximum impact protection and won't interfere with hand movements. The thumb and index finger region is reinforced with leather for longevity. The extended knit wrist stays snugly in place and has an adjustable Velcro® cuff closure that allows for easy on/off and a customized, secure fit.
Available in two glove styles, these anti-impact industrial work safety gloves are featured below:
Please note: the TuffMax5™ style work safety glove meets the newest impact ANSI/ISEA safety standard.
#120-5150 Maximum Safety® TuffMax5™ Hi-Viz Orange ANSI Cut Level A5 Rated
#120-5130 Maximum Safety® TuffMax3™ Hi-Viz Green ANSI Cut Level A2 Rated
Available in sizes Medium – 2X-Large.
---
Elevate compliance and increase productivity with these TuffMax® Gloves by Maximum Safety®. Contact us for volume discounts, samples, to place an order or for PIP® optional customized services (imprinting, vend-pack etc.) today!
Monday - Friday 8:30am - 4:30pm Eastern Time
Orders. Questions. Volume Discounts.
+(800) 274-4637 | +(716)668-4001 | [email protected]
"We Want You to Return Home Safely Everyday"