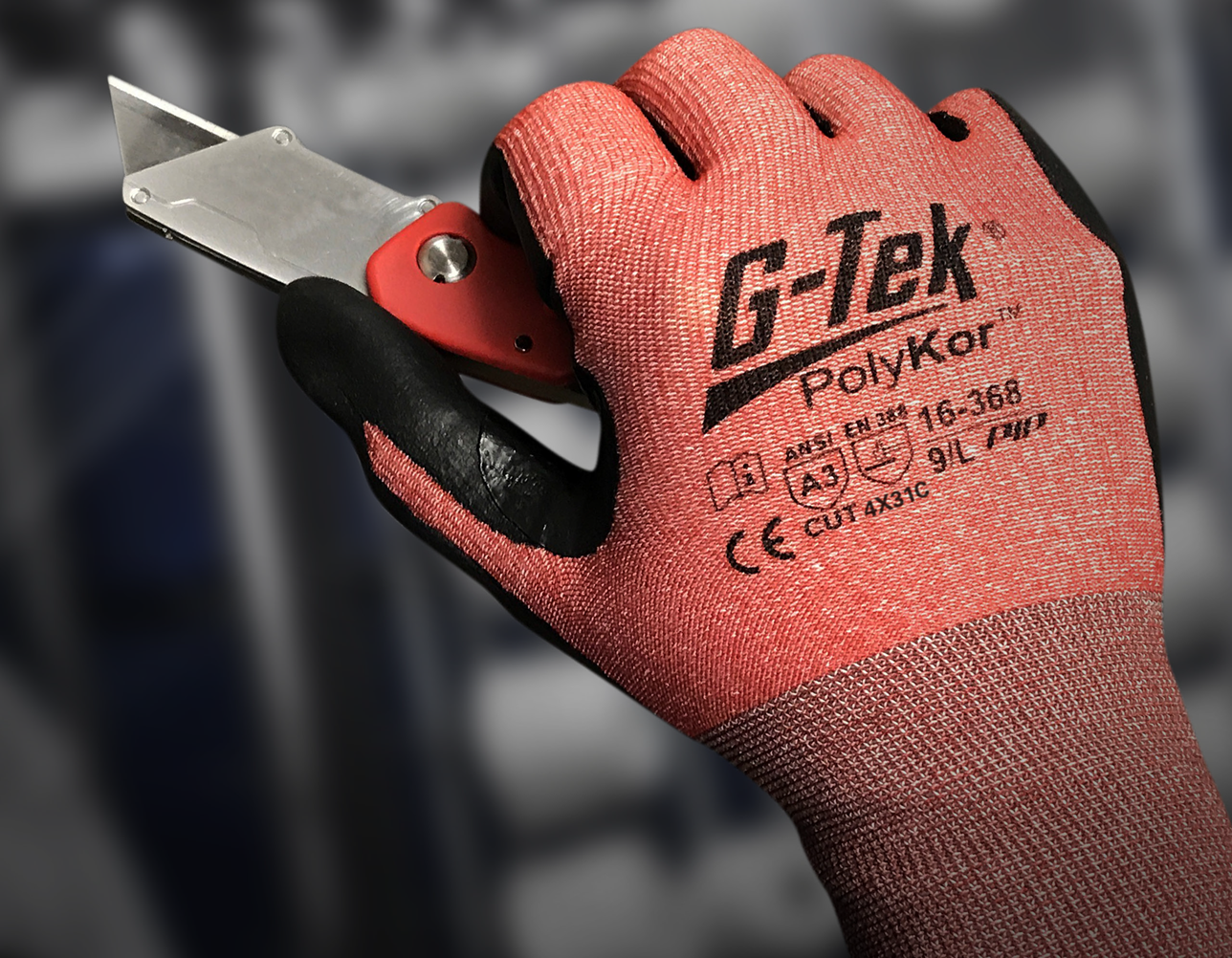 X7™ Technology

for

Xcellent Touch Sensitivity
Wearing hand protection in any industrial workplace typically come with trade-offs such as comfort or flexibility. When an uncomfortable glove is worn all-day 5 days a week it could translate to an injury or loss in production. If you handle metal parts, glass or small parts and need excellent dexterity, tactile sensitivity, touchscreen compatibility AND cut-resistance then check out these G-Tek® PolyKor® X7™ work safety gloves!
What is X7 ™ Technology?
Introduced by PIP® (Protective Industrial Products) X7™ Technology represents the latest in engineered yarn development. X7™ technology is a super light-weight and ultra-thin, 18 gauge reinforced yarn incorporated into the shell of seamless knit work gloves. X7™ yarn provides high touch sensitivity, cut-resistance and durability by way of proprietary fibers. The result is exceptional cut level protection in a thin liner configuration that gently snugs the hand without any pull-back or material restriction.
Touchscreen Compatible
G-Tek® PolyKor® X7™ Work Gloves also function as touchscreen work gloves. They feature swipe compatible fingertips and give operators the ability to work quickly with electronics in fast paced professions, where speed and operator input is necessary. Touchscreen work gloves also let workers easily and quickly look up information from touch enabled devices without having to remove their safety gloves, putting their bare hands at risk to injury!
What is NeoFoam®?
NeoFoam® is a water based PU (polyurethane) grip coating. It's an even, thin coating allowing good flexibility and dexterity. NeoFoam® coated palm and fingertips provide a secure grip which helps prevent injuries and waste when handling heavy or fine parts. Neofoam offers great abrasion resistance and outstanding wet/dry grip. It is highly flexible and tough, but still offers good breathability.
G-Tek® PolyKor® X7™ are ideal for:
Glass Handling

*Metal Handling*

Electronics

Small Sharp Parts Handling

Construction

Maintenance
G-Tek® PolyKor® X7™ Work Gloves Features:
ANSI Cut Level Rated | Test Method: ASTM F2992-15

Seamless construction offers increased comfort and breathability

PolyKor® blended shell with X7™ technology offers high cut resistance and durability with ultra-thin liners

NeoFoam® coated palm and fingertips offers great abrasion resistance and outstanding wet/dry grip

Reinforced thumb crotch for extended glove life, enhanced comfort, increased abrasion resistance and added durability in high-wear area prone to heavy industrial stresses and blow-outs.

Touchscreen compatible to allow the user to operate a touch screen phone or device without removing gloves

Knit Wrist helps prevent dirt and debris from entering the glove

Color coded hems for easy size identification

Washable, resistant to chemicals, water, and ultraviolet light
G-Tek® PolyKor® X7™ are available in two cut levels:
Style number 16-368 is red on black and ANSI Cut Level A3 rated. Style number 16-377 is black on black, ANSI Cut Level A7 Rated and compliant with FDA Part 177 - Indirect food activities: Polymers. Subpart C - Substances for use only as components of articles intended for repeated use. Sec. 177.2600. Complies with FDA food handling requirements 21 CFR, Part 177.
*New Addition September 2019
16-399 G-Tek® PolyKor® X7™ Extreme-Cut 13-Gauge Seamless Knit Gloves with Neofoam Micro-Surface Palm Coating are touchscreen compatible and ANSI Cut Level A9 Rated. You can read more about these here+
---
Orders. Questions. Volume Discounts.
Monday - Friday 8:30am - 4:30pm Eastern Time
+800.274.4637 | +716.668.4001 | [email protected]
"We want you to go home safely everyday"
---