Protect Your Hands
Cut-Resistant Work Safety Gloves
You would be hard pressed to find a more common injury in the workplace than those to industrial workers' hands. In a recent U.S. Department of Labor Study, of all injuries reported, injuries to fingers and hands accounted for more than 23% - making them the highest in preventable injuries.
One of the easiest ways to simply prevent these injuries, or to at least reduce the severity, is to make sure you are wearing the correct hand protection and the folks at Superior Glove®, Majestic® Glove and Protective Industrial Products (PIP®) have a full line-up of first-class cut-resistant gloves designed to help you do just that.
+ How Do I Know Which Type of Cut I'm Working Against?
There are three types of cuts that gloves are designed to protect you from:
1. Abrasive Cut Hazards
These are very common. A prime example of an abrasive cut is the constant rubbing action of a glove when handling parts with a sharp or jagged edge, eg: sheet-metal stampings or plastic parts.
2. Slicing Cut Hazards
These are characterized by the "slipping" motion of a very sharp edge. Industries where one would work with sharp knives, such as the food-handling industry, are exposed to much of this type of threat.
3. Impact Cut Hazards
These are not as frequent in the workplace as abrasive and slicing cuts, but can happen with a far greater force. An example of this type of cutting accident is being struck by a falling piece of glass or sheet metal. On a smaller scale, impact cuts can happen in the thumb crotch area during the normal course of handling sheet metal or other sharp-edged materials.
+ How Do I Know Which Material to Choose?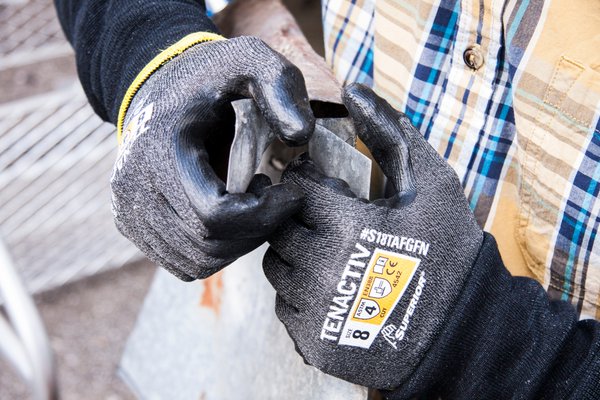 The following are the some of the main materials used to make gloves, listed from poorest to highest cut resistance:
Cotton
Synthetics
High Performance (Composite, HPPE, Aramid, Kevlar®, Dyneema®)
In choosing your glove material, consider the task you are planning on using it for. If you're performing a task that doesn't require a high cut-resistant glove, then you could go with a cotton bleand material. If the job you're doing is dangerous and requires extreme hand protection, your best bet is stainless steel or wire-core for for heavy-duty cut and slash hand protection.
+ How Do I Know Which ANSI Cut Level to Use?
Cut-Resistant Work Gloves are rated on what we call the American National Standards Institute (ANSI) standard. The New ANSI/ISEA 105-2016 Ratings will be:
A1 - ≥ 200 gm., Light Cut Hazards - Paper cuts, automotive maintenance, electronic manufacturing, parts assembly and material handling.
A2 - ≥ 500 gm,. Light-Medium Cut Hazards - Construction, automotive assembly, packaging and some masonry applications.

A3- ≥ 1000 gm., Light-Medium Cut Hazards

- Light metal stamping, light-duty glass handling applications.

A4 - ≥ 1500 gm., Medium Cut Hazards

- Metal stamping, light sheet metal handling, oil & gas and bottle/glass handling.
A5 - ≥ 2200 gm., Medium-High Cut Hazards

- Metal fabrication, HVAC, plate glass handling, some pulp and paper applications
A6 - ≥ 3000 gm., High Cut Hazards

- Metal stamping, recycling, plate glass handling, some pulp and paper applications
A7 - ≥ 4000 gm., High Cut Hazards

- Heavy metal stamping, plate glass handling, some pulp and paper applications
A8 - ≥ 5000 gm., High Cut Hazards - Heavy metal stamping, meat processing, plate glass handling, some pulp and paper applications
A9 - ≥ 6000+ gm., High Cut Hazards

- Heavy metal stamping, blade handling, float glass, pulp and paper applications
New Label Old Label
+ How Cut-Resistant Gloves are Tested
North American Standard (ANSI/ISEA 105-2016):
The glove sample is placed on a conductive strip and loaded onto the TDM-100. When the metal blade touches the metal strip, the test is terminated.

A straight blade is loaded into the machine.

Weight is added to serve as force.

The blade moves across the fabric.

The blade is replaced with a new one to ensure accuracy.

The sample is cut five times, each with three different load.

The distance traveled to cause cut through at various forces is recorded.

The data is used to determine the load required to cut through the sample.

The glove receives a rating based on the above information between A1 and A9, with A1 being the lowest and A9 being the highest level of cut protection.
*** This PDF describes the New ANSI Cut Resistant Levels (2016) ), to help you understand the new cut score ratings to make sure you're choosing the correct cut for your specific needs. The scale has been increased 5 to 9 levels. They now read from 1-9, replacing the 1-5 scale, to significantly reduce the gaps between levels for better cut protection.
Still have more questions? Check out Superior® Glove's : Cut Resistance PDF & Book of Cut PDF !

---
Top Picks for Cut-Resistant Work Gloves
1. This truly revolutionary Emerald CX® Seamless Knit Cut Gloves feature ASTM level-3 abrasion resistance and foam nitrile palms for superior grip, with a a stainless steel/composite filament core. Able to sustain 3975 grams of cutforce during testing, these cut gloves offer an astounding ASTM cut-level 5 with unsurpassed dexterity. The back of the hand is uncoated for good breathability and it's flexible, durable, comfortable design come together to create an unprecedented cut-resistant glove. Thes are also touchscreen compatible.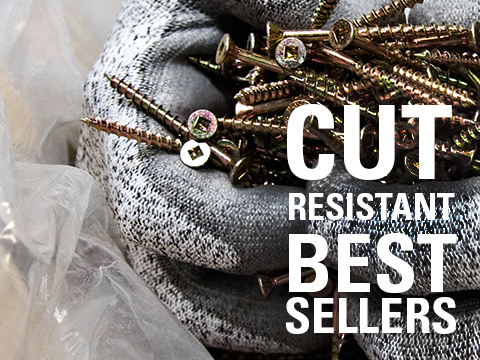 2. PIP offers an excellent cut-resistant glove choice in its MaxiFlex® Cut™ Seamless Knit Cut Gloves. This glove's nitrile coatings are compatible with light oils and will provide a good grip as well as excellent abrasion resistance. The reinforcement between the thumb and forefinger improves cut resistance and extends glove life in an inherently weak area. Innovative fibers blend to offer cut protection whilst maintaining high levels of comfort.
3. The G-Tek® 3GX™ PU Palm Coated Cut Gloves from PIP have a seamless construction that offers increased comfort and breathability. Its Dyneema®, Nylon & Spandex shell is lightweight and provides excellent dexterity, tactile sensitivity and cut resistance. The glove's knit wrist helps prevent dirt and debris from entering the glove, while cotton color binding denotes sizing. Polyurethane coated palm and fingertips for great abrasion resistance, excellent puncture resistance and outstanding wet/dry grip.
4. Superior's® TenActiv™ String Knit Cut Gloves are perfect for jobs requiring glass or sharp object handling, as well as metal fabrication and stamping. They feature high-strength composite filament fiber in the blend for unbeatable cut resistance (ASTM Cut Level 4) and dexterity. The non-shedding polyurethane coating offers a high coefficient of friction, making them ideal for those working with circuit boards or any application where contamination is of concern.
---