Extreme Cut Hazards Call For Extreme Hand Protection
Protect the Tools You Can't Replace : Practical & Comfortable Extreme Cut-Resistant Gloves From Superior Glove®
If your job entails safety, then you most likely already know the greatest work-related injury to the hands are from lacerations which accounts for roughly 63% of workplace hand injuries. A simple internet search can have you reading hand injury statistics for days but just know this, cuts send over one million workers to the emergency room every year.
The hands are among a worker's most valuable tools. Typically used to grip or steady structures, the non-dominant hand easily crosses into danger zones putting the hands and fingers at risk to injury. Lacerations can range in severity from a small cut to the amputation of fingers or the entire hand. These can occur anywhere, anytime and with any number of pieces of equipment.
What are the primary causes of these injuries? The U.S. Bureau of Labor Statistics reports more than 70 percent of workers experiencing hand injuries were not wearing work gloves at the time. And the remaining 30 percent of injured workers were not wearing the right type of glove. The cost of one incident that could have been prevented by workers wearing the right glove often far exceeds the cost of an entire hand protection program. The National Safety Council offers the following as a guide:
Direct cost of a laceration: $10,000

Stitches: $2,000 plus indirect

Butterfly: $300

Severed Tendon: > $70,000
Lost time, costly expenses and workers who can no longer do their job tasks are a few of the many reasons hand injuries are a real issue for the glove industry.
Work Gloves Are Proven to Reduce the Risk of Injury by 60 Percent!
Selecting the proper industrial work safety glove is critical to one's personal safety and overall productivity. If work gloves are too bulky, hot or cumbersome, they are typically removed or never worn. It's also imperative that the proper glove is correctly matched to the task. Many workers are demanding improved comfort, fit and dexterity from their work gloves forcing engineers to seek new materials and innovative ways to manufacture gloves.
Industrial work safety gloves, particularly cut-resistant gloves, have benefited from these new technological innovations. Replacing cotton, stainless steel mesh, leather and synthetic yarn are gloves manufactured from engineered fibers such as TenActiv™ or Dyneema® yarns and incorporate palm dipped polymer coatings. Applying various coatings to a glove's shell can enhance cut protection and grip.
Industrial cut-resistant gloves are rated from ANSI Level A1 to A9; A1 cut resistance is designed to protect against threats such as paper cuts whereas A9 protects against the industry's most extreme cut hazards within:
Automotive Assembly
Metal Fabrication
Metal Handling
Glass Manufacturing
Metal Stamping
Pulp/Paper
Recycling Plant/Sorting
WORK GLOVES THAT PROVIDE THE INDUSTRY'S MAXIMUM CUT PROTECTION
If you're searching for a dexterous extreme cut-resistant work glove that your crew will actually want to wear – let us introduce you to these innovative high-level A9 cut safety work gloves from Superior Glove®.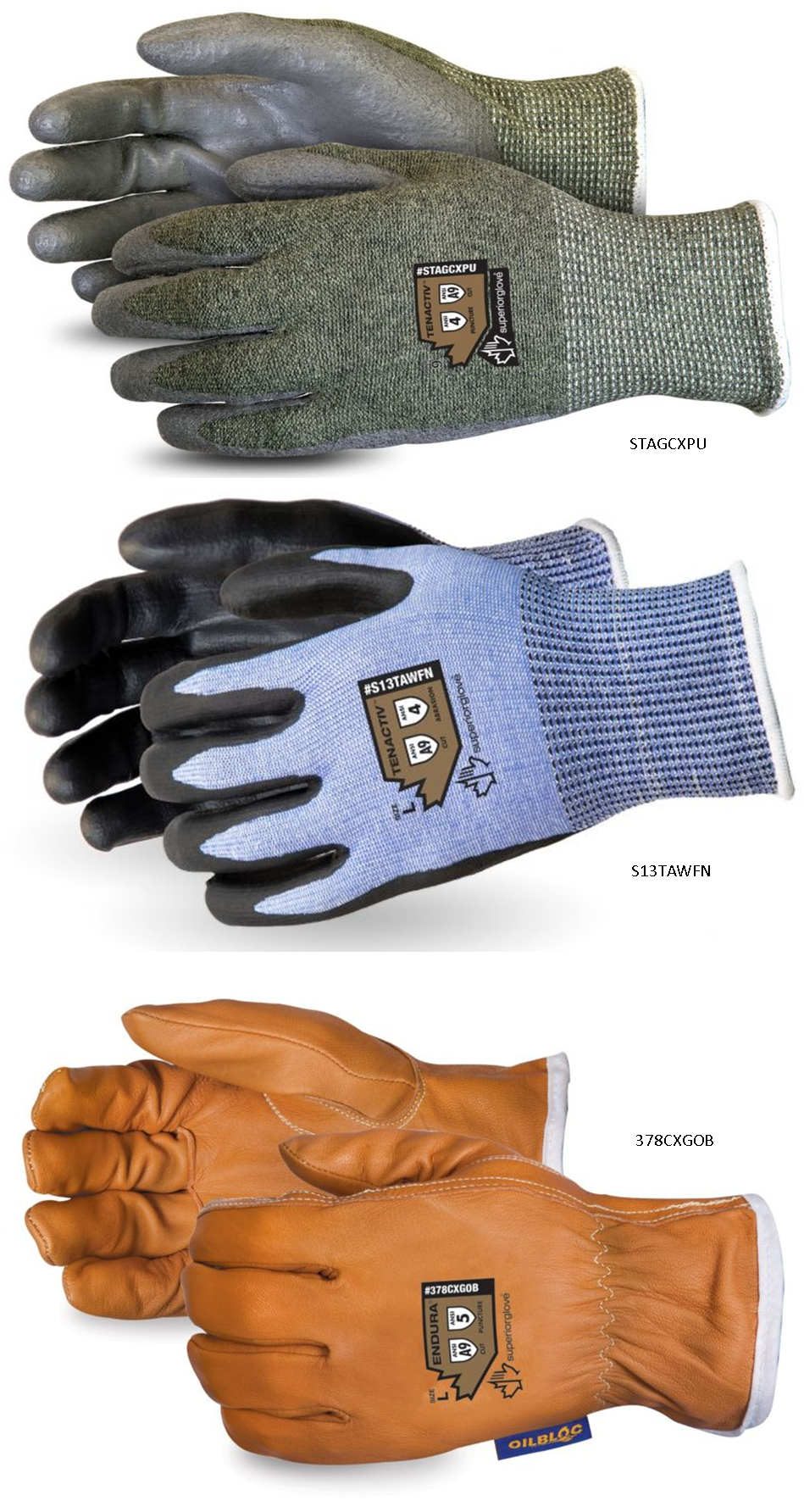 The #STAGCXPU TenActiv™ Green Extreme-Cut Glove+ features ergonomic styling, color-coded sizes, a flexible gray polyurethane palm coated grip, high performance fibers and a 13-gauge seamless knit construction. It has two ANSI rated safety features:
ANSI Puncture Level 4

ANSI Cut Level A9
The #S13TAWFN TenActiv™ Extreme-Cut Glove+ features ergonomic styling, color-coded sizes, a black spongey foam nitrile palm coating that absorbs liquids to provide excellent grip in wet or light oil applications. It is constructed with high performance fibers and a 13-gauge seamless knit construction. It has two ANSI rated safety features:
ANSI Puncture Level 4

ANSI Cut Level A9
The #378CXGOB Endura® Extreme-Cut Goat Driver Glove+ is made with one of the strongest, most abrasion-resistant leathers, goatskin. This is made possible by incorporating a liner made with a blend of para-aramid and wire-core inside the leather shell. This extreme Endura® Leather Glove features color-coded sizing, a snug elastic gathering and Superior Glove's innovative Oilbloc™ treatment. Oilbloc™ enhances resistance to oils and other liquids for better longevity and lasts the life of the glove. It has two ANSI rated safety features:
ANSI Puncture Level 5

ANSI Cut Level A9
Remember, cut-proof gloves don't exist; these A9 gloves offer the industry's highest level of cut-resistance and lacerations can happen even when wearing cut-resistant rated gloves. If a top-level A9 glove doesn't fully prevent a cut, it's usually because it prevented a more severe injury. For example a lost finger becomes a couple stitches, or several stiches become a band-aid.
The industry's highest level of cut-resistance (ANSI A9) just got better! All you need to do is to ...
+shop for these

ANSI Cut Level A9 Gloves

now
Monday - Friday 8:30am - 4:30pm Eastern Time
Orders. Questions. Samples. Volume Discounts.
+(800) 274-4637 | +(716)668-4001 | [email protected]
"We Want You to Return Home Safely Everyday™!"