Bare-Hand Wear Experience

with

Maximum A9 Cut Protection
ELEVATE COMPLIANCE
Protect the Tools That Can't Be Replace with The World's Thinnest 21-Gauge A9 Extreme Cut Resistant Glove - That's The New TenActiv™ S21TX From Superior Glove®.
If your job entails safety, then you most likely know the greatest work-related injury to the hands are from lacerations which accounts for roughly 63% of workplace hand injuries and sends over one million workers to the emergency room a year. Perfect for cultivators pruning and trimming cannabis or operators who work with knit goods, elastic lace, canvas goods, these lightweight, ultra-thin TenActiv™ S21TX knitted extreme cut safety gloves can be worn alone or as a protective layer under a disposable glove or work glove.
Typically used to grip or steady structures, the non-dominant hand easily crosses into the danger zones putting valued hands and fingers at risk to injury. Lacerations can range in severity from a small cut to the amputation of fingers or even the entire hand. These can occur anywhere, anytime and with any number of pieces of equipment or sharp items.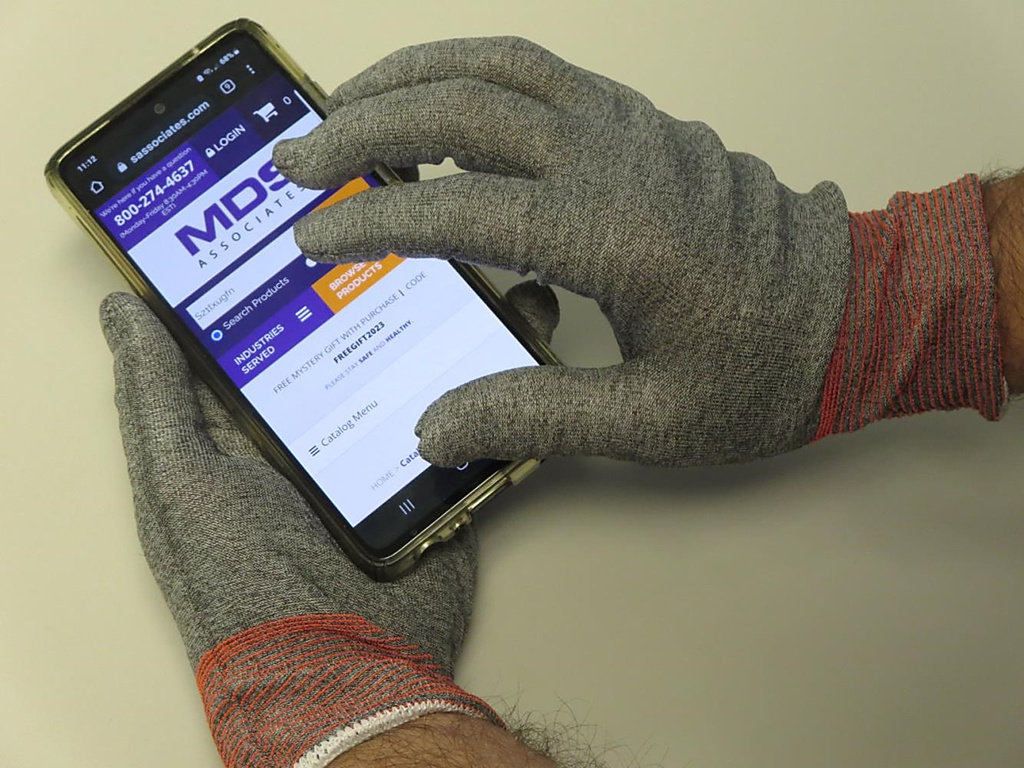 Many workers are demanding improved comfort, fit and dexterity from their work gloves forcing engineers to seek new materials and innovative ways to manufacture gloves. The glove developers at Superior Glove® love gloves and they listened to your concerns to create the TenActiv™ S21TX Ultra-Thin 21-Gauge Seamless Knit Cut-Resistant Glove.
When you slide this glove on the hand, it will be unlike any other cut-resistant glove you've ever worn! Providing bare hand wear experience and touchscreen compatibility, the 21-gauge seamless knit composite glove shell fits and feels like a lightweight dress sock yet provides cut level A9 protection against extreme industrial cut hazards.
The U.S. Bureau of Labor Statistics reports more than 70 percent of workers experiencing hand injuries were not wearing work gloves at the time. Further research into these injuries revealed that many of the workers removed their work glove to operate a touchscreen or smart device. The remaining 30 percent of injured workers were not wearing the right type of glove.
The cost of one incident that could have been prevented by workers wearing the right glove often far exceeds the cost of an entire hand protection program. The National Safety Council offers the following as a guide:
Direct cost of a laceration: $10,000
Stitches: $2,000 plus indirect
Butterfly: $300
Severed Tendon: > $70,000
It's also imperative that the proper glove is correctly matched to the task. Selecting the proper industrial work safety glove is critical to personal safety and overall productivity but if work gloves are too bulky, hot, and cumbersome or are not swipe compatible, the gloves are typically removed or never worn which defeats the purpose of the intended glove. The TenActiv™ S21TX professional work safety glove is a glove your team might never want to take off!
The Tenactiv™ S21TX knit glove can be worn alone or it can be implemented to boast cut resistance when worn as a glove liner. Its versatility and high cut level makes it ideal for use plant wide allowing you the opportunity to consolidate many work gloves.
If you're hoping to replace your bulky cut gloves and seeking an ultra-thin work safety glove with extreme cut-protection for the entire hand, tactility and touchscreen functionality, you need to check out this newly released TenActiv™ S21TX extreme cut safety work glove!
ULTRA-THIN WORK GLOVES THAT PROVIDE THE INDUSTRY'S MAXIMUM CUT PROTECTION
Extreme Cut Hazards Call For Extreme Hand Protection But You No Longer Have To Sacrifice Comfort, Dexterity, Tactility or Swipe Compatibility!
From the hot-selling TenActiv™ line-up which features state-of-the-art cut-resistant composite yarns, these lightweight, flexible, snug-fitting TenActiv™ S21TX 21-gauge A9 seamless knit gloves by Superior Glove® are the closest you can get to working barehanded without sacrificing high cut protection when handling sharp sheet metal, blades, tools, glass, knives, saws, windows, windshields, equipment and more.
The industry's highest level of cut-resistance (ANSI A9) just got a lot better! If you're searching for a dexterous, tactile extreme cut-resistant work glove that your crew will actually want to wear – let us introduce you to these innovative high-level A9 cut safety work gloves from Superior Glove®.
Snip, clip or shape with ease. Wow your team with the world's thinnest extreme cut glove and elevate compliance. All you need to do now is tap the link below and ...
Monday - Friday 8:30am - 4:30pm Eastern Time
Call or Click
Orders. Questions. Samples. Volume Discounts.
+(800) 274-4637 | +(716) 668-4001 | [email protected]
"We Want You to Return Home Safely Everyday™!"