Prevent PPE Theft

with

PIP

®

Logoed Safety Products
One of the biggest problems plaguing businesses is internal employee theft of PPE workplace supplies. Custom logos can help reduce pilferage, enhance customer perception AND elevate brand recognition.
Unfortunately for businesses, workplace theft appears to be an increasingly common problem. A pair of safety glasses here, a pair of work gloves or two there, a hard hat, a safety ve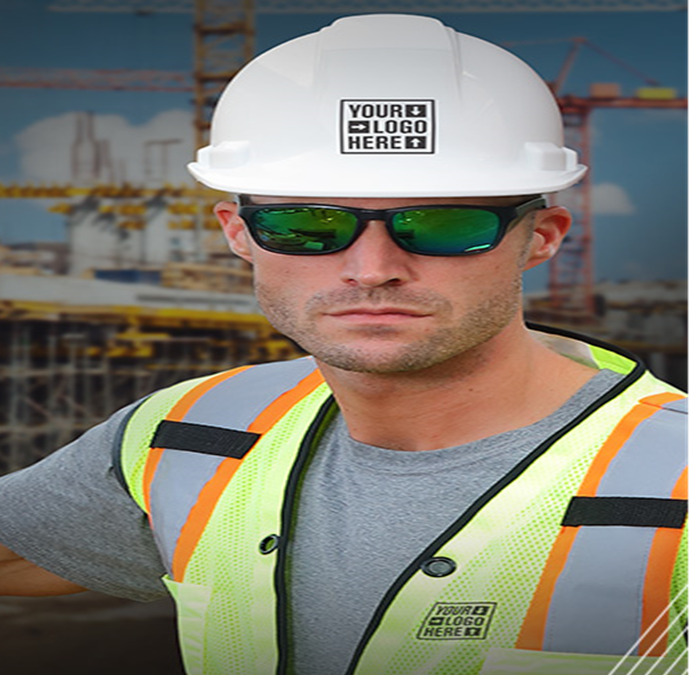 st, a bump cap – who would ever miss these little items should they disappear from the workplace? Personal protection equipment seems abundant and ready for the taking, right? Well, they may seem that way to the nonchalant employee who rationalizes his or her choices for workplace theft, but the truth is, these items have been purchased for work-related use, and work-related use alone.
Taking supplies for a home project or "left behind" is just not work-related. No matter how a person rationalizes it, stealing is stealing. And stealing is costly and disruptive to businesses.
So what makes people pilfer from the company storehouse or supply cabinet anyway? Experts offer varied theories, but most agree that the decision to steal and commit fraud is based on complex sociological factors.
Why do employees steal?
Financial pressures, such as gambling, an addiction or credit card debts. Very often when an employee is struggling financially, they may be tempted to steal from their employer - either taking items home for their family or to sell for cash. Their justification the company won't miss or can easily afford to replace missing stock.
Opportunity, or the employee's perception that an opportunity to commit theft exists. This may arise from the company's poor internal checks and balances or loose discipline.
Entitlement that the company for which they work for owes them something. They don't see pilfering stock as theft but rather taking what was rightfully theirs to begin with or owed to them because of poor performance evaluations, demotions, and involuntary cuts in hours, pay reductions or a perception of unfair working conditions or unequal treatment.
SWITCH BRANDS & LOGO YOURS
A very simple, effective and affordable solution to reduce "slippery fingers" within the corporate setting is to consider customizing your PPE supplies and imprinting it with your corporate information or logo!
PIP® Global is a leading supplier of Hand Protection and Personal Protective Equipment to distributors worldwide. PIP's mission of "Bringing the Best of the World to You®" is fulfilled everyday by providing an array of best-in-class safety products worldwide. As an added benefit, their personal safety line up of products can be personalized.
PIP's corporate logo services enable businesses to imprint personal protection equipment supplies such as safety glasses, work gloves, hard hats, bump caps, work clothing with a corporate logo or name. An effective anti-theft tool, this logo service can also double as a means to branding or marketing your company as well.
From recreated logos to pantone color matching, PIP® provides:
Pad Printing: This indirect offset printing process allows the image to be transferred from the printing plate via a silicone pad onto the product and is ideal for imprinting three dimensional objects. Imprinting is available in up to four colors, depending on product.
Heat Transfer: The image is printed on transfer paper and then applied to the product by using heat. This method allows for better detail and multiple colors. Imprinting is available in up to four colors.
Screen Printing: The image is printed on transfer paper and then applied to the product by using heat. This method allows for better detail and multiple colors. Imprinting is available in up to four colors. For clothing only.
Embroidery: This higher quality imprint option is available with up to nine colors. All pricing must be custom quoted based on stitch count. Lead times may vary based on quantity. Available for clothing and bump caps.
Interested? Contact MDS with your requirements or questions today. With exceptionally quick turnaround times, reasonable prices and top quality results, PIP® delivers the value-added service you and your customers expect. Put us to the test on your next logo order and experience the difference. But first, you need to tap the link and
Monday - Friday 8:30am - 4:30pm EST
Questions. Samples. Special Requests.
Toll-Free +800-274-4637 | +716-668-4001 |

[email protected]
"We Want You To Return Home Safely...Everday!™