New Proprietary Formulation Takes Disposable Hand Protection

to

New Levels
If glove shortages have you searching for a reliable, strong and affordable brand of nitrile examination gloves, then SONIC® 100 is just the solution!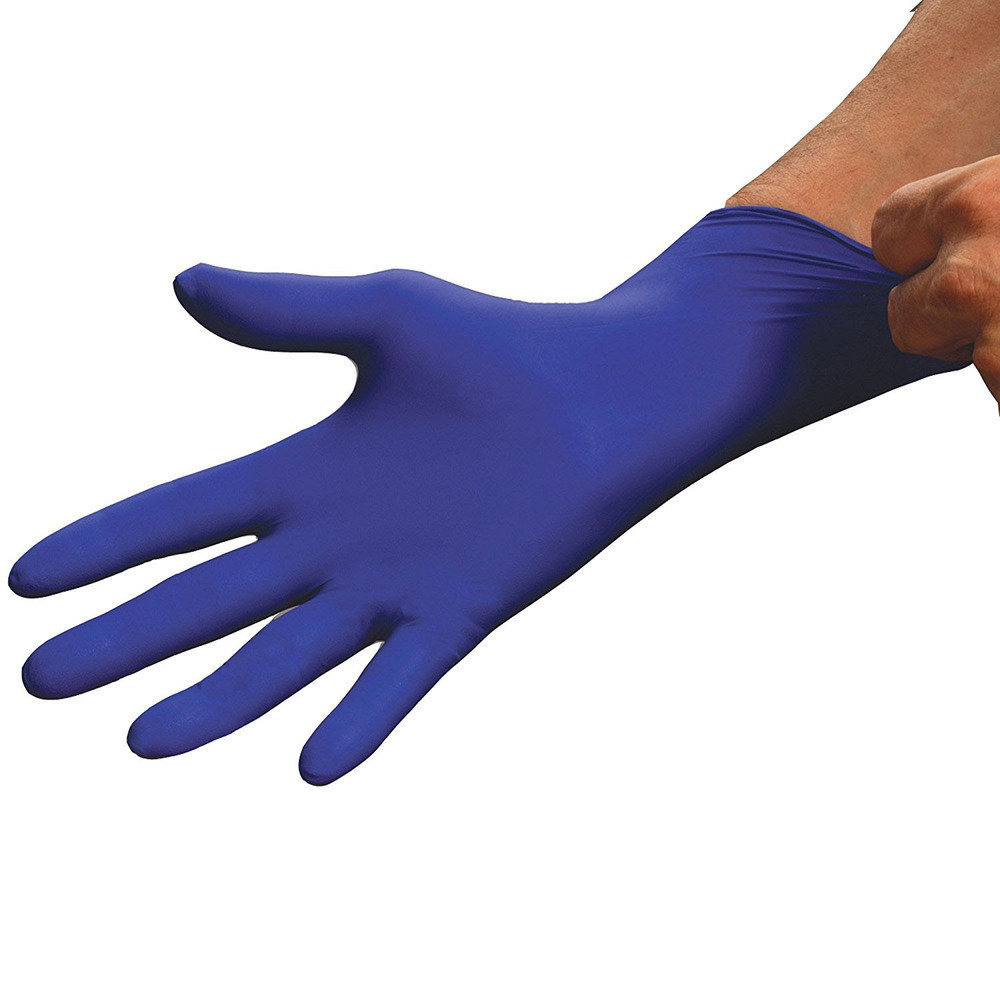 Disposable latex-free gloves such as nitrile and synthetic vinyl styles are worn practically everywhere nowadays because they keep everyone safer, but the global health event has created worldwide shortages. From food service to construction, from healthcare to retail sales, consumers are even wearing gloves making them a bigger part of our everyday lives and essential for health and safety.
Worn to protect patrons and staff against potential cross-contamination and the spread of infection, single-use gloves are beneficial when it comes to protecting the skin against chemicals, fluids and many other dangerous substances within the healthcare profession as well as food service, food processing, tattoo salons, law enforcement, spas, salons, dentistry and anywhere else that workers need inexpensive hand protection at the ready.
STRENGTH & TACTILITY
If you are searching for a high performing, quality made single-use glove that's highly tactile and strong, then check out these Aurelia® Sonic® 100 disposable powder-free latex-free nitrile medical examination gloves.
Demand for disposable nitrile gloves has been soaring, and worldwide shortages are projected to continue through 2021 and perhaps into 2022. The increased demand for nitrile gloves has unfortunately has introduced an influx of inferior made exam gloves from countries such as China, Vietnam and India that rip very easily, are inconsistent in size, have very high AQL's, tear easily when donning, and perform more like vinyl gloves.
Ripped gloves translate to money wasted and for professionals working in high-risk work environments; a glove that tears puts lives at risk to infection. Sure there might be less expensive gloves available, but how many are thrown out before they are even worn?
Have you grown tired of single-use gloves that lack strength and rip easily? Do your gloves lack tactile feedback? Have you lost confidence in its protective abilities? Higher quality glove formulations, manufacturing standards and processes will stop the complaint "Our gloves tear all the time". This is what separates the Aurelia® brand of powder-free nitrile exam gloves from the many other brands offered before and during the outbreak.
CHEMO RATED STRENGTH & HIGH TACTILE PERCEPTION
Designed for healthcare providers, Sonic® 100 combines all the best benefits of a nitrile exam glove in a proprietary formulation that takes strength, comfort and performance to new levels!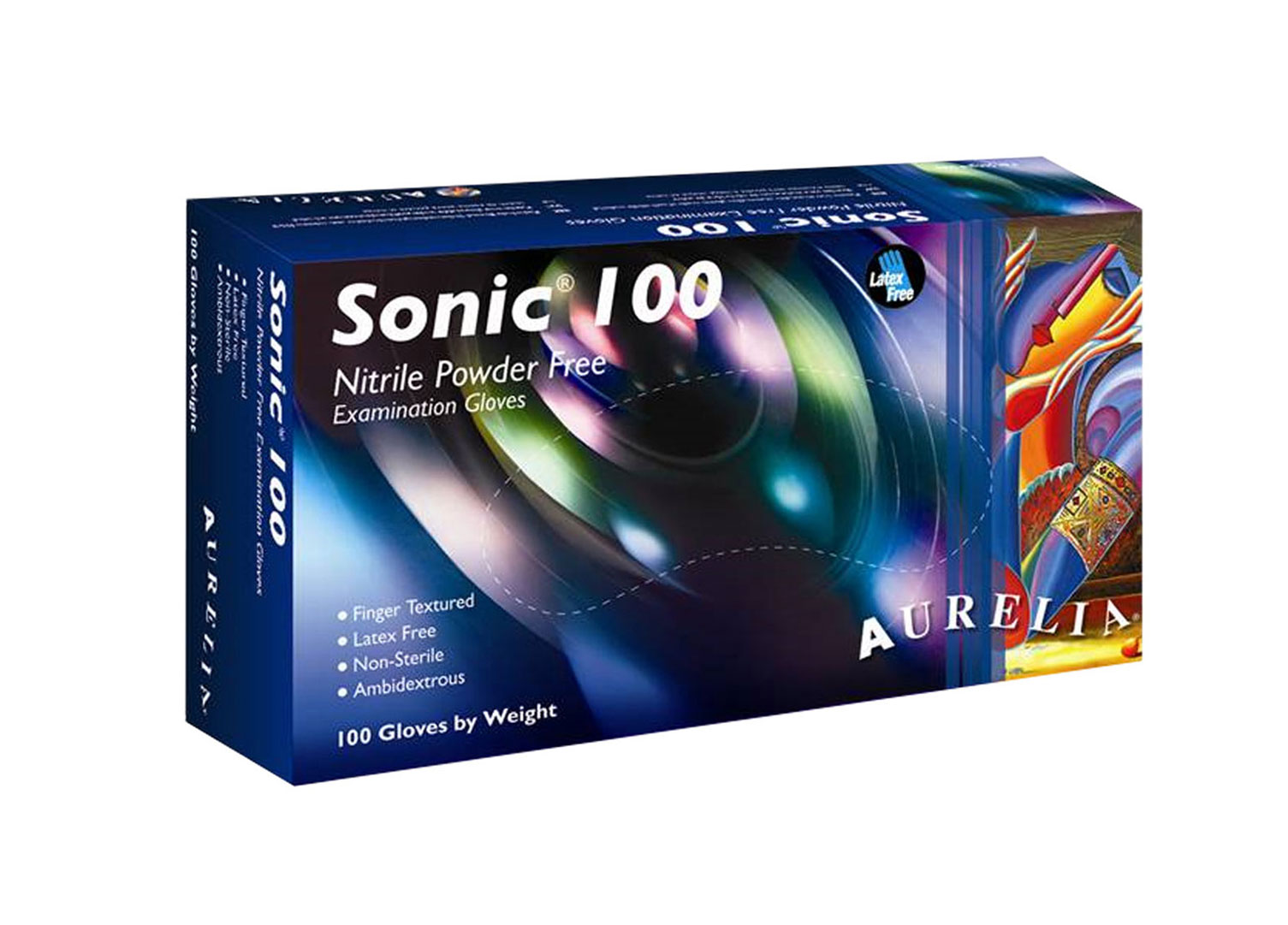 Don't be fooled by the ultra-lightweight construction! Advanced glove manufacturing processes enable this glove to be constructed with an ultra-thin very strong 2.2 reduced mil formulation for precise touch technology and comfort, yet boast tensile strength that's certified to permeation by chemotherapy drugs!
The silky, stretchy and soft texture drapes the hands without constricting the palm and is easy to put on. Textured fingertips reduced slippage and provide a firm, precise grip. Sonic 100® Nitrile Exam Gloves are FDA 510k registered and meet or exceed all current FDA regulations and ASTM Standards for medical applications that include bodily fluids and patient exams.
APPROVED FOR FOOD CONTACT
FDA accepted and approved for direct food contact, they're also perfect for labs, blood draw, healthcare exams, dental applications, food service operations and more. Automated packing enhances single glove dispensing for less waste and better control! Other features include:
AQL 1.5

Ambidextrous

Beaded cuff

Powder-Free

Indigo color

Malaysian quality and consistency
These Aurelia® Gloves conform and comply with:
The general safety and performance requirements of FDA Medical Device Regulation for Class 1 medical devices (21 CFR 880.6250) and complies with all general controls (section 513(a) (1) (A) of the Federal Food, Drug, and Cosmetic Act (Act); 21 U.S.C. 360c (a) (1) (A))

The standard specification requirements for ASTM D6319- Freedom from Holes, Physical Dimensions Test, Physical Requirement Test and Packaging

The standard specification requirements for ASTM D6978-05 - Standard Practice for Assessment of Resistance of Medical Gloves to Permeation by Chemotherapy Drugs

EEC regulations concerning the conformity of materials and products that are allowed to come into contact with food. In accordance with Regulation EEC 1935/2004, Regulation EC 10/2011 & Regulation (EC) No 2023/2006.

The gloves are certified manufactured according to ISO 9001:2015 and ISO 13485:2016 Quality Management Systems
When you buy these Sonic® 100 nitrile exam gloves you are getting the best in class hand protection. They aren't the cheapest, just the best. But don't take our word for it, tap the link and stretch away!
Orders. Questions. Volume Discounts.
Monday - Friday 8:30am - 4:30pm Eastern Time
+800.274.4637 | +716.668.4001 | [email protected] | Fax +716.668.4496
"We want you to return home safely every day"