YOU

CAN'T MISS WORKERS

WHO

WEAR

THESE

WORK

GLOVES
No matter where you work, there's always some risk of injury. That's why it's so important to make sure you're ready for whatever the work day brings by wearing the best safety gloves for the job. The goal of industrial workplace safety and health is to prevent or eliminate possible workplace injuries. One critical factor to accident prevention is worker visibility.
Being able to see clearly where the hands are in a low light condition can be the difference between being safe and going to the hospital. High visibility work gloves and work gloves with retro- reflective accents are very important when working in busy work sites or among equipment and machinery. Bright neon colored gloves can easily alert co-workers and communicate with heavy equipment and motor vehicle operators.
If you're seeking a work glove that can be easily spotted day or night, then the NEW 378GTXHVB Endura® Driver Glove is a glove you can see from a distance & in virtually all weather conditions!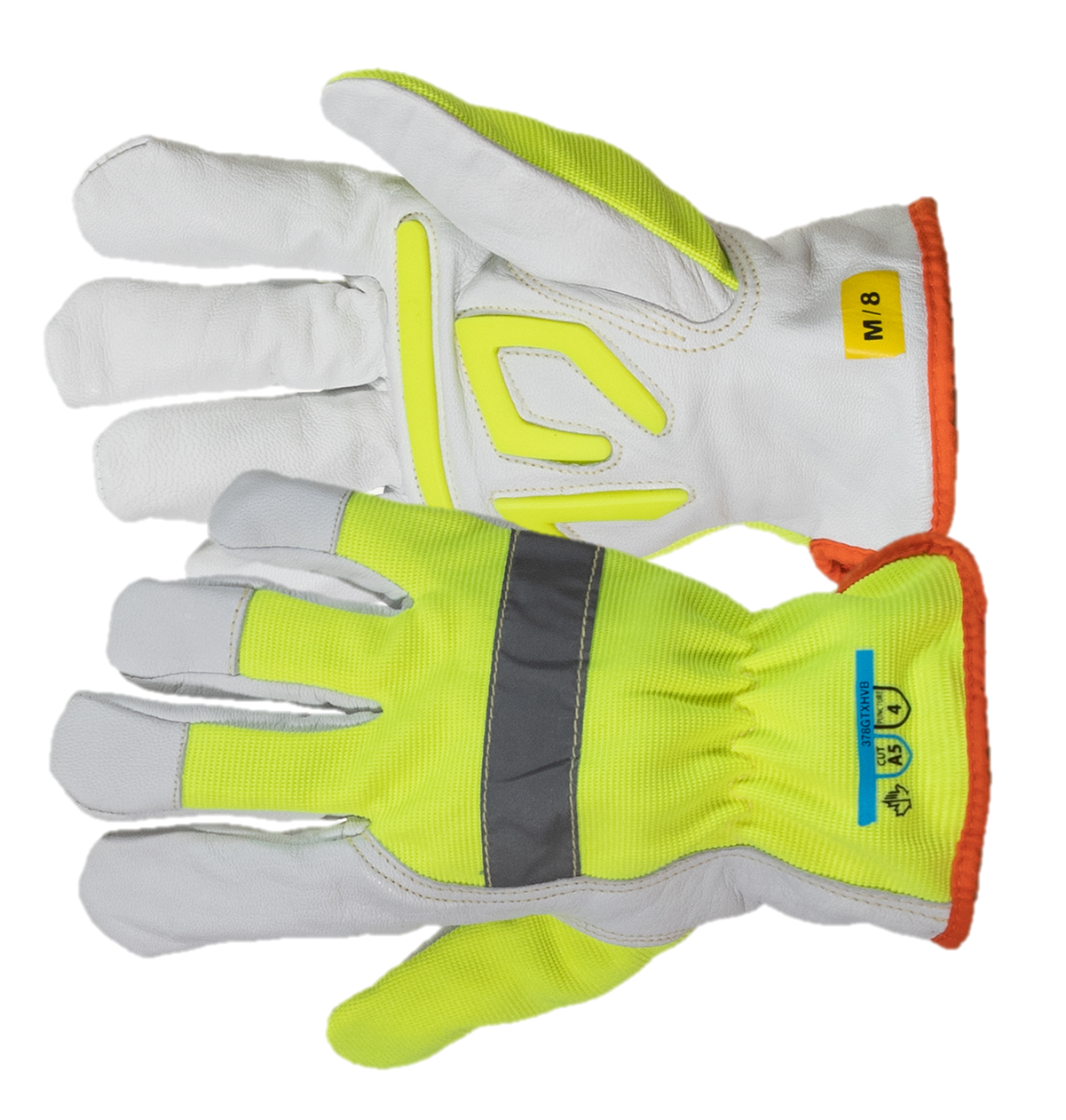 Affordably priced, these multi-dimensional industrial work gloves are less expensive than most medical co-pays and conveniently fit inside your toolbox, work jacket or truck cab! What makes these safety gloves so visible?
+ Retro-Reflective Material
Like markers on the side of the roadway, this material is created and designed to reflect light that is shone on it from a light source. Crafted with a high visibility element such as 3M Scotchlite™ retro-reflective stripes, reflective gloves are most effective in low light conditions, or are less effective in daylight. Reflective piping is also ideal for inclement weather conditions.
+ Fluorescent Material
Fluorescent material is constructed of special pigments that are able to reflect the ultra-violet parts of natural light to make neon colors pop out at viewers, making them more vibrant than the background or similar colors. Hi-viz fluorescent material is most effective in low or full on natural lighting conditions.
OH

SO

BRIGHT
The 378GTXHVB Endura® driver style work glove from Superior Glove® is constructed with supple goatskin leather palms and flexible hi-viz green glove backs with retro-reflective accent striping for enhanced visibility in low light working conditions. A non-irritating, soft TenActiv™ liner provides stellar cut resistance comfort and unmatched breathability. Other features include:
Ideal for:
Construction

Utilities

Metal Fabrication

Metal Handling

Material Handling
We've established that there are advantages to wearing high-visibility work gloves such as improved worker visibility while on the job and more definitive signaling when in the field. This is beneficial for a few major reasons:
1. Hi-viz PPE makes it easier for workers to see their own hands as well as the hands of their coworkers and this helps limit the number of accidents and near misses in the workplace.
2. Appreciated by safety officers, Hi-Viz work gloves make PPE compliance checks easier to see if workers are actually wearing their assigned gloves while on the job.
3. Wearing hi-viz PPE in low light or dark conditions is just plain logical. More high-vis PPE preferably with retro-reflective accents means a more visible worker and it correlates with the number of accidents that will occur while on the job.
4. Wearing hi-viz gloves when hand signaling is part of the job such as a highway construction worker, police officer, demolition operator, EMS or event parking. Bright hands communicate to vehicles more effectively.
Hi-viz work gloves demand attention and wearing them when directing traffic or when signaling co-workers increases productivity, elevates safety and provides better communication. Keeping your crew covered and visible is easy – just tap the link and …
Monday – Friday 8:30am – 4:30pm EST
Call or Click
Samples. Non-Published Volume Discounts. Questions.
Toll-Free +800-274-4637 | +716-668-4001 |

[email protected]
"We Want You To Return Home Safely...Every Day!™