MULTI-FUNCTIONAL
INDUSTRIAL HAND PROTECTION
FROM

MULTIPLE

SAFETY HAZARDS
NEW! The TenActiv™ STXPNRPVB Hi-Viz Industrial Work Safety Glove Provides Grip, Extreme Cut Protection Plus Impact Protection
If you work in the construction, metal fabrication, utility industries, handle sheet metal or industrial equipment, you'll agree that there is little tolerance for mistakes or accidents. One slip, impact, cut or puncture can mean the difference between returning home safely versus a trip to the emergency room and a recordable on the books.
If your job entails safety, you know the greatest work-related injury is to the hands, sending over one million employees to the emergency room each year. Locating the proper work glove can be confusing, especially if there is more than one ha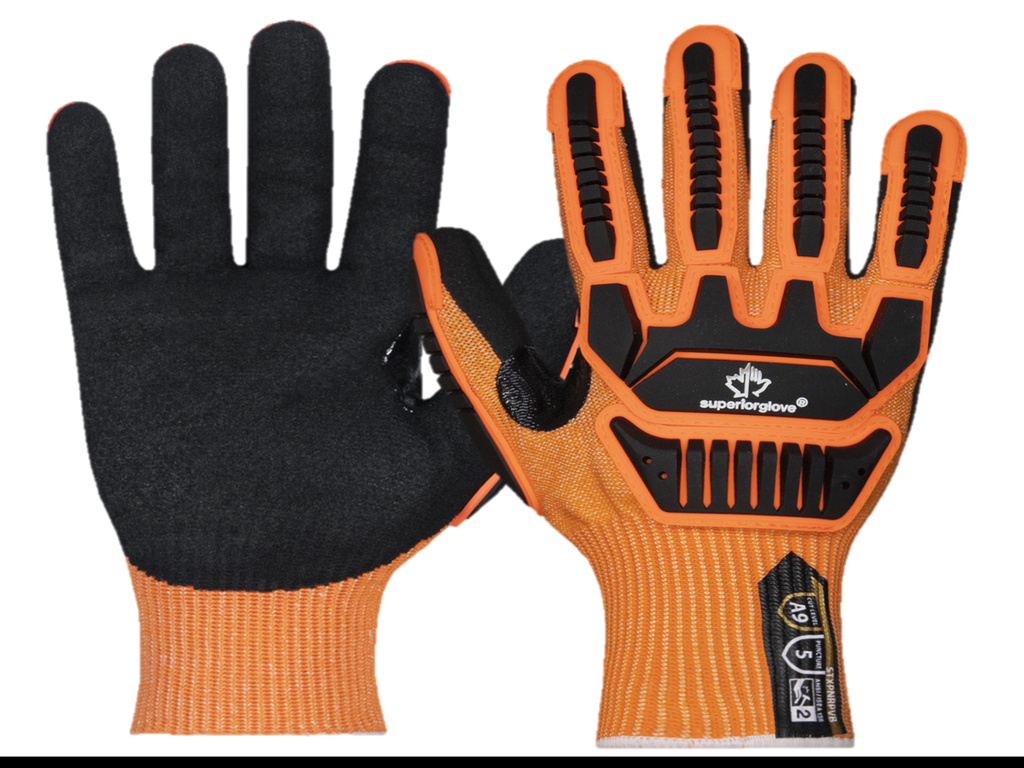 zard present. The good news is there is a new industrial work glove being launched and it captures multiple safety ratings for operators that work in dynamic and dangerous settings.
For workers that do tough jobs like construction, demolition, fabrication or drilling, their hands need to be protected against a variety of threats such as lacerations, punctures, abrasions and impacts. Superior Glove® can help with this.
The glove specialists at Superior Glove® love gloves and the hand protection products they design often provide wearers with a variety of ANSI rated hand safety benefits and performance features. Their newest innovation is the TenActiv™ STXPNRPVB hi-viz grip glove.
Loaded with safety features, the TenActiv™ STXPNRPVB work glove is designed for enhanced visibility and performance in any environment that presents a high level of cut and impact hazards.
SAFETY FEATURES
These multi-functional TenActiv™ STXPNRPVB industrial work safety gloves feature a hi-viz orange 13-gauge seamless knit glove shell that provides Level 5 puncture resistance (probe), extreme 360º cut-resistance and enhanced visibility for concise hand signaling and worker hand placement awareness when working in close spaces. The black color ANSI/ISEA 138 level 2 impact rated hand bumpers diffuse knocks and bangs that can bruise or even break bones on the back of the hands.
The black textured micopore nitrile palm coating provides high abrasion resistance and enhanced grip making this ideal hand protection for construction, metal fabrication, oil and gas, utilities, equipment maintenance, sheet metal handling and material handling. Additional features include padded palms for comfort and protection and reinforced thumb crotches designed to prolong longevity in a critical seam area susceptible to blow-outs.
The TenActiv™ STXPNRPVB glove is serious hand protection constructed for professional contractors that must endure work conditions with multiple safety hazards. Prevention is just a click away. All you need to do is tap the link below and…
FREE SHIPPING ON ORDERS OVER $499. FREE EVALUATION SAMPLES FOR QUALIFIED BUSINESES.
Monday – Friday 8:30am – 4:30pm EST
Call or Click Today
Samples. Volume Discounts. Questions. Samples.
Toll-Free +800-274-4637 | +716-668-4001 | [email protected]
"We Want You To Return Home Safely...Every Day! ™